Where do you store items in your campervan, and what are the best camping accessories for getting organised? We asked Sussex Campervan owners for their storage tips.
People often ask the best way to pack their new campervan - and which are the best camping accessories to buy. The answers are as individual as you are.
New Paradise owners Adrian and Lyn have been shielding from Covid more than most in the last year, due to an underlying health condition, so they have had time to organise their campervan, and decide where to store their kit.
Avoiding backache
Adrian says, "We bought Polypropylene Large Drawer Organiser Boxes from The Range store online. They're 24cm high, 26cm wide and 38cm deep and they fold flat when not needed. We find that these make good use of the full depth of the floor level locker cupboards. Putting things into these boxes means we can pull out the boxes to access the contents, without having to crouch down to search at floor level."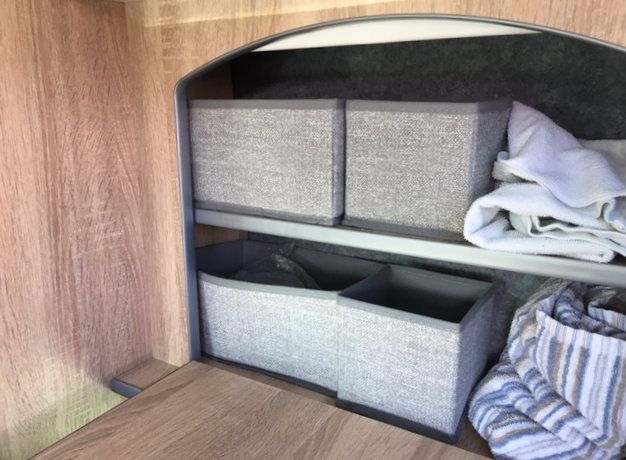 Take Everything and the Kitchen Sink
For those who have a habit of overpacking, you'll be surprised at just how much you can fit inside a Sussex Campervan. The kitchen is one place you don't want to be caught short when you realise you've forgotten a tin opener!
A small cooler bag, with separate compartments can house cutlery, Melamine crockery, collapsible silicone cookware, utensils and other essential items. Often this fits neatly under the sink and stops things from clattering around as you drive. A non-slip liner for cupboards is handy for helping things stay in place.
Jackie puts her crockery and cutlery in a plastic box and slides it under the bed. This is also a good place to house tins and packets of food as it stops them from sliding around when driving. There's usually room for food under the sink, as well as in the fridge. Boxes can also be stored on the pop top ledge above the cab when parked up. Collapsible ones are easy to store when not in use - in fact, there's a whole load of different collapsible kitchen equipment that is ideal for campervans.
Sue says, "My kitchen gear goes in a bag with dividers (photo below), so that the roll-top cupboard is free for clothes. I take collapsible pans and a kettle and I use my remoska oven, plugged into mains electricity. We also cook outdoors with the Cadac barbecue." They've discovered quickly how to make the most of their Sussex Campervan.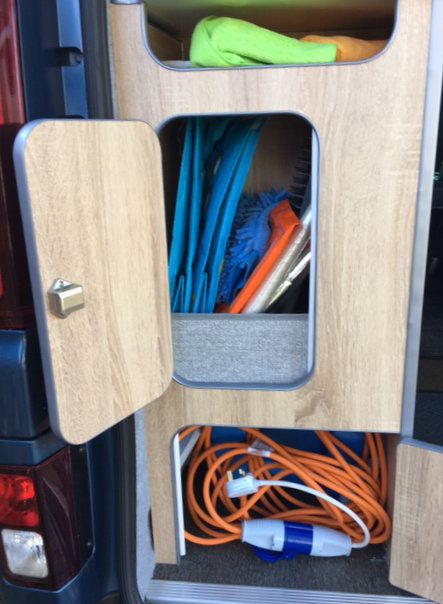 packing light with packing cubes
"Condense everything and take the bare minimum," says Jackie.
"We use storage 'cubes' for our clothes. Blue for me and red for her. Works for us," says John.
Leanne has a packing pod for each of her family for their clothes. "We can get away with a weeks worth of clothes in a pod. I have a car storage box for wellies, sandals/trainers, over seat hooks that I hang bags from with waterproofs, dry robes, fleeces etc. When we arrive I have a camping set of shelves that I put in the awning which keeps everything tidy."
Sue uses a shelf per person in her campervan with packing cubes and often travels with their grandchildren. She uses a very small one man tent to store chairs and outside things when set up and if they are off out for the day.
Jayne takes several vacuum bags to pack down towels, dog towels, pillows and bedding when not in use and uses IKEA containers for her kitchen equipment.
Getting away from it all in Bude
Adrian and Lyn put their packing to the test by going away between lockdowns. He says, "Our first long trip was to a friend's house in Bude; we parked in her driveway! Having the campervan meant that we could travel to Cornwall safely, despite the pandemic. We were able to avoid the packed roadside coffee stops and pull into a lay-by and make our own food and drink. We also made use of the on-board facilities - we pulled the curtains over for that extra bit of privacy," says Adrian.
We invested in the best bedding
Most of our clients have said the best place they have found to store their bedding is rolled up on the rear seat behind the Rock 'n' Roll bed or in the under bed compartments in the Paradise and Solo conversions. Paradise owner Leanne says, "we have 2 seats in the back (one has the battery in and electric hook up etc so I pop a laundry bag in there for while we are away. The other one stores all sleeping bags, inflatable pillows, a couple of trekking air beds, microfibre towels and the kids onesies."
Adrian and Lyn bought a couple of Duvalay mattress toppers, and use their own duvets and pillows in the Paradise. "I found it very comfortable and slept soundly. Back home, we even spent a night parked in our own driveway, for fun. Since then we have also had numerous days out. We visited the Normans Bay campsite, to explore it for a future visit. Hayling Island has also been a favourite location for an afternoon cuppa."
"We had a couple of outings with my daughter and grandchildren, which was great fun. With the roof up and one of the rear seats laid flat, and the passenger seat turned, we found the set-up ideal for tea and cake. The grandchildren sat on the ledge above the front seats and enjoyed the view from the upper deck. They also enjoyed using the facilities, several times just for the fun of it."
Expert Wild Campers, Ken and Carol are refining their packing process
Ken and Carol have had their little red NV200 CamperCar for nearly 2 years and have spent over 150 nights in it. They are still evolving the storage arrangements and discovering the best way to pack. After starting off taking too many items, Carol suggests "pack light, you're not going to need half of what you think you'll need!"
Ken says, "You have to be absolutely ruthless with what you take with you" and gives many useful tips in their YouTube video - 100 Wildcamps Later, What Have We Changed? "Use boxes to stop things from shifting around as you drive," is one of Ken's tips echoed across the majority of owners we spoke to.
Europe here we come!
When it's safe to go to Europe again (see our Brexit travel tips), perhaps winter sunseekers, like VW Caledonia owner Bobbie will enjoy the milder climes of southern Spain. She travels light, taking only a capsule wardrobe of clothes she can wash, dry quickly and wear again. Her essential campervan equipment includes: "A coffee machine, electric kettle, gas hob kettle, wok, a saucepan for rice or pasta, five-litre fresh water bottle, and bottled fizzy water in the fridge. I just use the campervan's onboard water tank for washing or washing-up. I also have a collapsible kettle, saucepans, strainer, and a bucket – all blue, of course, to match my van's interior."
Her other excellent tip is to buy food on your travels, especially in markets, rather than trying to take too much with you from home. Buy as you go, wash clothes as you go, and leave a little space in the campervan lockers, so that you can bring back some of your favourite wine!
To shop storage and camping accessories, visit our shop here at Sussex Campervans or head to our Amazon recommendations.
---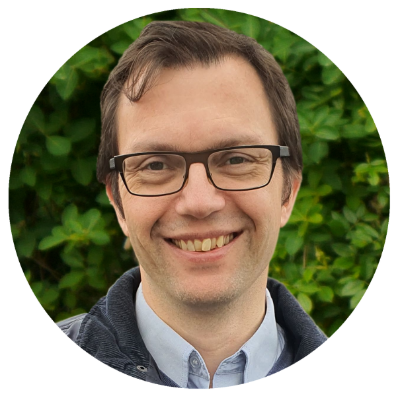 Jon is one of the longest serving members of the team at Sussex Campervans. He has been serving as a Sales and Relationships Manager since 2013 and in that time has consistently helped our clients to get the most out of their campervans.

When Jon is not working he enjoys trips to Wales, watching the latest films and playing guitar.
---