How to Have the Perfect Campervan Holidays With Your Dog
One of the many good reasons people buy campervans is so that they can go on holiday with their pets - so many of our Sussex Campervan owners take their pets on holiday with them and in fact some joke "I am buying a campervan for the dog". So, what makes campervan holidays perfect for you and your best friend?
If you're a dog owner, holidays can be tricky. Few hotels and bed and breakfast places welcome dogs in their rooms, which can mean putting your 'best friend' in kennels while you're away. If you have a campervan you can take your dog with you. This is easy if you're travelling in the UK and if you get a pet passport, you can take your pet dog or cat abroad.
PET PASSPORTS
Adventurous Bobbie has pet passports for her dog Willow and her cat Ebony, and in previous years has often spent her winters in Spain in the VW Caledonia that we built for her in 2017. By booking almost a year in advance she secured a campervan space and pet cabin for the Portsmouth to Bilbao ferry last year, so that she could keep her dog and cat close during the whole crossing. Willow and Ebony take their cues from their owner, so when they're all together, everyone feels safe.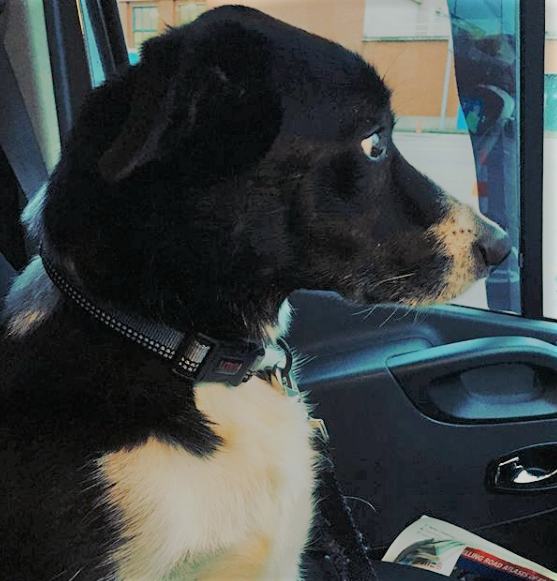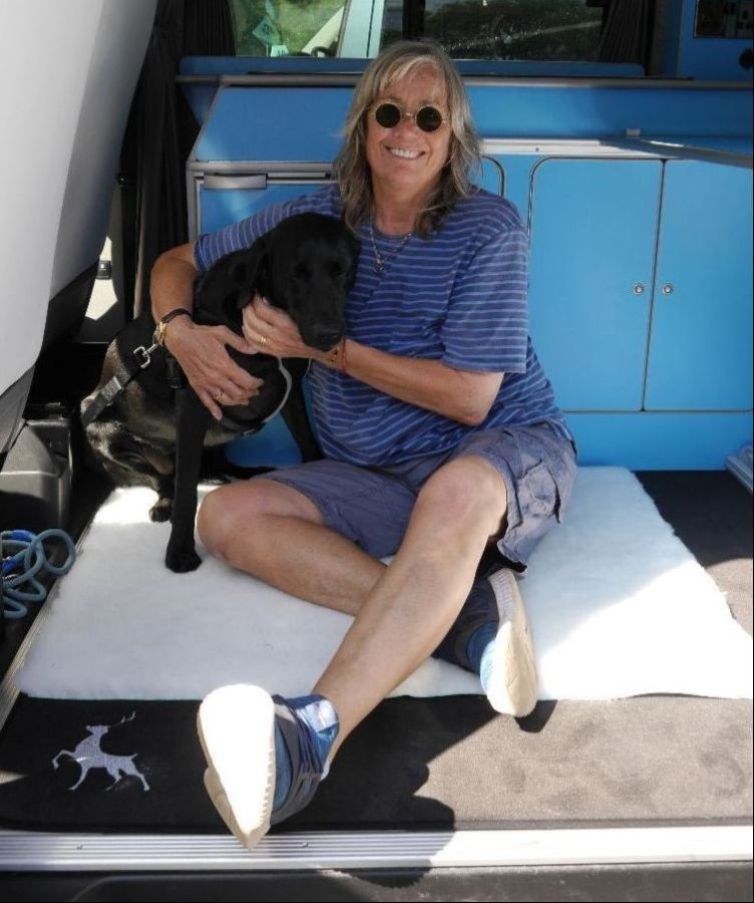 (Above) Bodie loves touring with Els in her Paradise campervan - until he spots the queue for the ferry to France!
(Left) Bobbie and Willow in their VW Caledonia campervan
Bodie the Border Collie is another well travelled pet and his owner Els took the photo above in a ferry queue. This handsome dog loves his Paradise Twin campervan holidays, days out, and going trail running with Els. He also loves playing ball and having fun in the camper and on beaches. You may spot Bodie on Instagram, too. (See #bordercolliesofinstagram and @blacksladder.)
KEEPING DOGS SAFE WHILE YOU DRIVE
You know your dog's temperament better than anyone - will they be happiest restrained by a harness, or put in a container for travel? In Britain the law puts your safety and that of your pets first, and Article 57 of The Highway Code now says that dogs must be "suitably restrained" when travelling in a vehicle. This is to prevent your dog from distracting you when you're driving and to save them - and you - from injury in case of a sudden emergency stop. In any case, you certainly don't want them to go running off each time you stop for a break.
You have a few options. Many campervan owners put their dogs in a cage or a crate during the drive, while others opt for a dog seat belt. Some dogs will happily sit in their bed in the back. It really depends on your animal and the space you have available. If your pet travels in a cage or crate, then you'll want to secure it inside your van. Take it with you when choosing your campervan, to gauge the size of vehicle you need.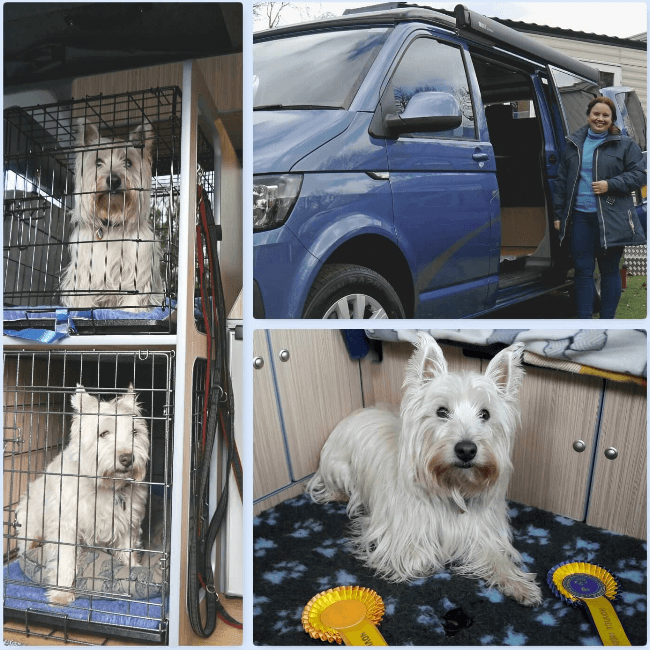 (Above) We built two dog cages into Penny's VW Caledonia MPV so that she could keep her Westies safe while she's driving
Remember, it's not just how much space the crate takes up, it's also how you plan to use your vehicle. Will your dog also sleep in the crate? If so, you'll want to design your campervan so the crate isn't in the way during the daytime. We've found that incorporating the crate into the back of the vehicle works best in rear kitchen models such as the Paradise.

When it comes to securing your crate, it's possible to install special rings in the floor of your vehicle, so you can strap it down for travel. That way you won't need to worry about your dog's safety when you're on the road.
Charlotte asked us to build a most unusual campervan - to house an enormous dog cage for four super-fast dogs in her Flyball team. When specifying the campervan Charlotte decided that she would sleep in the pop-top roof bed, with the dogs in their secure cage below. There was also a kitchen, so that all the occupants could be fed and watered. Having a campervan would mean that Charlotte could arrive at an event the night before and have a restful night's sleep before the competition begins. We were happy to oblige, and have been following the fortunes of the Tails We Win Flyball team ever since.
Interior design
Many off-the-peg vehicles have light coloured interiors. This is a challenge if you have a dog, as every speck of dirt will show up and the upholstery can be harder to keep looking clean. With a customised interior you can choose the colour of your soft furnishings. It's worth considering a light charcoal, or even something darker, that won't show the paw prints too much. Choose wipe-clean vinyl flooring, instead of carpet. If your dog moults easily, a hard floor is easier to keep free of dog hairs.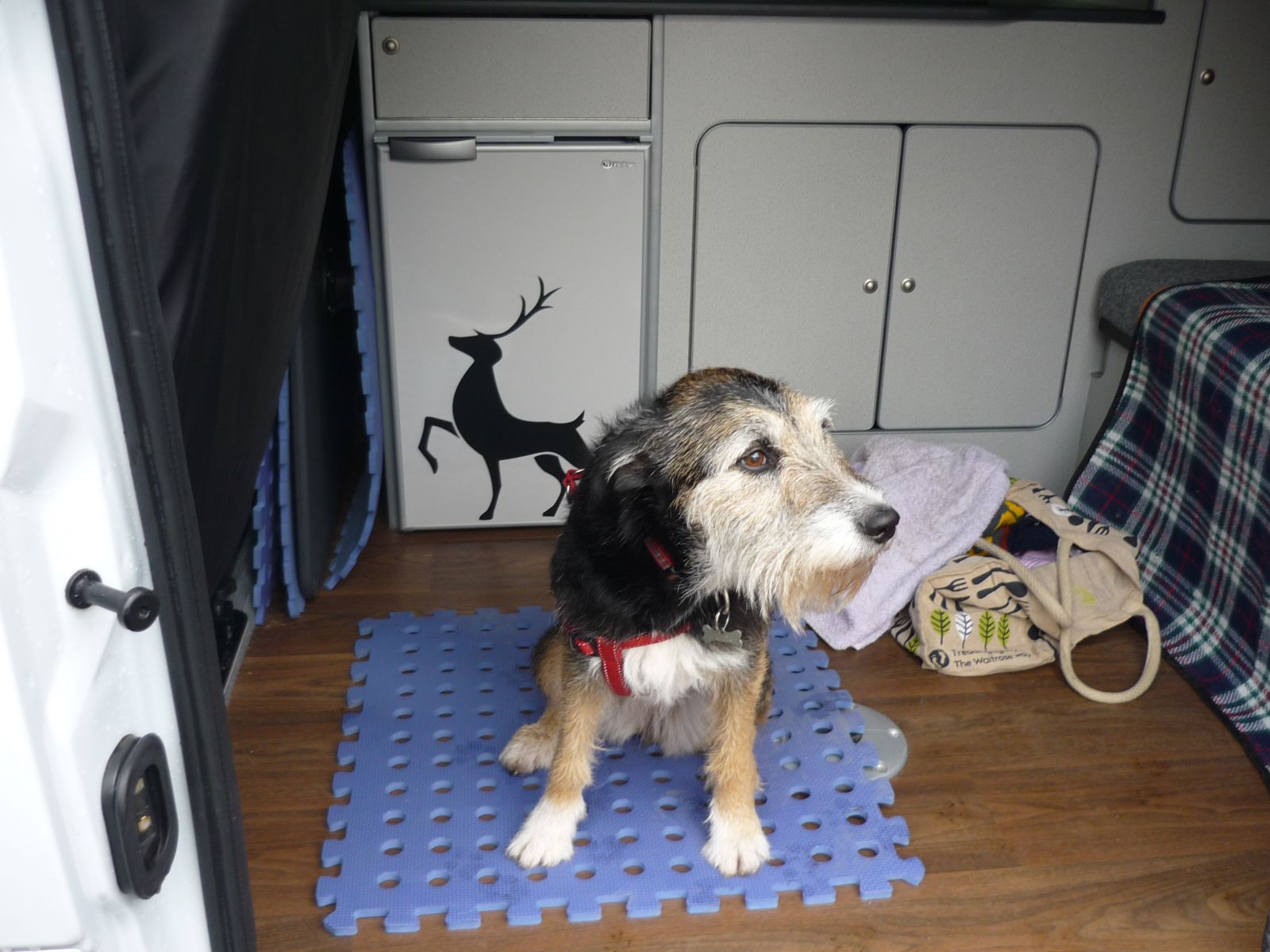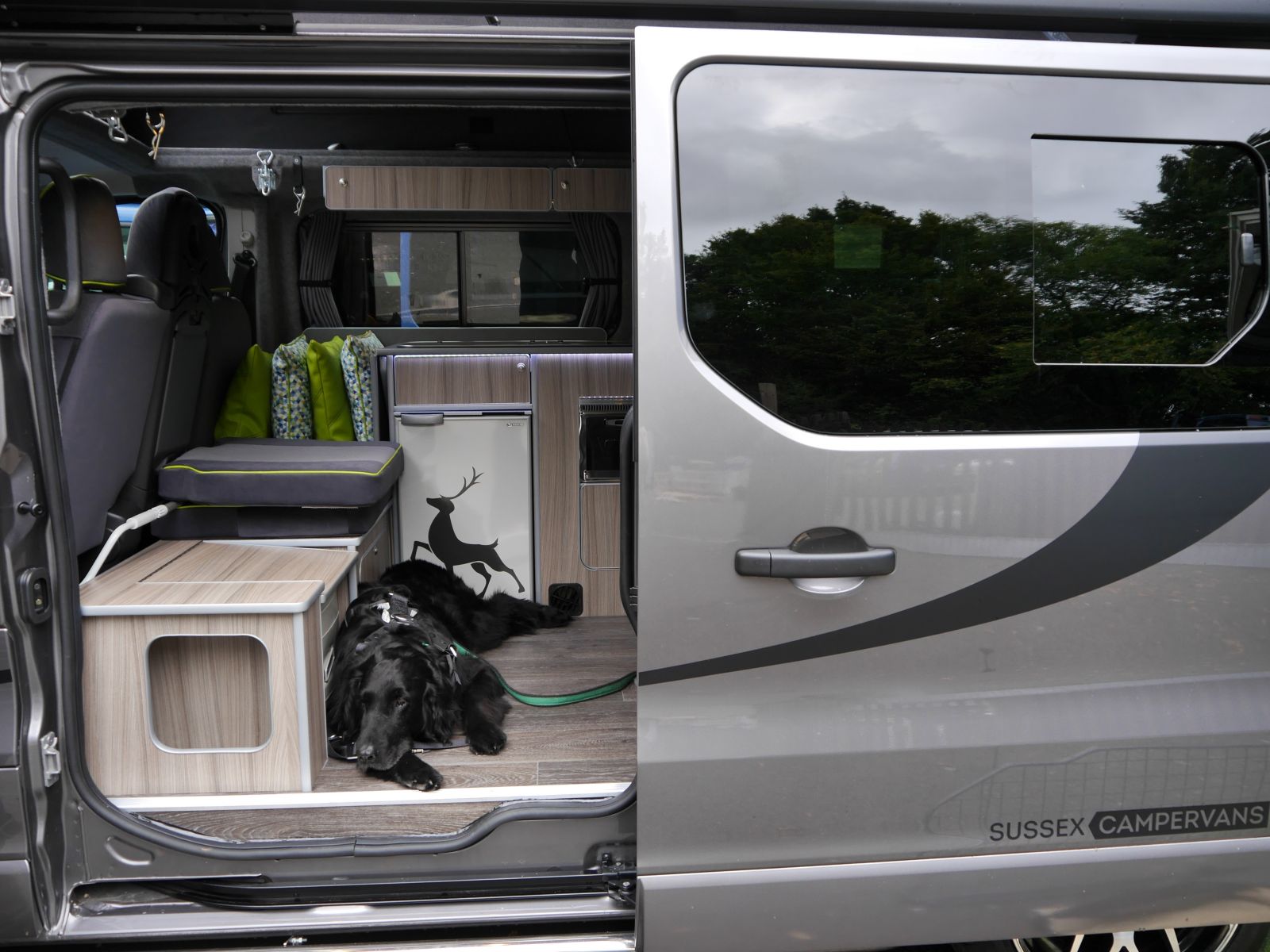 (Left) Something as simple as a non-slip mat makes all the difference to little Pebbles in the Manhattan Compact campervan
(Right) Barney jumped straight in and got comfy when her owners collected their Manhattan MPV from Sussex Campervans
Cathie keeps things simple with her Collie Cross. She says: "She's quite calm now she's older and she just sleeps in her bed in the centre of the campervan, behind the cab seats. Sometimes I sleep in the inflatable drive-away awning with her, in the summer. I can't let her sleep out there on her own. I can put the awning up on my own. The interior of my Sussex Campervans NV200 CamperCar is mostly grey, with Noma Rustic wood-effect flooring that doesn't seem to show the sand or the mud too much."
Tips for travelling with dogs
If your dog is happy travelling in a car, he'll be comfortable in the campervan. He may even prefer the camper as it will feel more spacious. In fact, don't be surprised if your dog ends up loving the campervan as much as you do - after all, this is a great opportunity for them to spend more time with their favourite person, getting more walks and extra petting. You'll tend to be more relaxed on holiday, so your dog will feel more relaxed too.
Especially on longer car journeys, make sure your dog is kept comfortable and cool by keeping the temperature comfortable and look at shading out the back windows. When you head off on an adventure, we suggest planning in some stops to give your dog a chance to stretch its legs and have a drink of water. This is so easy in your campervan. Once you've found a scenic spot, simply pull over and brew yourself a cuppa at the same time. Bliss.
Some dog owners like to acclimatise their dog to the campervan before heading out on a longer trip. This will help you figure out what your pet needs to feel most comfortable. So maybe you could head to the beach or the woods in the camper and reward your dog with a long walk. Keep some edible treats in the camper and your dog will soon be as keen as you are about campervanning.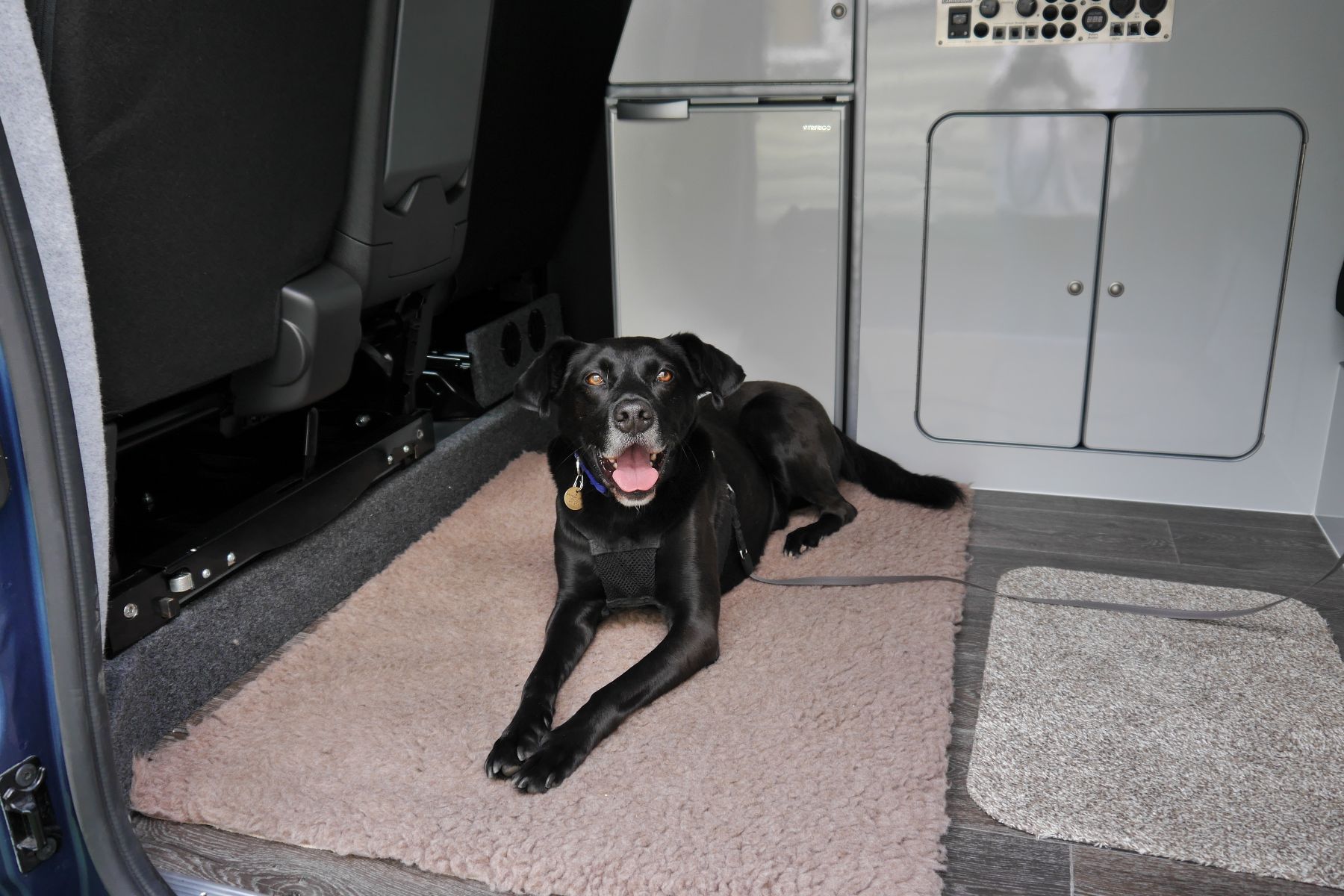 (Left) Sue and Rick's Paradise Compact campervan has a rear kitchen with room for their dog Ted's bed when they're parked up
(Right) Malcolm's best friend George
Malcolm's elegant black dog George is a five-year-old rescue dog and is his constant companion since his partner passed away, following a battle with cancer. Now Malcolm and the dog escape in their blue Manhattan Compact camper from their home in West London to the country, whenever they can. He says, "I am recently retired and wish to travel more comfortably to revisit the places of my youth and see friends and family with my dog instead of looking for dog-friendly hotels."
Don't forget the dog owner's travel essentials:
Travel water bowl and a food bowl - make sure water is available at all times (this is easy in a campervan because you have water on tap)
Their usual food and treats
A plastic mat to go under the bowls
Dog brush
Dog poo bags
Collapsing silicone bucket for paw washing
Old towels to dry your dog (microfibre ones dry quickly)
Shampoo for washing a muddy dog
Dog toys - don't forget their favourite toy... It can make all the difference to how they settle in and enjoy the trip!
Disinfectant spray
Another tip: try training your dog to only use the side habitation doors. You could even block access to the front cab. That way, if you open the cab or the rear door, they won't automatically see it as an invitation to leave the vehicle.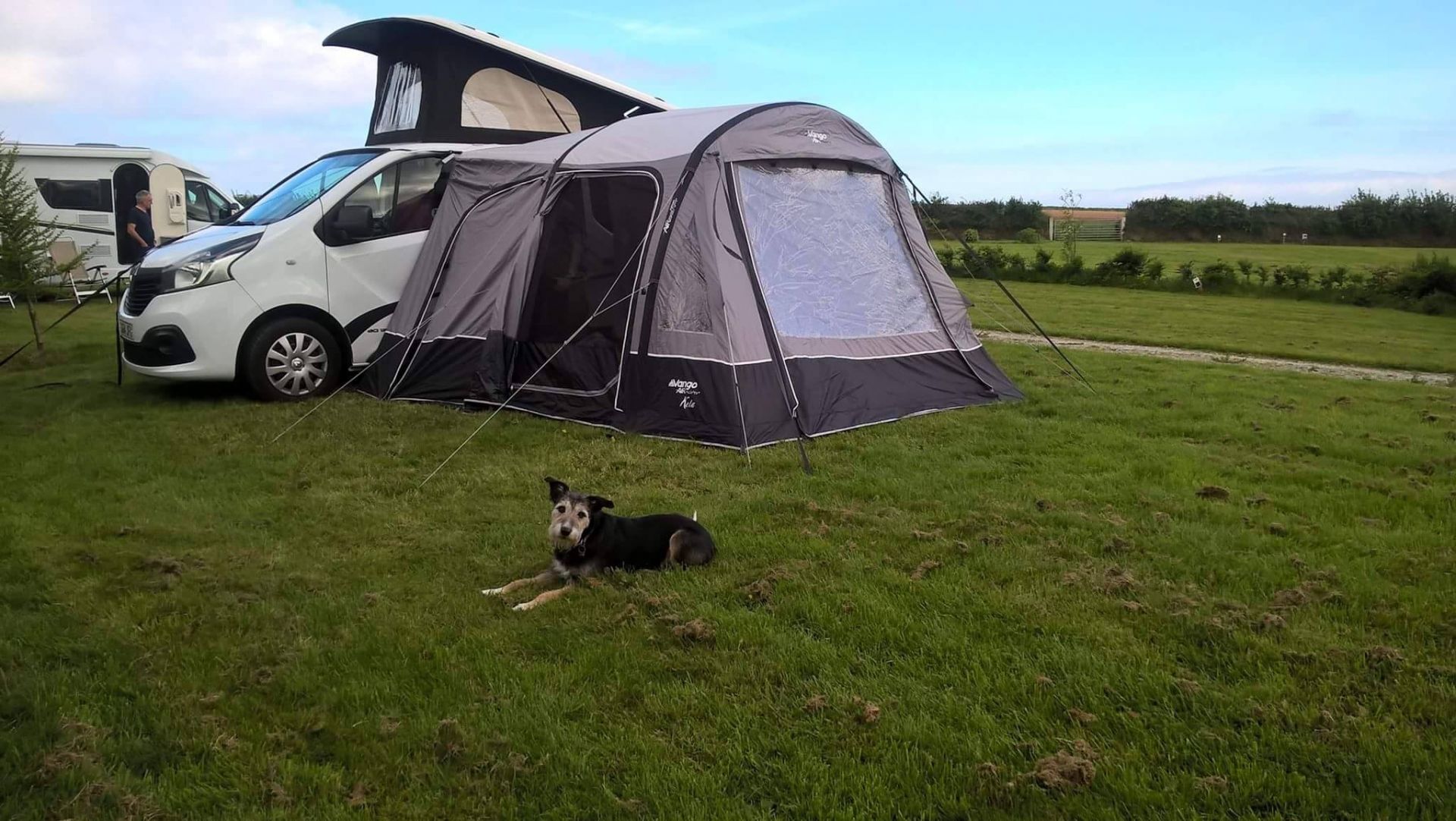 Pebbles enjoys camping - most campsites welcome dogs and there's plenty of space to spread out and use the inflatable driveaway awning
Stress-free camping
Make sure you've chosen a campsite that welcomes dogs (most do). You may find dog-friendly facilities, like a dog walking area. When you arrive, it's worth checking for any restrictions. Do you need to keep your dog on the lead? Other rules are common sense, such as cleaning up any dog mess. Regardless, your dog will love being with you and discovering the new smells of a new place.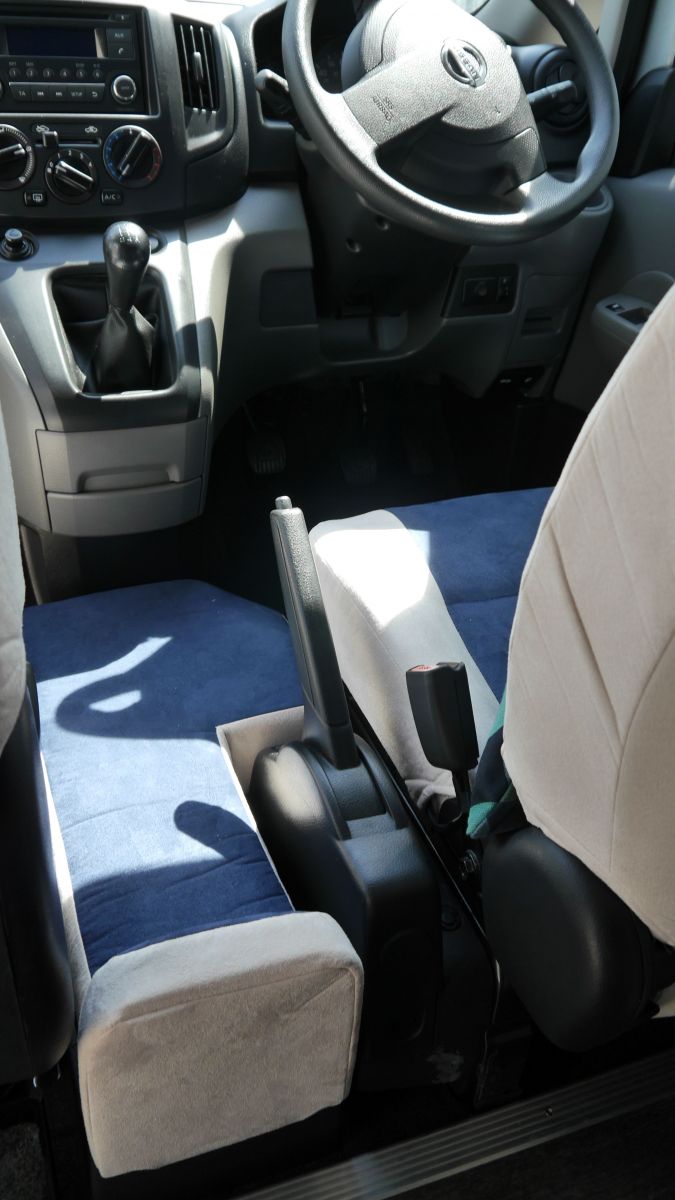 (Left) Lucky Shrimp is allowed to snuggle up with her owners in their Manhattan
(Right) We made this matching dog bed for a mini camper van
When it comes to sleeping, each dog owner will simply find their own way. It's worth bringing the cushion, toy or blanket that your dog sleeps with at home. They'll feel reassured and comforted by its familiarity. Your dog could sleep in its travel cage or in the awning. Alternatively, some owners like to have a special cubby hole or cushion created for their pet's bed.
To get a great nights sleep, we find that it helps to get into a routine. Our dog, Angus, gets a good walk and a pee before he goes to bed. Then we wash and dry his feet to keep the campervan cleaner. After that, he'll happily drift off.
During the day
Have you noticed that dogs seem to have their own alarm clock that tells them when they should have been fed or walked? We try to keep Angus' routine as close to what he experiences at home. This helps him to feel more relaxed and settled.
We take our dog out for their walk at the same time as at home.
We feed our dog at the same time as normal.
Barking can be a problem. Angus is a West Highland Terrier and tends to bark and patrol his zone. There are ways to prevent this on a campsite, so we don't annoy our fellow campers. We use windbreaks to create a zone for our dog that's exclusively ours.

We take Angus for a walk all around the campsite on arrival. He can have a nosy peek at everyone else and get familiar with his new surroundings. Assuming it's nice and cool and the roof is up, your dog may be happy to sit in the campervan, but it's likely he'll prefer to be outside. If that's the case, we can only suggest that you get yourself set up so your dog can't wander off. Not all campers like dogs.

Angus is a wanderer. He loves to join in the fun and play with our children, barking excitedly. We tether him to a corkscrew peg using his lead, giving him some freedom but not letting him run off.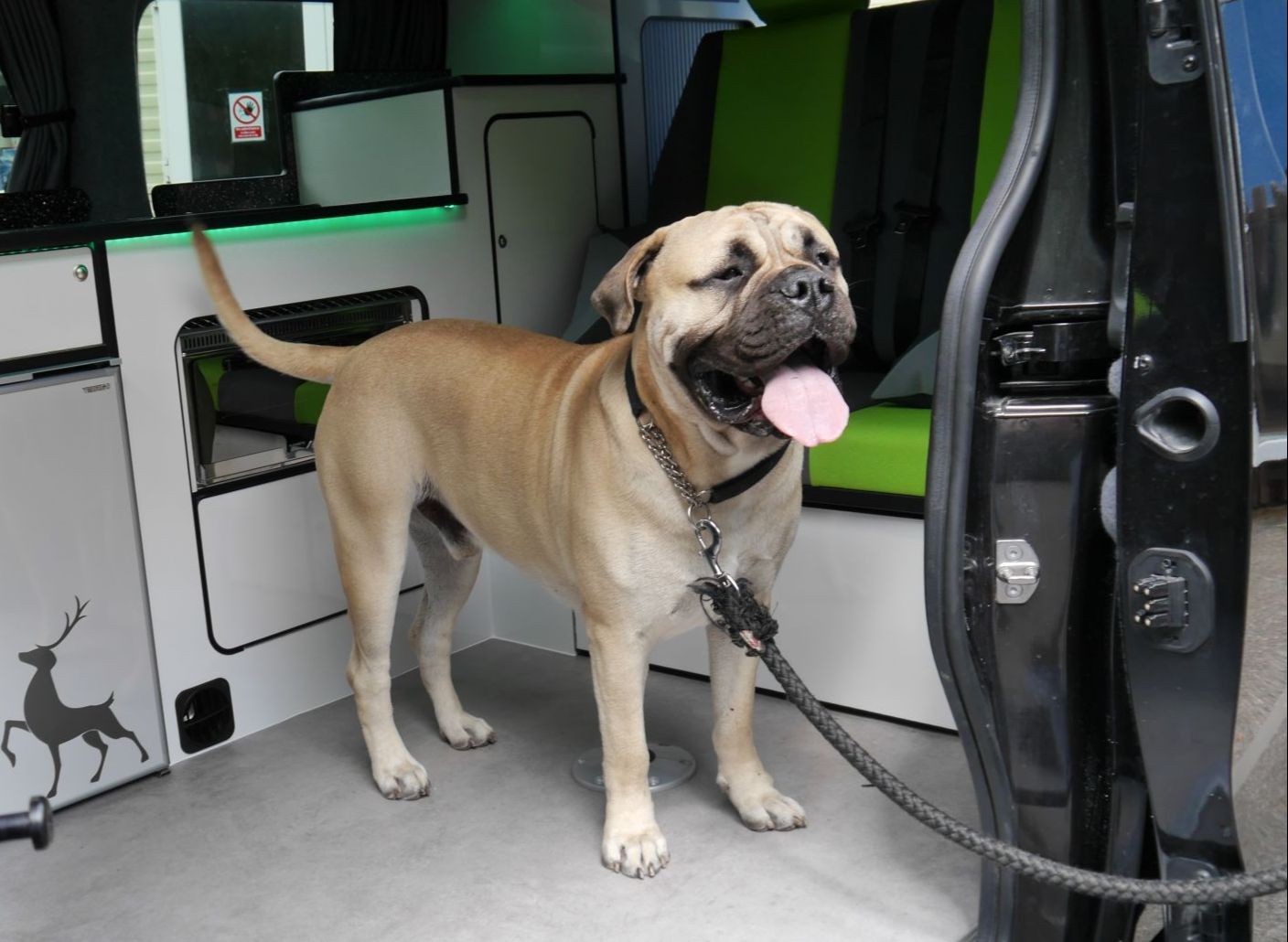 Ben the English Mastiff puppy has plenty of floor space for his dog bed in the Manhattan from Sussex Campervans
A good night's sleep
There's plenty of space for dogs to sleep in a Sussex Campervan. While some try to claim the rock 'n' roll bed as their own, most owners will find a comfotable spot for a dog bed. Vanessa and Martin's Jack Russell, Lucie, has claimed the front passenger seat as her bed and loves it.
Tips for dog owners
Create a run for your dog using windbreaks. Our kids love to get Angus to run up and down, while cheering him on, and we like to sit watching them, while enjoying a cuppa.
Keep a selection of your dog's favourite toys permanently in the campervan. That way you always have something to occupy your pet, without having to remember to pack them.
Try playing tennis on a string - it's our dog's favourite game. This game folds up small for storage in the camper.
What to do with a muddy dog
Angus has a passion for water, so if he sees a nice lake or pond then in he goes. As a result, his white fur turns various shades of grey and brown. We always choose a hardstanding pitch, if there's one available. Grass pitches get wet underfoot, which can make your dog extra muddy.

If your dog tends to get muddy, consider taking a separate water bottle with a shower attached in the back your vehicle. A plant spray will do. Use this to rinse mud and grime off your dog's fur, a safe distance away from the campervan. Finish off with a vigorous towel rub and everyone will be happy. As a bonus, you can clean off your wellies or sandy feet with the dog shower, as well. (Our electric campervan has a pull out shower head tap to easily clean off muddy dogs!)
Do you have a dog that likes campervan life? Please tell us more! Send photos and stories to lifestyle@sussexcampervans.com.
---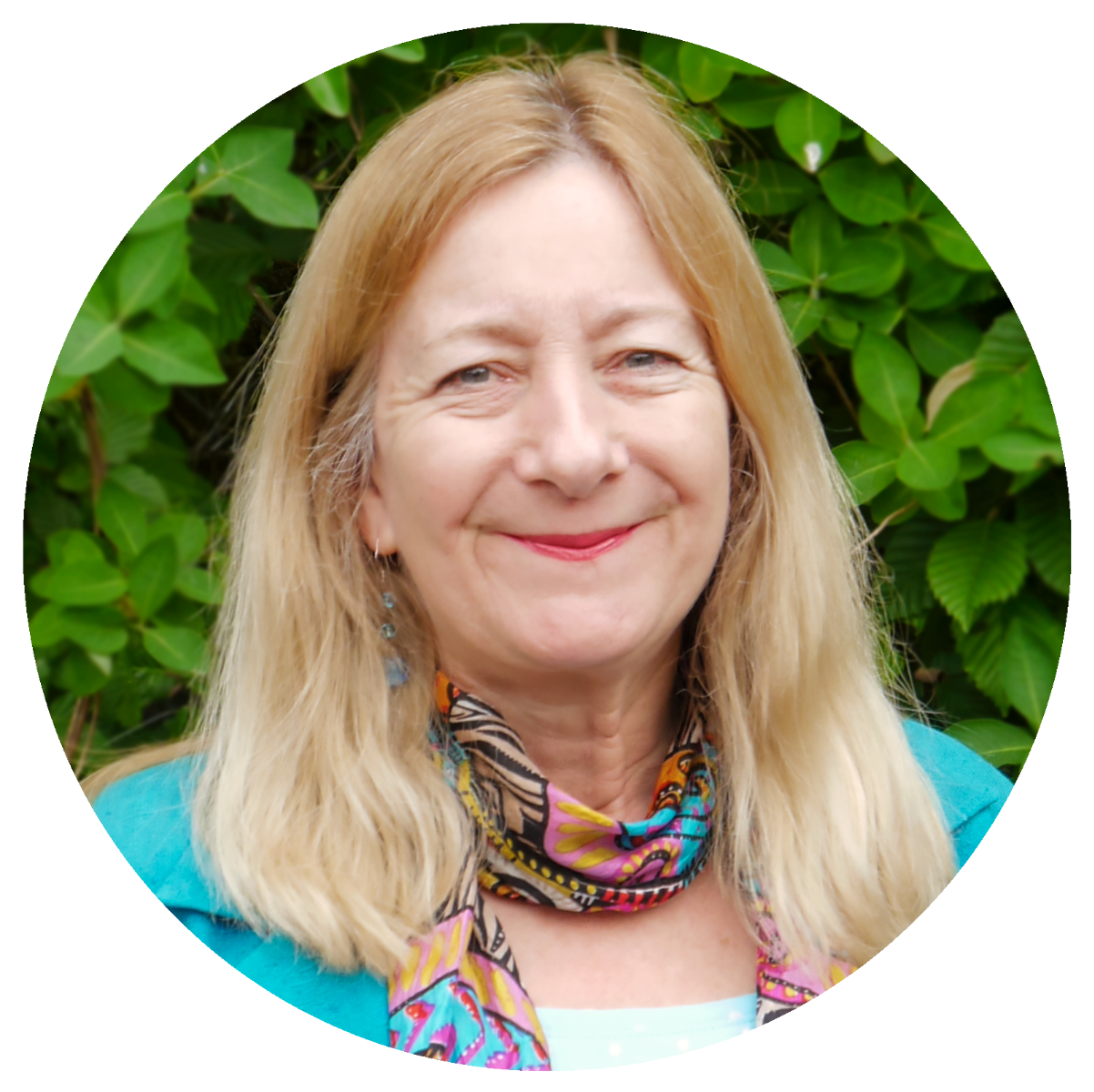 A travel expert and a passionate writer with a creative spark, Kate has specialised in writing about campervans since 2008. Kate has worked for magazines such as Motor Caravan, Caravan, Practical Caravan and Practical Motorhome.
---