Eco-Friendly UK Campervan Holidays
After years of easy Continental travel, cheap flights to far-flung locations and even cruise liner holidays, many people are waking up to the fact that within our very own British Isles you can find some of the most beautiful locations on Earth - without damaging the environment.
And the beauty of campervan ownership is that you can go camping and enjoy the great outdoors in comfort. What a winning combination - no wonder UK campervan holidays are in vogue with Sussex Campervans owners. Of course, many of our friends have been exploring the UK for years, enjoying sports, day trips, short breaks and holidays all year round.
Eco-friendly Travel - Families Turn to Campervans
After a turbulent year of travel restrictions, border controls and flight-shaming, the push towards ethical travel is bigger than ever. Could more families turn to campervans in their search for more ethical travel?
A lot of people would love to own a campervan, but worry about the ethics and impact on the environment of driving a larger vehicle amid the growing concern of climate change. But what are the facts? Let's compare modes of travel to find out the best ways to go on holiday, as more families turn to campers.
Campervans started life as plain panel vans, designed to carry heavy loads with ease. They nearly all run on diesel, since that gives a van the best fuel economy and torque (pulling power) to go the distance and get up hills.
Car-Like Fuel Economy
Here at Sussex Campervans we take the newest and most efficient panel vans and convert them into our range of bespoke campervans. Most of the vans have the latest Euro 6 diesel engines, often with AdBlue for even lower emissions.
With Sussex Campervans' car-like fuel economy and a comfortable driving experience, our van conversions are more manoeuvrable and cheaper to run than a coachbuilt motorhome - and are kinder to the environment.
When you look at the fuel economy figures, our campers achieve similar fuel economy to many family cars. We convert the Volkswagen T6, Renault Trafic (all 46.3 combined mpg), and the car-sized Nissan NV200 (57.6 mpg for diesel or 35 mpg for petrol) and of course, our latest all-electric e-NV200 which can run off entirely renewable energy.
Below: Cost comparison of a Summer holiday from the UK for family of 4 based on a study by Travel Counsellors of Manchester.
FLIGHT
| | | | |
| --- | --- | --- | --- |
| | Nice, France | Naples, Italy | Corfu, Greece |
| Cost | £854 | £1142 | £1543 |
| Duration | 2 hours | 2 hours 40 | 3 hours 10 |
| CO2 Emissions | 1.3t | 2.1t | 2.6t |
car
| | | | |
| --- | --- | --- | --- |
| | Nice, France | Naples, Italy | Corfu, Greece |
| Cost | £576 | £628 | £1104 |
| Duration | 14 hours | 20 hours | 30 hours 30 |
| CO2 Emissions | 362kg | 537kg | 595kg |
The Holiday Starts the Minute You Start Driving
Why inflict a long flight or a train trip on a family with children and luggage? Clearly flying gets you to your destination faster - if you ignore all the waiting around in the airports - but it dumps a lot of CO2 into the air. Compare this to campervan holidays where you just pack all you need in the vehicle including a few food supplies and stop frequently to enjoy the journey. It's so relaxing that you really don't need to go far to get away from everyday life. The holiday starts from the moment you get in the campervan. And you can turn any spare time into a mini-break as well as using the van for all your hobbies and activities, all year.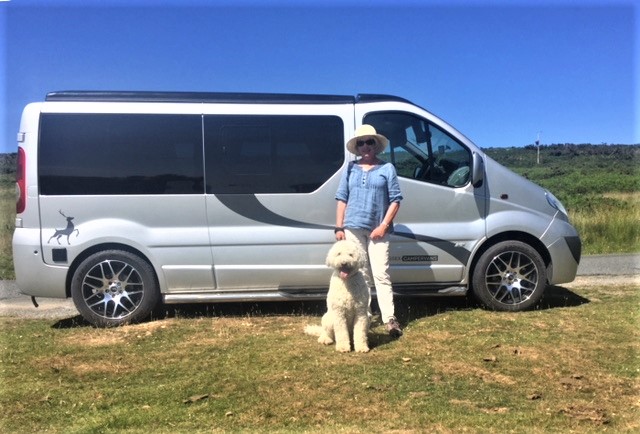 Sue and Barney show how to travel in style in their Sussex Campervan
Alan, Sue and their dog Barney bought their Manhattan MPV (LWB) from Sussex Campervans in 2015, when Alan retired early after redundancy. The Campervan was designed to be dog friendly for Barney. Alan sent us this message recently: "We had an amazing summer in 2018 travelling around the UK, starting in April along the Kent coast, then off to the Peak District, Gower Peninsula, Suffolk, Devon and Cornwall. We've been visiting new places and returning to places we last visited over 40 years ago, collecting new memories and reigniting old memories."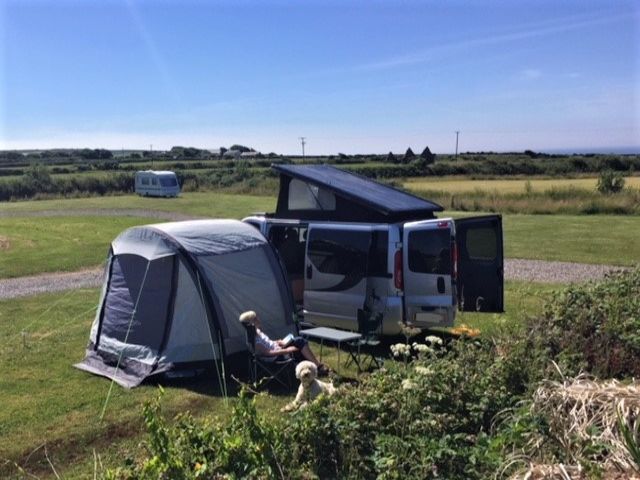 Alan continued, "A couple of years ago we managed to trace two of Sue's old school friends, one in Scotland the other Devon. She hadn't seen them since 1969, but we met up with both in 2016 and again in 2018. Lottie the camper has changed our lives. It's given us a much easier, simpler lifestyle. It's relaxing, enjoyable, built for adventure, travel and fun - plus Barney the Labradoodle is always with us. Thank you Sussex Campervans."
Barney the Labradoodle loves his adventurous life on the road with Alan and Sue in their Manhattan MPV from Sussex Campervans
Our Scottish Campervan Adventure
Alan and Sue are in good company - Angela and Trevor bought an NV200 CamperCar from Sussex Campervans last year and had a brilliant time exploring Scotland. They're both huge fans of the TV series Outlander, so they visited some beautiful Outlander film locations, re-living the story - set mostly in the Jacobite Uprising. Read Our Scottish Campervan Adventure: Part One.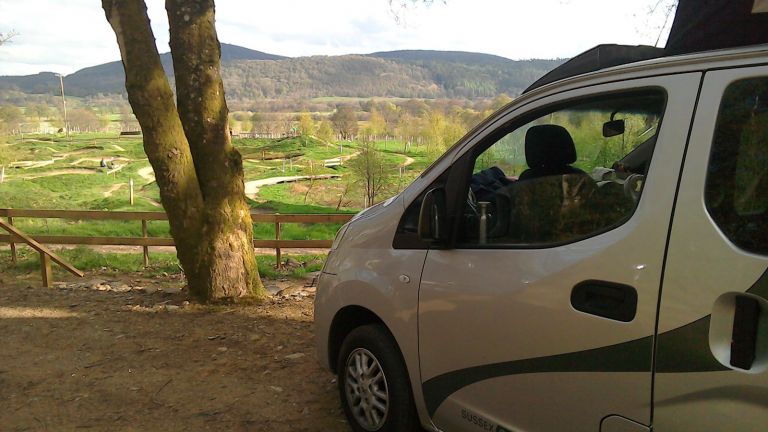 Angela and Trevor spent 18 days exploring Outlander film locations in their compact Nissan NV200 CamperCar from Sussex Campervans
It wasn't all about the Battle of Culloden and the turbulent past, Angela and Trevor recommended some great campsites in Scotland and also visited Loch Lomond and the Falkirk Wheel - an astonishing feat of engineering that would appeal to anyone who loves canal boats and British engineering.
Where will you be touring this year? And will it be in one of our beautiful Sussex Campervans, I wonder? Do let us know if you'd like to visit us - as well as building campervans to order we have stock campers that are ready to whisk you away right now.
Campervan photos and adventures: Alan, Sue, Angela and Trevor
RELATED:
Scotland's North Coast 500
This route is also popular with owners of Sussex Campervans and this post gives lots of tips for your adventure!
---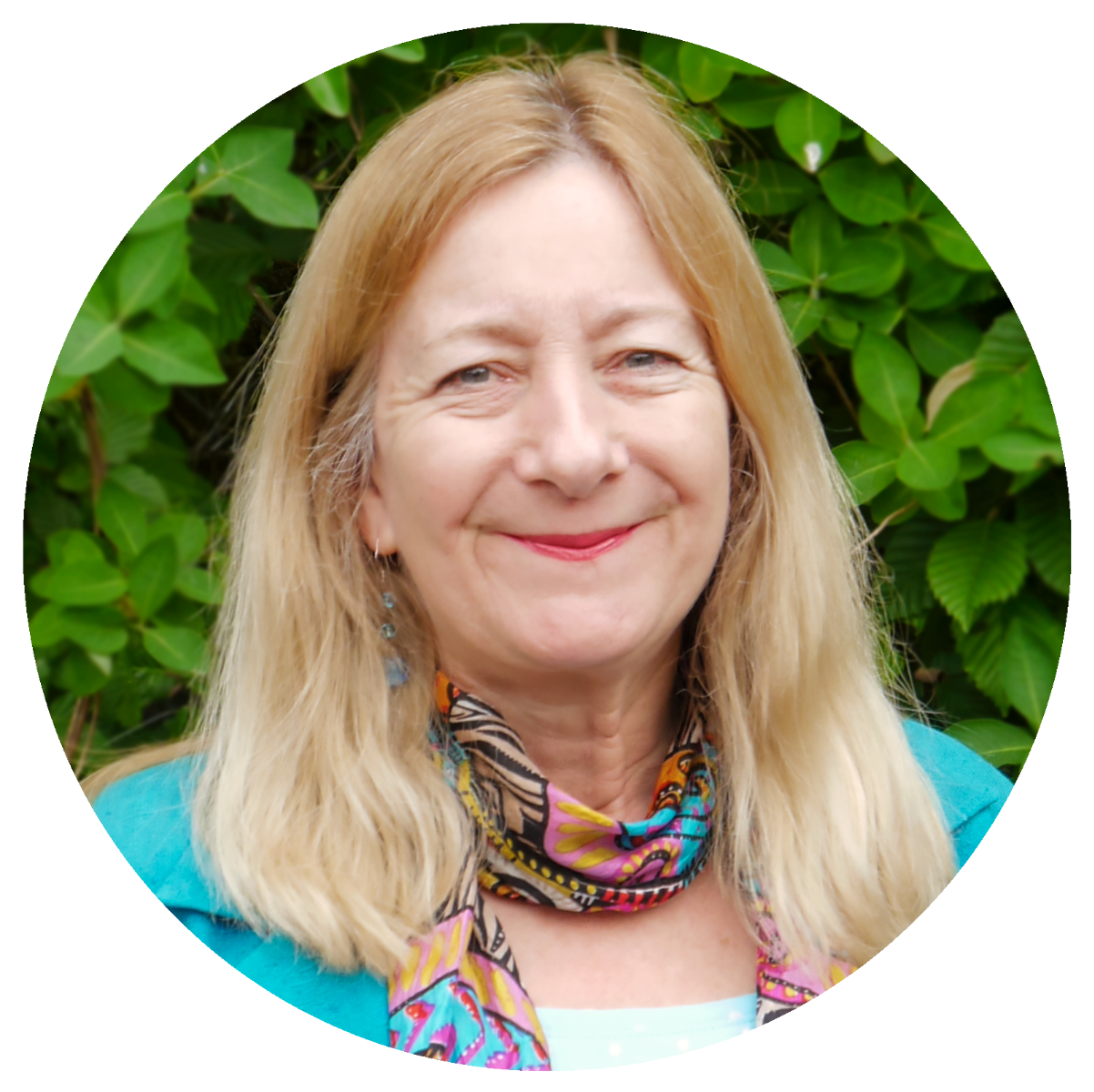 A travel expert and a passionate writer with a creative spark, Kate has specialised in writing about campervans since 2008. Kate has worked for magazines such as Motor Caravan, Caravan, Practical Caravan and Practical Motorhome.
---