It's Here: The New All-Electric e-NV200 CamperCar
WHY GO Electric?
Looking for an eco-friendly camper? Why not try an electric campervan conversion? Find all the information here you need to help you go green with an electric camper van.
Electric campers have become increasingly popular in recent years as we attempt to move towards more sustainable modes of transport. The previously believed myth that buying an electric campervan to help the environment meant dramatically sacrificing performance is finally being debunked. While petrol and diesel van models are still the best options for travelling long distances quickly, buying an electric vehicle is now a viable alternative for those who don't mind making a few additional pitstops along the journey.
The reason I personally decided to buy a campervan in the first place was because I loved travelling through the countryside, exploring woodlands and going wild camping. I felt incredibly guilty knowing that the very vehicle I was driving to enjoy these things wasn't as clean for the environment as it could be.
It's fantastic that you now have the opportunity to enjoy your holiday and travel with your family in a vehicle that is eco-friendly.
What is the Best Electric Campervan to buy?
At Sussex Campervans, we've been working hard to develop an electric campervan that is both affordable and provides a great user experience. Our customers overwhelmingly told us that they wanted an option that helped to reduce their carbon footprint, and we listened.
That's why we took all the popular features of the Nissan NV200 camper van and put it into a different, but more environmentally friendly, camper car conversion - the e-NV200. Finding an electric campervan model that could provide the same benefits of a petrol or diesel engine was difficult, but Nissan are the van company currently leading the charge on electric camper models.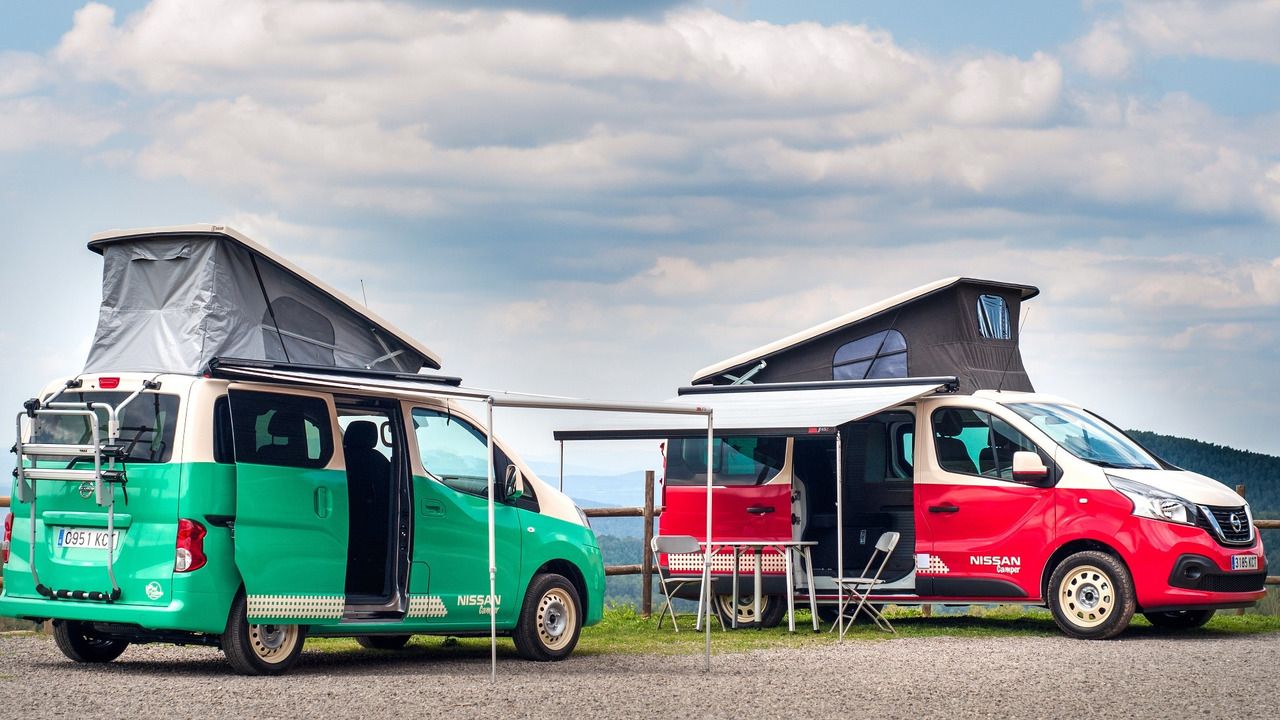 What Electric Vans are on the Market?
With their rise in popularity, many campervan manufacturers are in competition to produce the best and most practical electric campervan models. There are currently Renault, Fiat, VW, Nissan and Mercedes electric campers available. But not all of these have been big success stories. Part of the result of these past failures is due to companies trying to push something out that wasn't completely ready to be released. It's one of the reasons why electric campers have developed a tainted reputation. However, with the e-NV200 and a select few other models, that's now changed.
Can I Buy an Electric VW Camper Conversion?
It's a big question that we find a lot of our customers asking us at Sussex Campervans. Many people are looking for an electric edition of the nostalgic camper vans they grew up seeing. Sadly though, there aren't really any viable plug-in Volkswagen van camper conversions currently on the road yet.
The electric VW camper, named the ID Buzz, is one of the most exciting prospects but this campervan isn't set for release until 2022. The electric camper conversion is also set to come with a heavy price tag, with the expected price tag to well exceed the £100,000 mark. Despite this, it is still exciting reading some of the electric van's reviews and anticipating the model's release.
Eco Campers
For many, buying an eco-camper for a trip is a dream come true. From the luxury of having access to all the necessary amenities at any time of the day or night, to the convenience of being able to go virtually anywhere without owning a car, electric campervans (ECVs) make the perfect choice for short-haul journeys and European tours.
But this isn't always a simple 'yes or no' decision. While it may sound like a no-brainer, when it comes to buying one, it all comes down to a simple reality check. It's what you're comfortable with – that's important!
Eco Camper Van Conversions
Finding an environmentally camper van can be a difficult job, there are a number of new eco campers for sale and finding the right van to convert into one can be difficult. Should you be buying an electric or a hybrid? Are some electric campers more efficient than others?
The model of electric van you choose for your conversion is incredibly important. It's what you will be driving for longer journeys and making sure you are comfortable behind the wheel should be your number one priority when it comes to selecting a camper. Your camper model can have a big impact not just on comfort but on reliability and convenience.
What is an Eco-Friendly Camper Van?
An eco-camper can be defined as being a clean vehicle that produces significantly lower amounts of carbon compounds and other toxins that are harmful to the environment. These gasses are typically produced inside of petrol or diesel engines.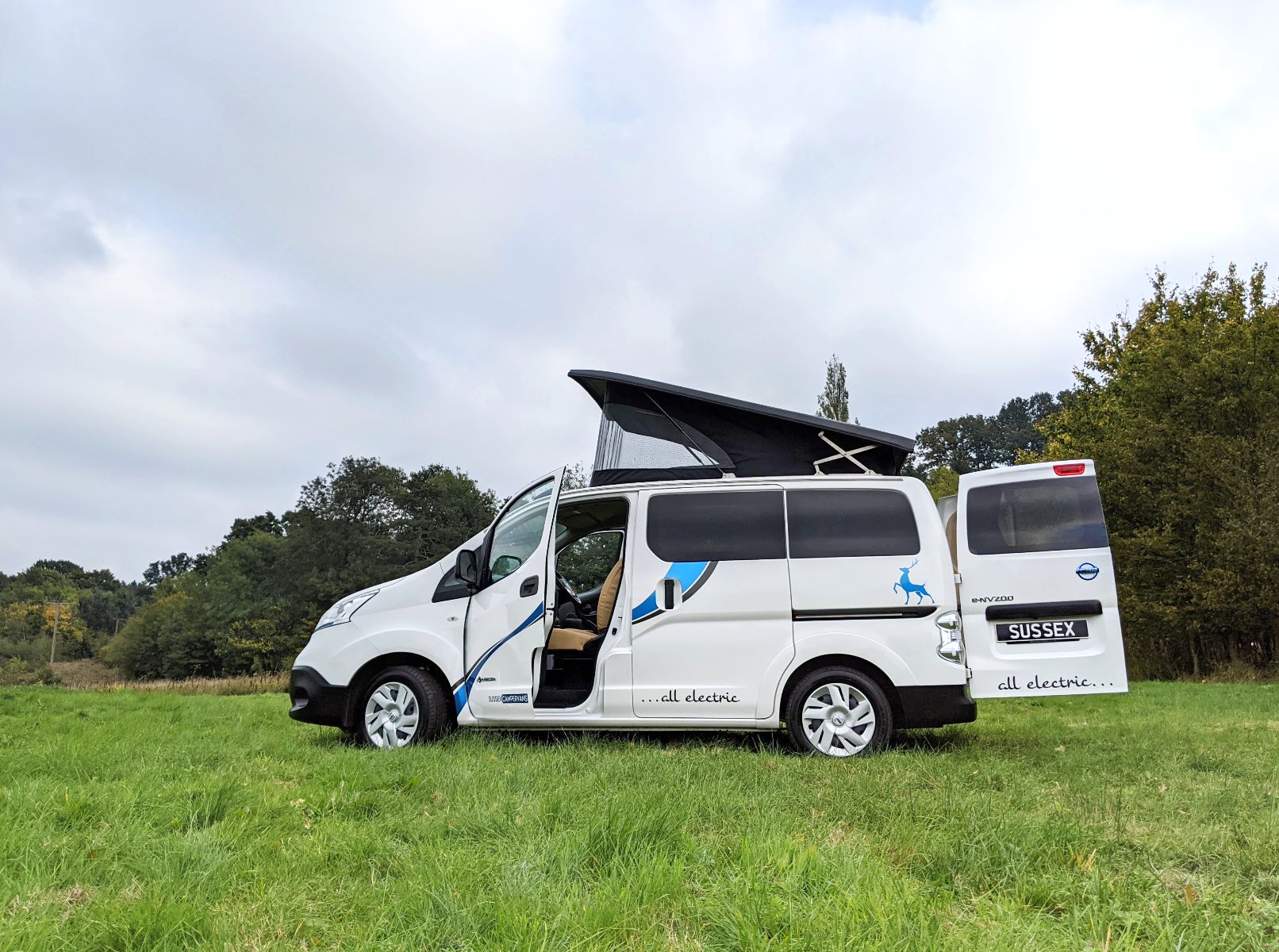 Hybrid or All-Electric Camper Vans?
Previously, buying a hybrid camper was considered to be one of the better options when it comes to finding an eco-camper van for sale. There is a popular myth that having a mix of both an internal combustion and electric engine meant you could still reduce your emissions but still have a powerful van. This is sadly just that, a myth.
The reality is that electric camper vans are far superior to hybrids. The Energy Saving Trust made the following statement:
"Electric vehicles are all about low running costs and emissions and win out against hybrids on both counts. Pure electric vehicles can have a range of up to 325 miles, with an average of 194 miles on a single charge."
As a result of all the misinformation and confusing differences surrounding hybrid and electric vehicles many campers have, in the past, given up and instead purchased a petrol or diesel van. These are, of course, most readily available at the moment, especially for those looking for pre-owned campervans.
However, now the Government has announced that there is high potential for everyone to have electric vehicles by 2035. In fact, the sale of new petrol and diesel cars will be banned from 2035 onwards. This was announced in February 2020 by Transport Secretary Grant Shapps - and came as a big shock to vehicle manufacturers, since they had been working to the Government's previously announced date of 2040. If this law eventually comes into effect, then you might find yourself being forced to make the choice in the future.
While having a hybrid van typically consists of having a combustion engine with an electric motor, Sussex Campervans provide the first UK hybrid campervan for sale that has a petrol engine but all-electric system and interior. The Nissan VX-e launched in December 2021 and was based on the popular NV200 CamperCar.
Electric Campervan Conversion
With vehicle manufacturers around the world racing to develop all-electric plug-in cars and small vans, which are currently available as electric campervan conversions?
At the moment there is only one main contender.
Nissan is the world's leading manufacturer of mass-produced electric cars. It launched the Nissan Leaf car in December 2010. This is now the world's best-selling plug-in electric car, offering a range of 151 miles when fully charged. The Renault-Nissan Alliance has now spent billions of pounds developing electric vehicles and improving the batteries.
The next step was to launch a small van, suitable for short-range deliveries in towns and cities where the air quality is critical. Nissan duly launched the e-NV200 utility van in 2014. By October, there was a prototype e-NV200 electric campervan conversion for sale - built to order, and sold with a rented battery on-board.
After the excitement of the launch, the real range figures came in from owners. They reported on owners' forums that the 24 kWh battery could only deliver a range of 60 to 73 miles in real-world conditions before it needed to be recharged. This was not much good to campervan buyers.
What is the Range of an Electric Campervan?
Fortunately, battery technology has improved since then and in 2020 you can buy an e-NV200 with a 40 kWh battery. The quoted range is 150 miles on a single charge. After that, you'll need to put it on a rapid charge for 45 minutes before continuing your journey.
Suddenly this new e-NV200 campervan is a good option for those who like to make the journey part of their holiday. If you're happy to explore Britain in stages, charging up each night, the good news is that you can go carbon-free right now!
One forward-looking van converter, Sussex Campervans, near Horsham in West Sussex, has developed the first all-electric e-NV200 CamperCar. Not only does the vehicle's engine run on electricity, but all the appliances within the vehicle are electric too. This represents a major shift in thinking - previously campervans have always had gas or diesel on-board to power the heating and cooking. At last there's a chance to travel without polluting the beautiful natural world that we want to enjoy.
Fast charge
Fast charging is possible, thanks to the onboard 6.6kWh charger for Type 1 AC charging, in addition to rapid 50 kW DC capability. This allows the battery to be charged to 80% in 45 minutes at a compatible Tanamo Quick Charge Point, or reaching a full charge in 8 hours on a 32 Amp wall box. You can use eco mode to improve the range, by slowing acceleration and also by recovering energy during coasting and braking on a journey.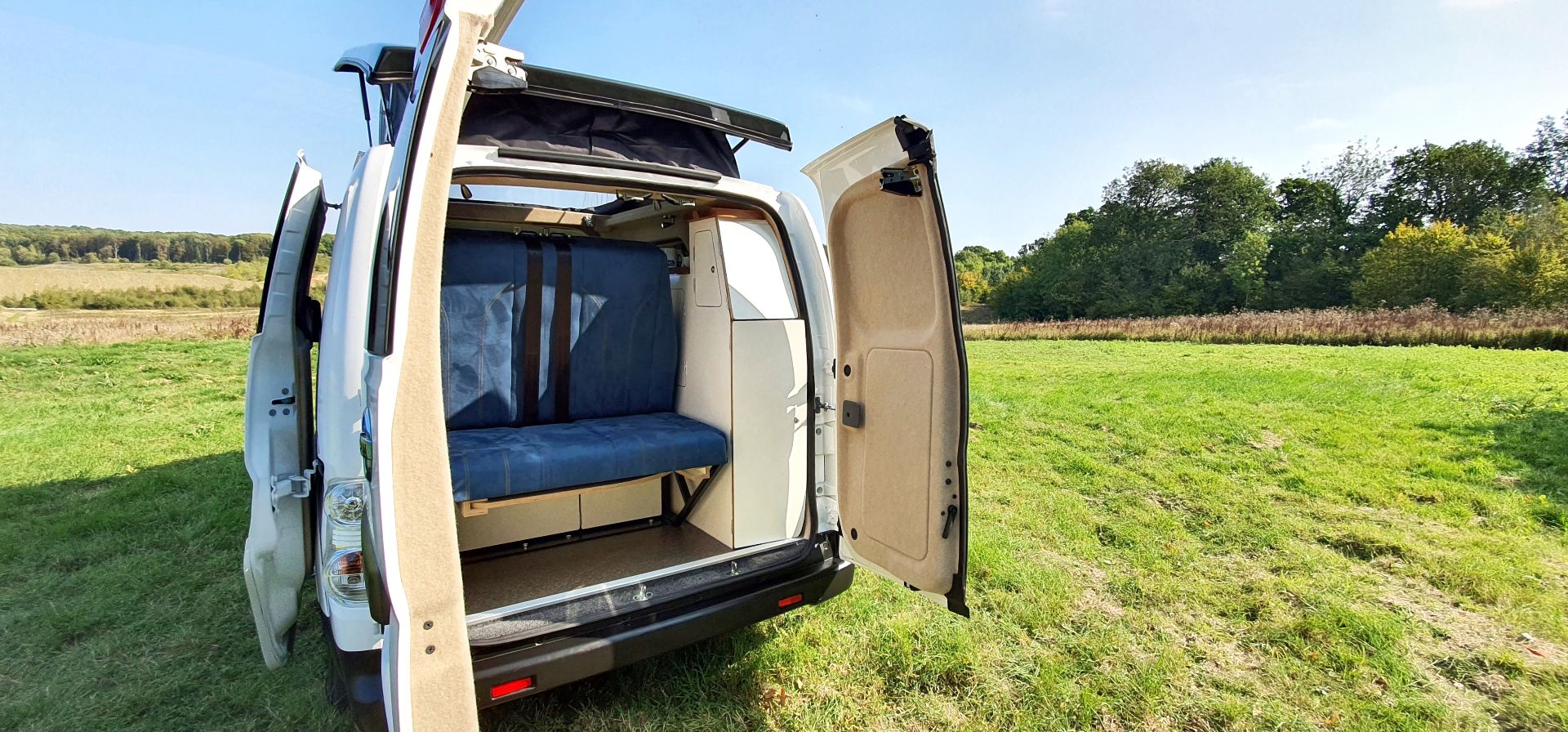 External
Length 4.56m
Height 1.858m
Width 2.011m
Wheelbase 2.725m
Internal load space behind cab
Load length 2.04m
Width 1.5m
Height 1.358m
Where can I charge up my electric campervan?
When you're out and about in your electric campervan you don't want to worry about getting stranded too far from the next charging point. Fortunately the infrastructure of fast charging points is growing rapidly as you can see from this map of charging points for EV drivers.
Over the next 5 years, GridServe are rolling out hundreds of Electric Charging stations across the UK. We visited the very first Electric Charging forecourt in Braintree, Essex and filmed our experience. Since then, GridServe have opened another forecourt at Rugby on Junction 1 of the M6 and plan to roll out many more in the near future.
Enterprising homeowners are also cashing in on the need for electric charging points. The online parking portal YourParkingSpace.co.uk has just expanded and now lists homeowners with an empty driveway and EV charge point, who rent them to EV motorists who pay to park and charge their vehicles.
Plus, of course, you can charge up whenever you are home, or on a campsite.
Why go electric?
Electric vehicles are cheap to run, are welcome in all cities and have no carbon emissions. The fuel cost of running an electric campervan is reported to be as cheap as 2p a mile. The VED is currently £0 per year, to match the fact that there are zero-emissions.
These low running costs alone should be enough to convince many a sceptic to buy an electric campervan.