Rear barn doors or tailgates: what's best for camper vans?
One Phone call. All Your Questions Answered.
No Sales Pitch. No Hidden Catch. No Nonsense. Just two people chatting and one of them happens to be an expert on campervans. All your questions answered at a pace that's just right for you. Just let us know when you're free by clicking the button below, and we'll do the rest.

Campervan expert and author Daniel Lopez-Ferreiro explains the pros and cons of campervans with rear barn doors versus campervans with tailgates
This question comes up all the time - people say, "Should I buy a campervan with a tailgate, or should I get a campervan with barn doors?" I'd like to answer that question today, even though it's one of those questions to which there isn't really a right or wrong answer, so let me share with you what the differences are - and the pros and cons of campervans with barn doors versus campervans with tailgates. Then you can make up your own mind which is best for you.
Above: Paradise Deluxe with Tailgate
A tailgate lifts up easily, much like the boot of an estate car. When you open it up it goes up on gas springs, which makes very light work of it. The tailgate is quite a big door, but it does give you good access to the whole of the rear of the campervan when it's up.
Should I choose a tailgate?
Pros:
The most frequent reason to buy a campervan with a tailgate is that it offers one big advantage over barn doors - a tailgate provides shelter.
With a tailgate up, if it were raining I could stand underneath it to put my walking boots and coat on, or take them off, without getting soaked.
Likewise, if you need to get something stored under the rear of the bed (if you have a side-kitchen layout), you won't get wet while rummaging for the thing you need.
With the tailgate up, in the classic side-kitchen layout campervan, I could even perch on the rear of the campervan's rock and roll bed-seat and eat a sandwich. The tailgate provides a sheltered little picnic spot for two.
The blackout curtains in Sussex Campervans are on twin rails, so that they won't flap around. So if you pull the campervan's rear curtains across before you lift the tailgate fully up, it can also provide some shade from the hot sun.
With a Paradise layout the tailgate becomes a handy porch, so you can have plenty of fresh air when you are cooking in the rear of the campervan, without the risk of any rain getting in.
Cons:
If you've chosen one of the bigger campervans, you might prefer barn doors to a tailgate. This is because the bigger the door, the heavier it is to lift. So if your upper body strength isn't quite what it was, or if you're quite petite, you may prefer the easier barn doors - no lifting required!
The other disadvantage of a tailgate is that sometimes you might park in a generous space, but someone else will come and park close behind you. If that happens, you may not be able to open the tailgate at all!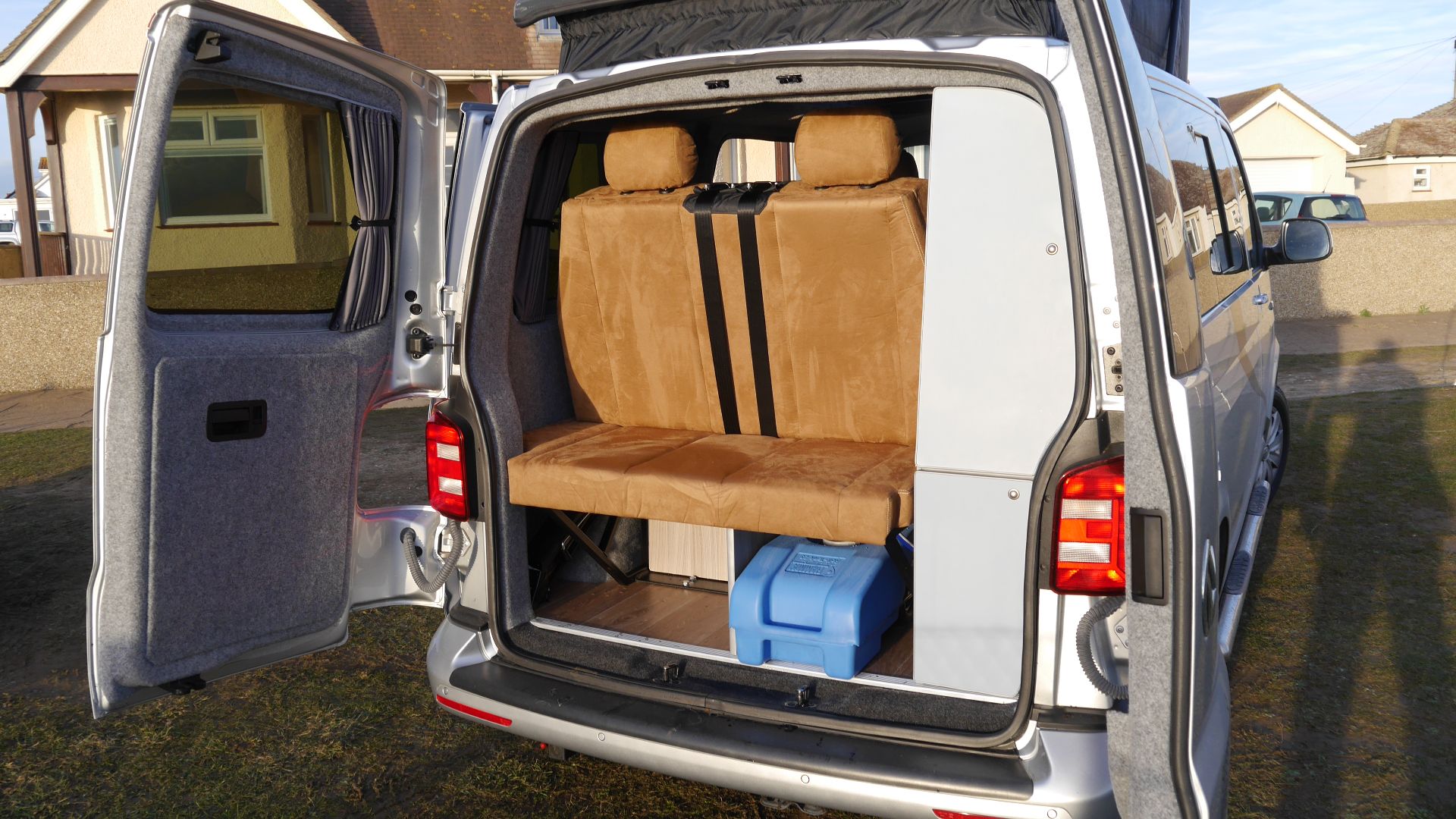 Above: VW Caledonia with Barn Doors
Should I choose barn doors?
Pros:
If you are parked in a tight parking space, close to another vehicle or a wall behind you, you can still crack open the barn doors to reach in for anything you need to get from the rear of the campervan.
You can open one or both of the barn doors in your camper very easily - and they are not heavy, either. Everyone finds they can open barn doors very easily, even a child.
Cons:
There is no cover from the door if it's raining - I'd have to grab my walking boots and put them on under a tree, or inside the main living area of the campervan.
So there you have it - barn doors, or tailgate - you can choose. They're both great options, and as I said at the beginning, there isn't really a right or wrong answer to this frequently asked question.
Why not come and see us, so that we can show you our Sussex Campervans in person? Then you can try opening and closing the barn doors and tailgates on our campers to see which might work best for you and your family. There's nothing quite like getting inside a campervan and imagining yourself on holiday - or just out for the day. Try out all the seats, put the campervan into night mode, lie on the bed and picture yourself enjoying camper van life.
Don't forget - ring us on 01403 336 369 or email hello@sussexcampervans for a chat or to book a visit. We're bespoke camper van converters, based just north of Horsham in West Sussex - click here for our map and directions. See you at Sussex Campervans soon!

Read more - Camper Van Life, by Daniel and Rebekah Lopez-Ferreiro is a celebration of the lifestyle we love - all made possible when you own a campervan. Enjoy stories from Sussex Campervan owners and find out all the many ways they use their campers to improve their everyday lives as well as their leisure time.
Camper Van Life is on Amazon Kindle, £1.99, and is also available as a full-colour paperback book, £14.99, on sale exclusively in the Sussex Campervans shop.