Sleeping bags versus duvets - which is best in campervans?
One Phone call. All Your Questions Answered.
No Sales Pitch. No Hidden Catch. No Nonsense. Just two people chatting and one of them happens to be an expert on campervans. All your questions answered at a pace that's just right for you. Just let us know when you're free by clicking the button below, and we'll do the rest.

We asked Sussex Campervans friends and owners what bedding is best for camping
"Sleeping bag versus duvet - which is best for campervans?" I asked this question on our Facebook page during an especially cold spell in February - and was delighted to discover so many of our friends and owners of Sussex Campervans had strong opinions to share. They also had some excellent reasons for their campervan bedding choices. Here is a selection of their comments.
Shrimp enjoying a lie-in in the Manhattan during our friends Geoff and Jane's recent NC500 tour of Scotland
Some love duvets in campervans
"Duvet of silk threads, thin enough to leave on the bed with the pop-top down, but warm enough for winter. Joint issues mean I just can't get on with sleeping bags, but this is fab!"
- Jo
"Duvet in summer - for ventilation - pop top up - sleeping bag in winter, pop top down - for warmth! - it was minus seven degrees centigrade last night."
- NV200 CamperCar owner Steve
"Duvet every time."
- Kevin
"Duvets for the main but we carry sleeping bags as well in case we get an extra cold night!"
- VW Caledonia owner Sue
"Both."
- Karen
Some love sleeping bags in campervans
"Sleeping bags here. They pack away easily, and can also be snuggled into while sitting in the awning on a chilly evening!"
- Manhattan owner Georgie
"We use a three-season double sleeping bag, zips on each side for ease of in and out. Brushed cotton on inside, so nice and snuggly if cold outside. Some mornings, I just don't want to get up!"
- Beverley
"We are sleeping bags fans! They store away nicely in one of the under-bed cupboards. Use a sheet cut down and sewn to size on the bed to protect seat cover. We use our 'wardrobe cupboard' for food storage. We also put a shelf three quarters of the way up in it to put maps, books and other papers on. Fitted a sensor light in there too, and put clothes in two soft bags that fit well on the two shelves in the back area of the van."
- VW Caledonia owner Lynda
"We decided to throw some money at this and don't regret it at all. It was a bit expensive but we bought this double duvet - the Outwell Constellation Lux Double 3-4 Season Sleeping Bag (rrp £209.99). No need for sheets underneath. Zips open both sides, so you both have the option of ventilating and kicking your legs out. It's nice and wide (230 cm long x 160 cm wide) and feels more like a duvet than a sleeping bag. It packs down quite well. The two girls have a Duvalay each in the pop-top roof bed and they are brilliant . One of the girls tends to thrash around in her sleep, but it helps that you can have the opening on the opposite side to the other sleeper. The Duvalays are also very good for when their friends come round to stay. Everyone sleeps brilliantly with this set-up."
- Ben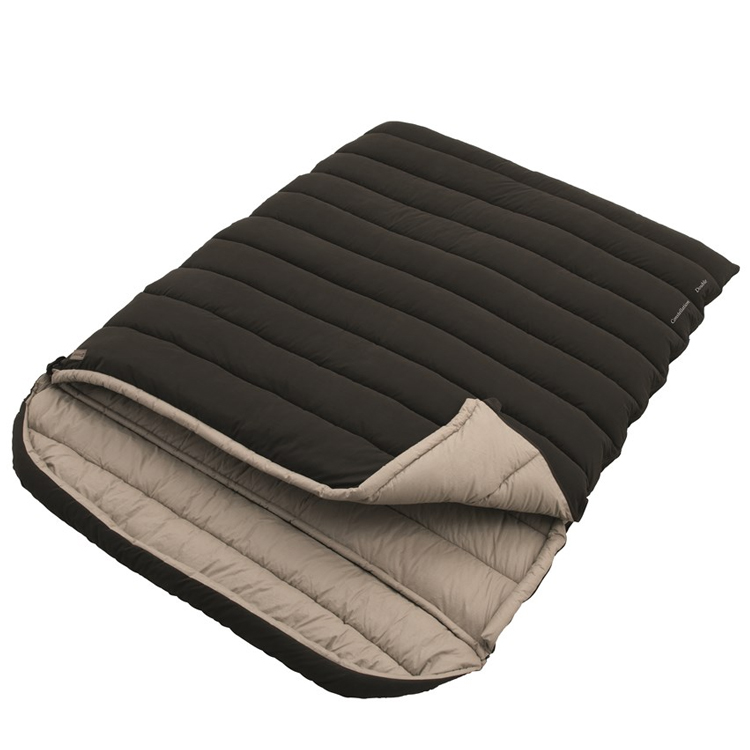 Ben recommends this Outwell Constellation Luxe double sleeping bag with a zip either side
"We use a double sleeping bag."
- Ricky
"Sleeping bag - it doesn't take up too much room."
- Gaynor
"We use a three-season double sleeping bag, with zips on each side for ease of getting in and out. There's brushed cotton on the inside, so it's nice and snuggly if the weather turns cold outside. Some mornings, I just don't want to get up!"
- Beverley
Alternative campervan bedding
---
Annette: "Duvalay - it's the best of both worlds!"
Malcolm: "Thanks for posting. I didn't know about these Duvalays. I will definitely be getting one."
Amanda to Annette: "I love mine."
Manhattan owner Jane to Annette: "We love our Duvalays too!"
---
"Duvalay! Not cheap, but worth it. I get tied in knots if I use a sleeping bag."
- Ann
"Duvalays are excellent. They don't pack down as small as a sleeping bag, but they aren't restrictive and are very easy to use. We have a high-top and the pillows and Duvalays fit in the locker above the cab. The offside rear seatbox has the boiler taking up most of the space and the nearside rear seatbox is shoe storage."
- Andy
"Definitely Duvalay."
- Jim
Where do you store your campervan bedding?
"Sleeping bags store nicely under the Paradise Twin rear seats, but a duvet is nicer! Any top tips for maximising the use of the wardrobe? We've not found boxes that fit, so there is lots of wasted space and we end up using 4-6 reusable supermarket bags, one each and one for shoes and waterproofs and then just squish them in! Any better tips?"
- Richard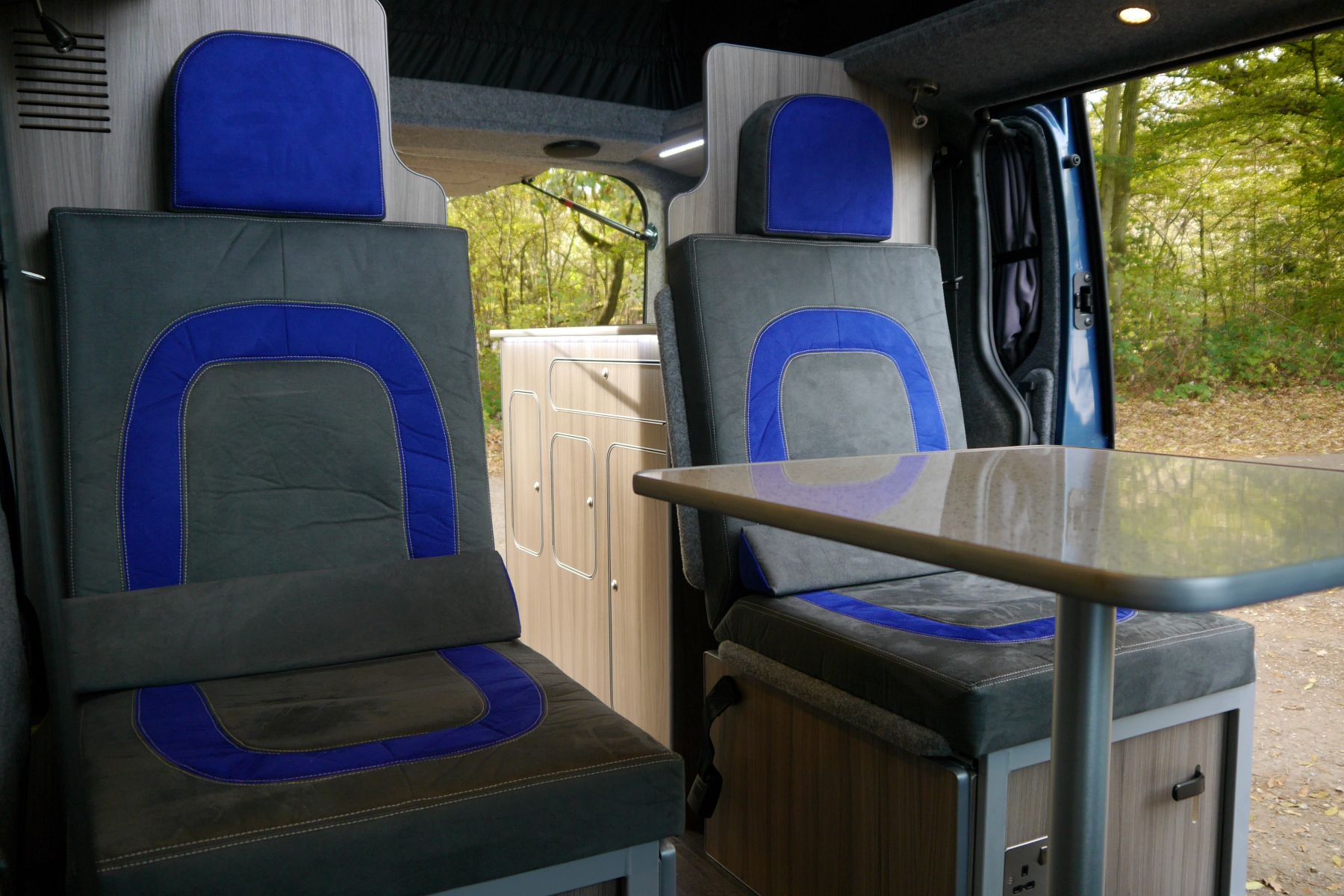 Many people store bedding in the rear seatboxes of the Paradise range from Sussex Campervans
---
Steve to Richard: "I use different coloured mesh stuff sacks (from GoOutdoors)."
Charlotte: "Mesh bags are great; they come in different sizes and you can see what's in them. I think I got mine from Dunelm."
Richard to Charlotte: "Yes, the problem with the carrier bags is that you can't see the stuff in the bottom!"
---
Note: Sussex Campervans will be happy to fit shelves into the wardrobe of any owners' Sussex Campervans, if required.
The last word on this useful thread goes to Vicky: "Ohhhh sooo want a campervan!"