Suzi's Escape To Portugal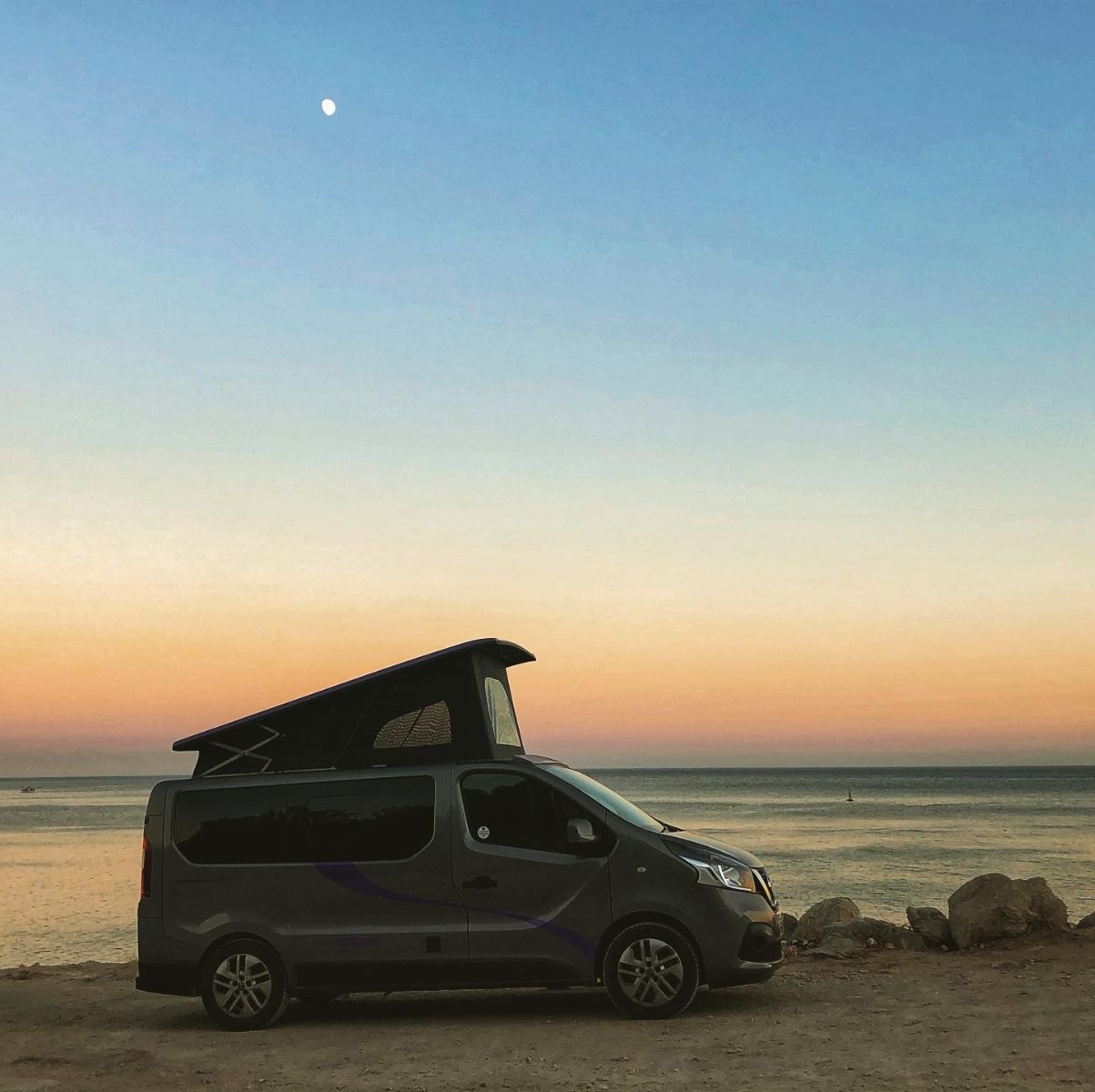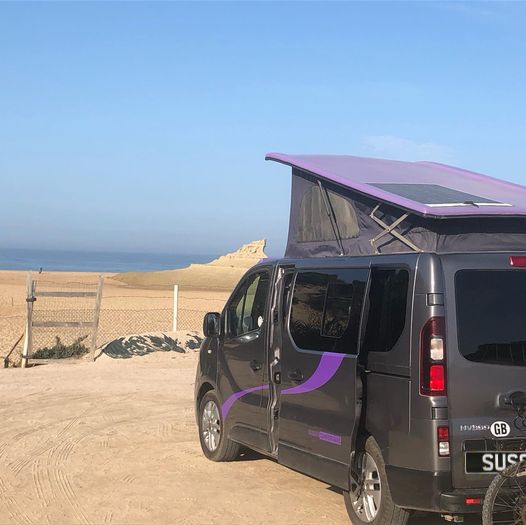 Even Covid can't stop Suzi – after the first UK lockdown she escaped from Sussex and drove through Northern Spain to sunny Portugal
Suzi spent 2019 exploring Europe solo in her bespoke Sussex Campervan Lucy, a lovely purple Manhattan camper. She is now an expert in finding the best wild camping spots, and toured Scotland, England, France, Belgium, The Netherlands, Germany, Denmark, Norway, Sweden, Spain and Portugal in the campervan, before taking off to Bali for some winter sun.
She came back to stay with her family in Sussex for the spring 2020 lockdown, parking Lucy, the Manhattan from Sussex Campervans, safely on the drive.
Campervan life made me stronger
Before she bought her campervan, Suzi remembers being afraid to leave her job, house and relationships to "just go with the flow of life". She decided to conquer her fear and bravely took the plunge, in search of her "Mindful van life".
Campervan travel has made her so much bolder and more resourceful. She says, "Now my biggest fear is returning to a conventional conditioned life." She reflects that the Covid 19 lockdown has given many people a chance to slow down and decide what they really want in life, too.
How I escaped through Spain to Portugal
In July Suzi made a Covid 19 escape by ferry from Portsmouth to Santander and spent the first night in the misty mountains, at Torio. Her latest adventure had began.
"Driving through the stunning Picos de Europa mountains of Northern Spain reminded me so much of Norway. Near to Cangus de Onis, the gateway to the National Park, are the high-altitude lakes, Enol and Ercina, of Covadonga (1134m) where I saw golden eagles riding the thermals."
Suzi visited Covadonga, a village and religious sanctuary beneath the mountains. Pilgrims flock to see La Santina, a statue of the Blessed Virgin Mary, in a cave above a waterfall. It's "a place of peace, beauty and spirituality," she says.
Suzi drove southwest, to the mountains of Northern Portugal, the Peneda-Geres, where the border was marked with petrol station, a welcome sign, and the campervan clock whizzing back one hour.
Full moon over Montalegre
Excited to be back in Portugal at last, Suzi found the lake at Montalegre, and says "It was a beautiful spot to stay the night, particularly as there was a full moon. I sat in the doorway of the van, not thinking much of anything, watching the night sky and the reflection of the moon in the water for a long time."
Paiva walkways
Suzi's southwest route led to the Passadicos do Paiva, where she used her drone to film herself walking along an 8km wooden walkway, following a river as it tumbles down through a wooded hillside. "It's a journey through biology, geology and archeology – but oh my goodness it was hot"
Things don't always go to plan in Portugal, and Suzi filmed herself driving all the way up a mountain, to find a village and the end of the road. As an experienced campervan driver, Suzi just laughed and turned around. "After this, "I stayed in Penafiel on the banks of the river for a couple of days' respite from all the twisty mountain driving. It was so re-energising just enjoying being still in nature."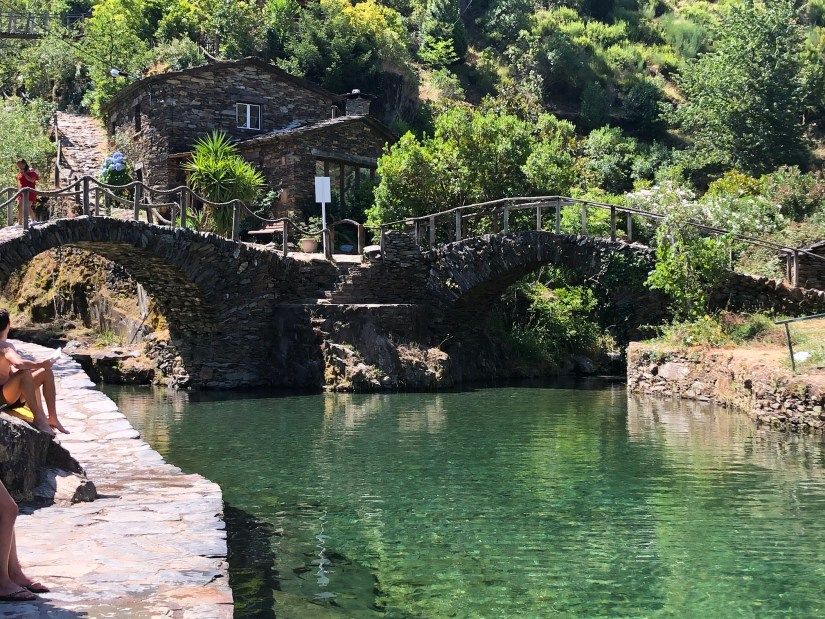 Foz De Equa
Frecha da Mizarela waterfall
In August, Suzi visited one of the highest waterfalls in Europe. "I did not trek down to the base, because of the heat of the day and I have regretted it every since, as I have since been told that you can bathe in the pool of water at the bottom."
Her chance came at Poco Azul. "It is a beautiful turquoise green natural pool and I was looking forward to a nice dip to cool off. That's a huge understatement, the water was absolutely freezing. I got as far as putting my legs in it until I could no longer feel my toes, in 30 seconds. It is a really lovely place to hang out."
The heatwave sent Suzi in search of more lakes and waterfalls, and she says, "It became almost a necessity for me to be near water to cool off at the end of the day. And there is nothing better than being parked up next to water."
She toured Coimbra, and saw evidence of wildfires, and found the beautiful village of Foz De Equa, which has a natural fresh water pool. "It was cold but this time I did go in," she says, and then walked to the shrine.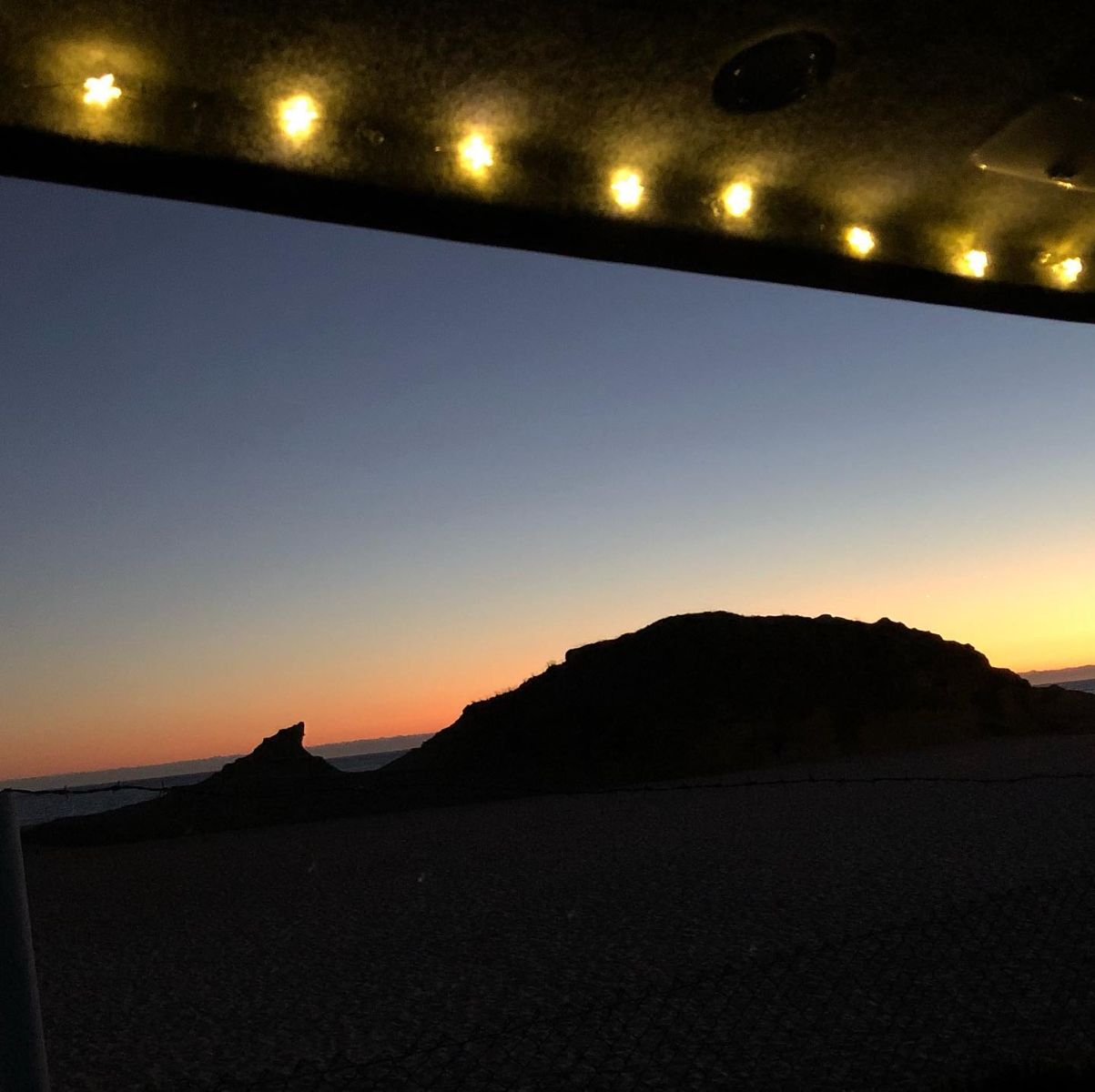 Suzi parked on the beach to watch the sunset
Cerdeira - the stone village
A highlight of her summer tour of Northern Portugal was an ancient stone village, hidden in a deep wooded valley in the Serra da Lousa mountain. "The stone village of Cerdeira is one of the 27 schist mountain villages. Schist is the stone used in the construction of houses. This village was abandoned in the late 1970s, but now its rural architectural heritage is almost completely restored and the aim is to give it a new life and meaning as a home for creativity."
Suzi's Youtube videos show the unspoilt beauty of Portugal, as she explores the mountains, lakes and rivers, on her journey to the west coast. She talks about finding good wild camping spots, and litter-picking. Finally she decides to write her book and apply for temporary residency, while revelling in the winter sunshine and the beaches of the Setubul Peninsular.
Portugal's roads and beauty spots were strangely empty this year, due to Covid. Suzi reflects, "For a lot of people life may never be quite the same again. Hopefully we will all grow from this experience and be kinder, more conscious and compassionate human beings."
Where to follow Suzi
Suzi would love you to join her Mindfulvanlife journey via:
Instagram - @suzimussell
Facebook - @mindfulvanlife
Blog - Mindful Van Life
YouTube - Mindful Van Life
---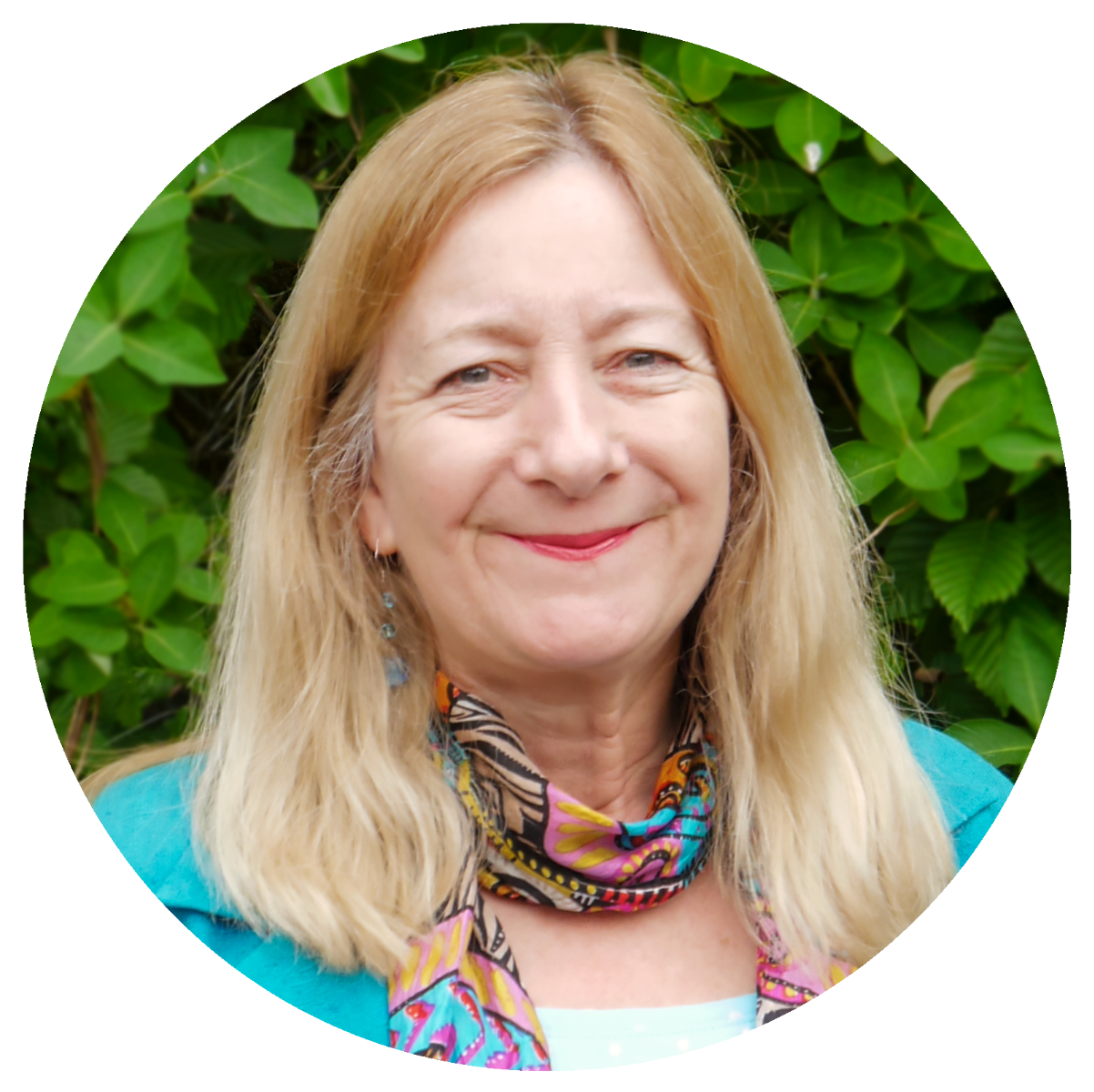 A travel expert and a passionate writer with a creative spark, Kate has specialised in writing about campervans since 2008. Kate has worked for magazines such as Motor Caravan, Caravan, Practical Caravan and Practical Motorhome.
---