Exploring Europe Part 3: Czech & Austria
After visiting Belgium, Germany, Czech Republic poland and slovakia, Next up on Richard and Hong's European tour was czech and austria...
9th June - Slovakia to Czech
We left the campsite at 9:30am and headed toward Lednice, Czech. We are lucky to be passing Stara Tara, Slovakia. It is market day on Friday with lots of stalls and children's carnival. The market is very big; selling everything, from food, candy, to wood products, clothes, to winery. We had a good time walking around the local crowd. At noon, we have to leave with unwillingness. Because today is Friday, we were afraid the campsites might get full. We got there at 2:30pm. I washed all the clothes. We went from mountain ranges in Slovakia, to flat and plenty of sunshine in Czech. It is very hot here in the afternoon.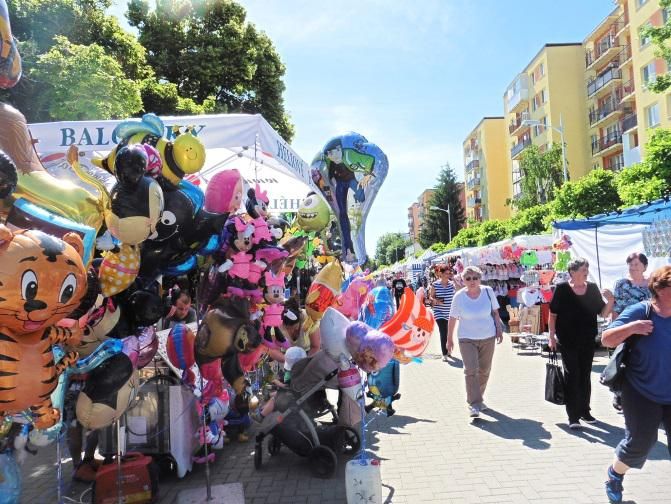 Stara Tara Market
We drove to Lednice for a tour at 4pm, then we biked around the lakes; it's a very nice bike ride, wide pathways, very few people, lots of places of interest such as a Buddhist temple, and lovely scenery.
Later we drove to the Valtice palace. A movie crew was filming the TV series called "Maria Theresa" but they let us explore a bit. Back at the campsite we had dinner. Meanwhile three tour buses including double-deckers were driving into this campsite. We were not sure how they got round the tight bend into the campground!

We beautified our van with poppies and other flowers
10th June - Czech
In the morning, we got up at 4:40am, the sky was pink and the sun had just come up. At 7:30am, we heard the heavy rain, waited until 8:30am and had to get up despite the storm. We left at 10am and headed towards Mikulov.
At the Mikulov Castle, there is a botanic garden, an Italian/English wedding was happening, as well as a dance competition for children. We drove towards the national park called Narodni Park-Podyji, but could not find our camping site (called "cyclo-camping") so we decided to go to Telc directly passing Znojmo (although we did not stop). Near Telc, the campsite is in a little fishing village - the area is full of fish ponds and old cottages. It is hard to get there following GPS routes after Telc. The campsite is family owned, very clean and pleasant. Villagers can catch their dinner in all the local ponds, I said!
When we went back to Telc, the shortcut was a great route, with the narrow road and fish ponds. A pretty landscape and beautiful quiet drive. Telc is quiet with no tourists. We biked into the town and around. What a beautiful centrum!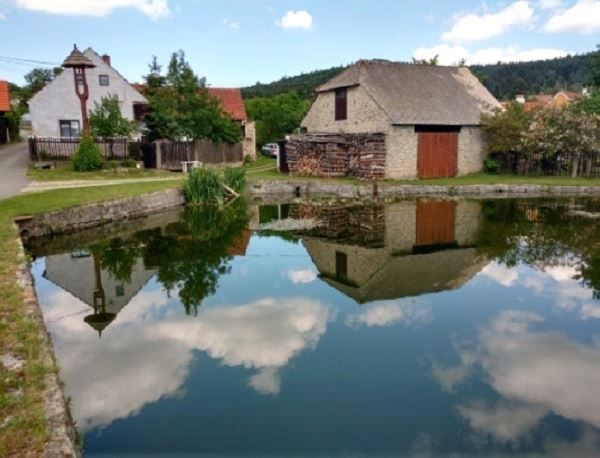 Telc, quiet with no tourists.
11th June - Czech
It is Sunday. We woke up in the beautiful sunshine and drove to Jindrichuv Hradec, another beautiful quiet town. We visited the castle and biked around. It is peaceful. Then we drove to Trebon, a fish farming town and Regent Beer brewery.
We camped on the lakeside. It is the most beautiful campsite we have been in. We biked into the town with fish hatchery on one side and lake on the other. The bike trail is so beautiful and the beer garden in the Regent Brewery factory (Pivovar Regent). One light and one mid-dark beer cost only 45kc ($2). It is like a beer garden with only beers, long benches, people sitting, relaxing and talking. We love the beer gardens!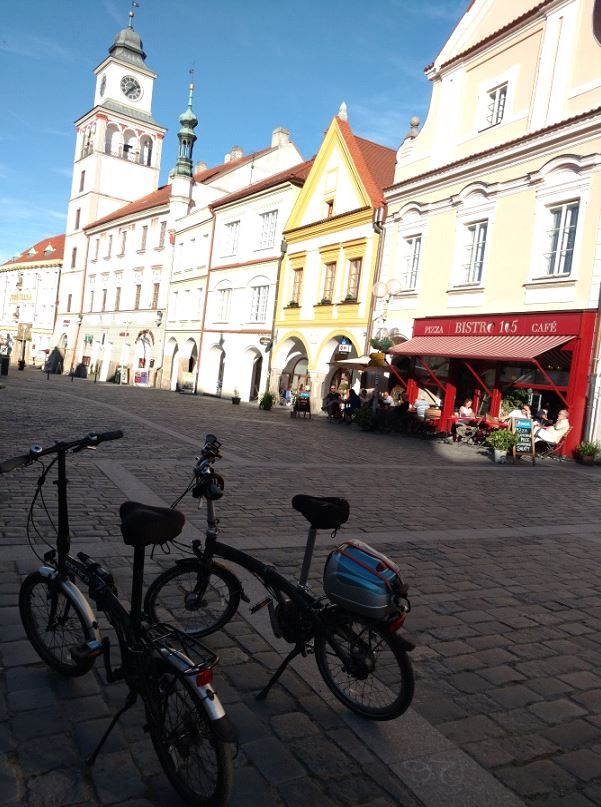 12th June
Today is Monday. Every place is closed. We went to Hluboka Vltavou Castle, which was magnificent. We walked around the inner court and garden, then drove to Tyn, a small town, walked around and had a beer.
We drove to Ceske Budejovice. Budejovice in English is Budwieser (beer), the place of origination of Budwieser. It is a big city. We circled around to find the campsite that Rich found on the internet, but when we got there, it was closed for renovation.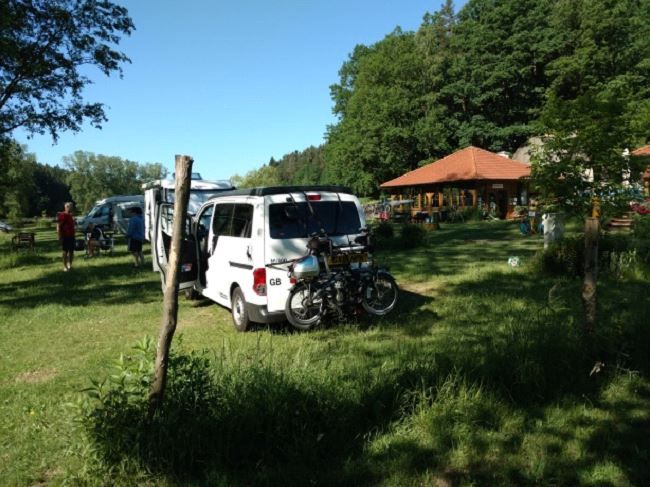 Czesky Krumlov campsite
We decided to go onwards to Cesky Krumlov campsite. It is by the river, a beautiful site and facilities. 450kz, the most expensive one, but it is worth it. We had a good hot shower. First time we didn't bike around in the evening. We had a good dinner and went to bed at 11pm.
13th June
The campsite Cesky Krumlov paradise is beautiful, everything is up to western European standards. There are only 6 campers and one tent. The setting is very pretty with lots of blooming flowers decorating the site. The family owns a lot of land. The campsite is at the end of a road and is very quiet. I took lots of pictures.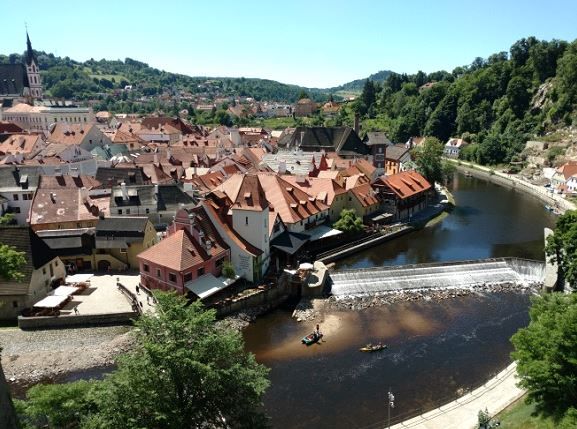 We drove to CK at 10am, finding a quicker way to town than the road we took the previous night before into the CK. It is a charming town with the flood of tourists by tour buses (day visitors). We toured the castle - the guided tour was good. We saw lots of rooms, fancy and German style.
The garden looks plain, but from the sky it looks like a coat of arms. We walked around the old town. By 4 in the afternoon, the town is quiet again and a stroll through the streets is enjoyable. We left at 5, drove on the scenic road along Vrata River. Many tent camps and canoeing, the river is shallow and clear. Some camp gatherings overflowed onto the narrow country road but no one seemed to mind that the road was blocked, as the area is so quiet and peaceful. Kids look like they are having a great time.
We stop at Rosemberg Castle near the border (between Czech and Austria). It is quiet in the early evening. We had dinner in the restaurant, pig knuckle for me and pork schnitzel for Rich (460kz or about $18). It has lovely views of the castle across the river.
We then drove to Austria and stopped at BP gas station for overnight. Because it was close to the highway, the lorry noise continued through the night. We did not sleep well. It could not compare with the gas station in Slovakia, where we had a peaceful night there.

In the Austrian Alps
14th June - Austria
We drove to Grossglockner in the Austrian Alps. The mountains are extraordinary, rocky, very high with snow on top. Some are very green with high-up pastures. There were waterfalls, glaciers, hanging valleys, breathtaking and unbelievable views. We had lunch in a high-up mountain restaurant looking out over a glacier.
Rich said when he was young, he came on holiday with his parents to Grossglockner to see glaciers. He saw the glacier right in front of the lift and went inside to see the blue ice. Now it's only half the size it was 50 years ago. The tongue of the glacier is 275 meter deep. There are only 6 glaciers left in Europe.
We saw marmots and wild sheep. The villages are high in the mountains, reached by steep hairpins bends. There were cows with bells in high mountains at least 2500m tall. We wondered how they got there. There is a very steep long drop for many miles into the valley at the southern end of the Grossglockner. A twisted hair-pinned road down into the valley, as far as one could see into the distant valleys and mountains, amongst snowfields and high peaks, an extraordinary drive.
This is the highest road in Europe. We camped at the foot of a mountain and biked into the small town, along a river, which was a gold mine before. There was a church high up on a hill, for pilgrims who came over the mountains. The campsite is very clean, quiet and beautiful. The Alpine mountain views from the campsite are fantastic!
---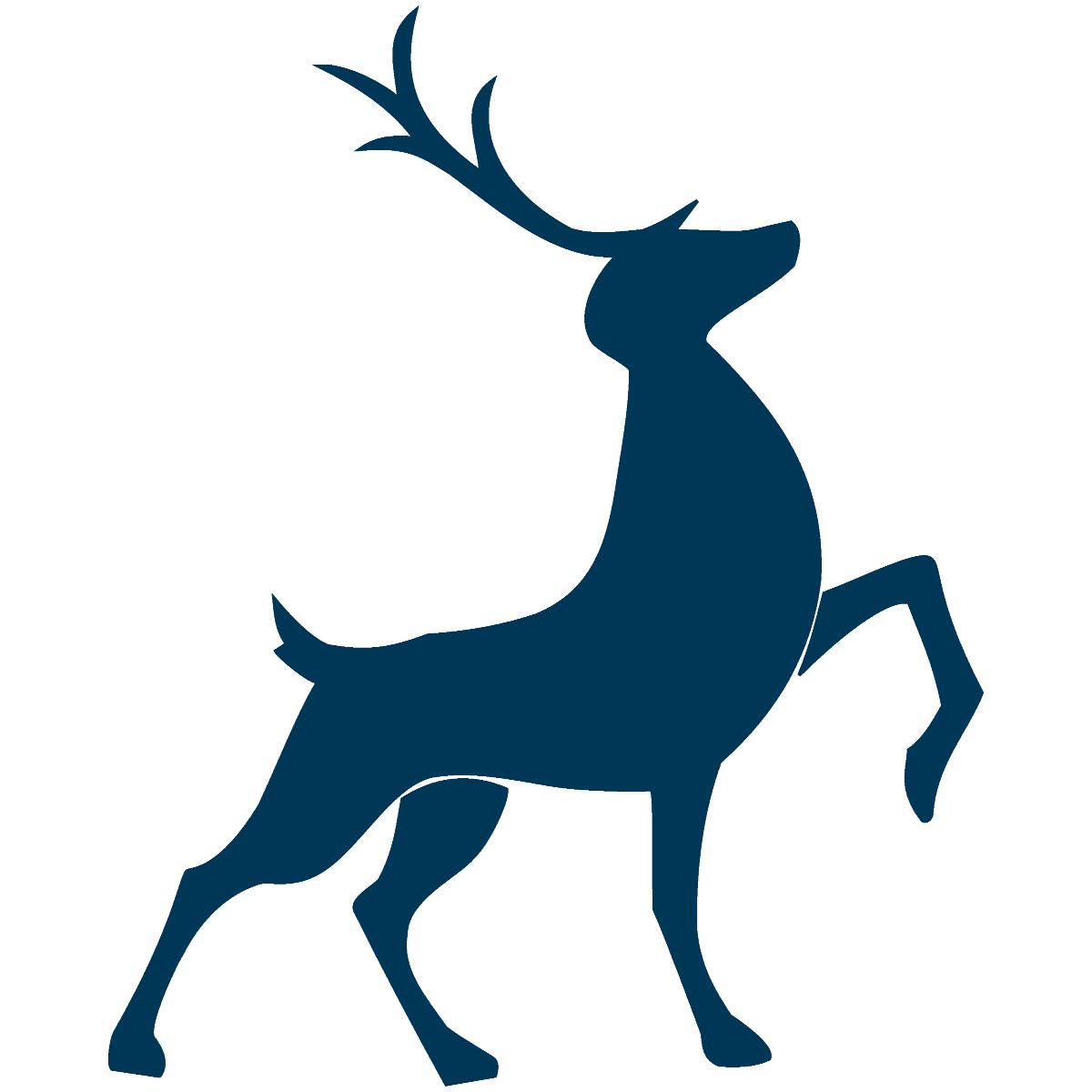 Do you have a story you'd like to share? We love to hear all about your experiences in a Sussex Campervan, whether it's a trip across Europe or how owning a camper has improved your day-to-day life. Please send an email along with some high-res photos to stories@sussexcampervans.com - we look forward to hearing from you!
---