Spending time with your children and grandchildren while they are young is something many people wish they had more chances to do. When you have a campervan, it makes it easier to go on new adventures, for a spur of the moment day trip and spend quality time making memories before your children fly the nest.
Illustrator Hugo and 14-year-old daughter Sylvie escaped to Scotland for half term with Roller the dog. Father-daughter time is all too precious when you live in a busy household and work to deadlines. So when Brighton-based illustrator Hugo discovered that his wife Thea and younger daughter Esther would be busy at half term, he decided to take his older daughter to see some of the places he discovered when he was not much older than she is now.
"I chose St Andrew's University to get as far away from home as possible!" Evidently the place touched Hugo's heart, and since then, Prince William and Kate have studied there.
"Sylvie and I went on a road trip in the campervan. We left home at 2am and reached Tebay Services in Penrith at 7am. We had a really good breakfast there. By 11am we were in St Andrews. It was very cold, but bright and sunny during the day, but we were nice and warm in the Manhattan campervan. Sylvie has a Duvalay and rugs to keep her warm in the pop-top roof bed at night."
above - Hugo in St Andrews
What did they do during the trip? "I play golf so we went to 'The Himalayas' - a 150-year-old putting green at St Andrews and had a game. Then we visited St Monans, where there's an iconic church overlooking the beach. We also went to Elie village - which I always knew as the cricket beach, and we used to use the pub as our cricket pavilion! There's an adventurous chain walk you can do along the cliffs at low tide."
"We stayed on a small campsite, just outside Crail in East Neuk, Fife for a couple of nights, then drove back slowly. It was so beautiful driving along the A1 to Edinburgh, then down to Northumberland along the coast. The air was noticeably dry and cold on the East coast compared to anywhere else. We saw Bamburgh Castle and stayed at Northsands, Bamburgh for one night. We stopped to admire the Forth Bridge on the way. Then we visited my parents for a few nights in Suffolk on our way home."
above left - Sylvie playing golf on the Himalayas putting green at St Andrews Golf course
above right - Sylvie and Roller outside their Manhattan campervan in Elie village
Campsites to try on this journey:
Five vans plus tents. EHU hardstandings, right on the coast. Dogs welcome.
Good facilities, pets welcome, EHI, dog walks. Views of the sea and sand dunes, good for visiting Bamburgh and Alnwick castles, also coast walks, bird watching and boats to the Farne Islands.
Good facilities, pets welcome, dog walk, swimming pool (May-Sept), bar, restaurant, takeaway, shop, laundry, wifi.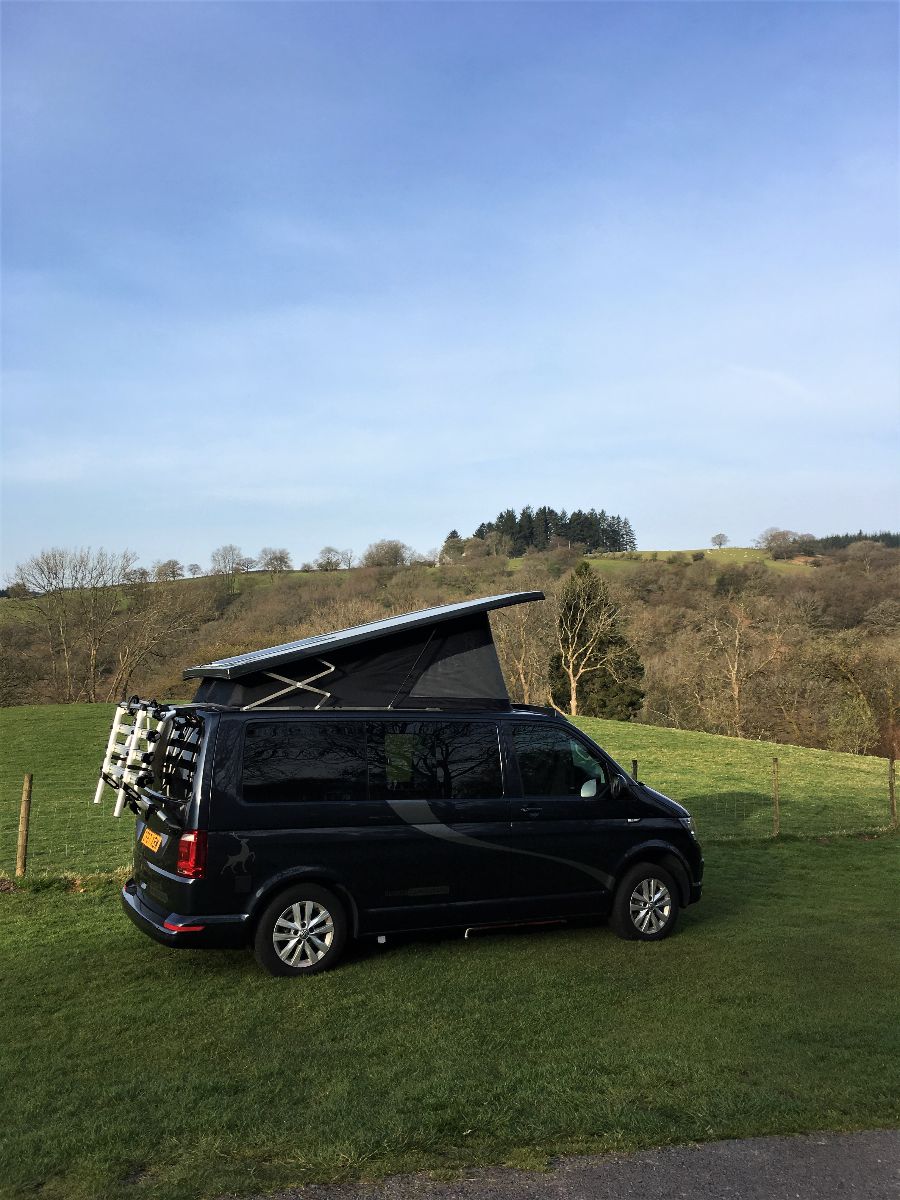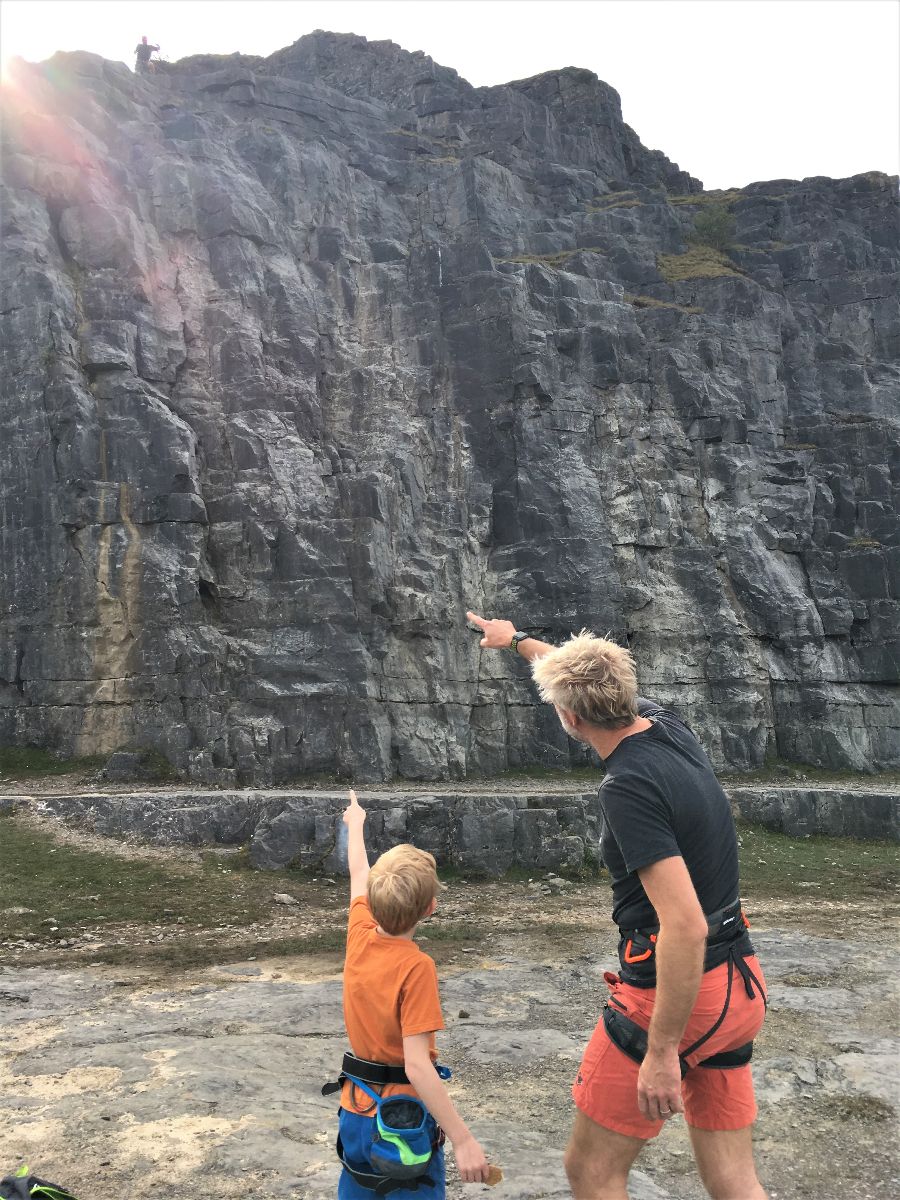 above left - VW Caledonia parked up in Graven, Wales near the Brecon Beacons
above right - Simon and Torsten rock climbing at Pen y Fan
For Diana, Simon, and their nine-year-old son Torsten, using their VW Caledonia campervan is part of their everyday routine as well as being used for family trips during half term and the school holidays. They use it for cricket matches, school runs, walking and climbing in Wales and holidays in the Alps.
For an active family life, you can't beat having a campervan. Diana, Simon and their son Torsten collected their Volkswagen Caledonia in Spring 2019 and immediately took to campervan life. They went on a climbing weekend with an instructor at Graven limestone quarry in Brecon and walked up Pen y Fan. "We've also used it loads for cricket in Eastbourne and Petworth. Torsten's matches are usually from 12 until 4.30pm on a Saturday and Sunday, so while he's playing we relax in the camper with ice-creams."
"The other thing Torsten is into is cars - we went to Carfest before we found Sussex Campervans, and there was a rival campervan stand there. It was a place to get dry, because it was chucking it down and we came away wanting a campervan!"
Simon said "We have a flat in the French Alps and we'll be using the campervan to travel there during the holidays. Next time we'll take the tunnel, but previously we have taken the Newhaven ferry and slept in a cabin before the nine-hour drive. We enjoy stopping in aries on the way, even just to make a cup of tea."
"We'd talked about getting a camper when we retired - but we thought why wait?" - This way they can spend time enjoying it with their son and still look forward to an active retirement in their camper.
Diana said, "We also used it when we went to a wedding in Devon, which was really out in the sticks."
"Torsten's catch-phrase is, 'Can we go in the van?' It does stand out when we use it for the school run. We all love it."