"After owning two Nissan NV200 CamperCars from Sussex Campervans - we have now entered Paradise!"
Brian and Aprille bought their first red NV200 CamperCar from Sussex Campervans with a diesel engine and manual gearbox in 2017, and it was love at first sight. It even inspired Aprille to write a poem - Mobile Holidays (see below), a sort of Ode to a Campervan - which makes it clear how much fun the couple have had in their Nissan NV200 CamperCar - their first campervan from Sussex Campervans. They regularly send us postcards from their travels all around Britain.
Aprille and Brian had so much fun in their NV200 CamperCar from Sussex Campervans that they traded in their first and bought a petrol-auto Nissan NV200 campervan, built to order for them - and named this white compact camper the "Bambino".
To mark their Golden Wedding Anniversary in 2020, they decided to trade up from the "Bambino" to a top-of-the-range Paradise Deluxe. The interiors have had one common theme, Aprille's favourite colour - red. Their third Sussex Campervan, "Paradiso" was cleaned and polished ready to celebrate their 50 years of marriage by visiting their daughter and her family.
Aprille tells us about their first trip post-lockdown.
"Having spent 21 weeks in Lockdown, we emerged from our Coronavirus-proof bunker, and decided to go on a pilgrimage to Canterbury in praise of our new all-bells-and-whistles Paradise from Sussex Campervans (which we've re-christened the "Paradiso").
"Before we went, the neighbours came round to see our new campervan and were dead impressed and green with envy. They were very surprised that it had so much in it and were quite taken with the pop-up plugs. It's so luxurious, we couldn't wait to 'try her out'!
"We arrived at our fully compliant, thoroughly disinfected Caravan & Motorhome Club Campsite in Canterbury, having enjoyed our new automatic driving experience, which was comparable to any luxurious SUV. We then delved into the new technological mysteries of a new flush toilet system, or should we say flash toilet? Lighting to die for, numerous power outlets, space galore, and even room for a Yamaha keyboard to keep us in tune - the Paradiso has it all.
Above - Aprille playing her Yamaha keyboard in their CamperCar
"From then on it was all sweetness and LED light. We even won our wrestling match with the revolving double passenger seat at the front, only delaying our first glass of champagne by three minutes! We enjoyed the versatile sleeping arrangements of a very large double bed, or alternatively (if one has had a quarrel), two single beds.
"While the sun shone, the solar panel pumped out its charge, keeping the leisure battery very contented.
"As two teenagers from the 1960s, we believe, that had the Beatles met-up with Daniel, they would have happily changed the title to one of their songs to 'We all live in a Sussex Campervan'!"
Adventures, words and photos: Aprille & Brian
As told to Kate Taylor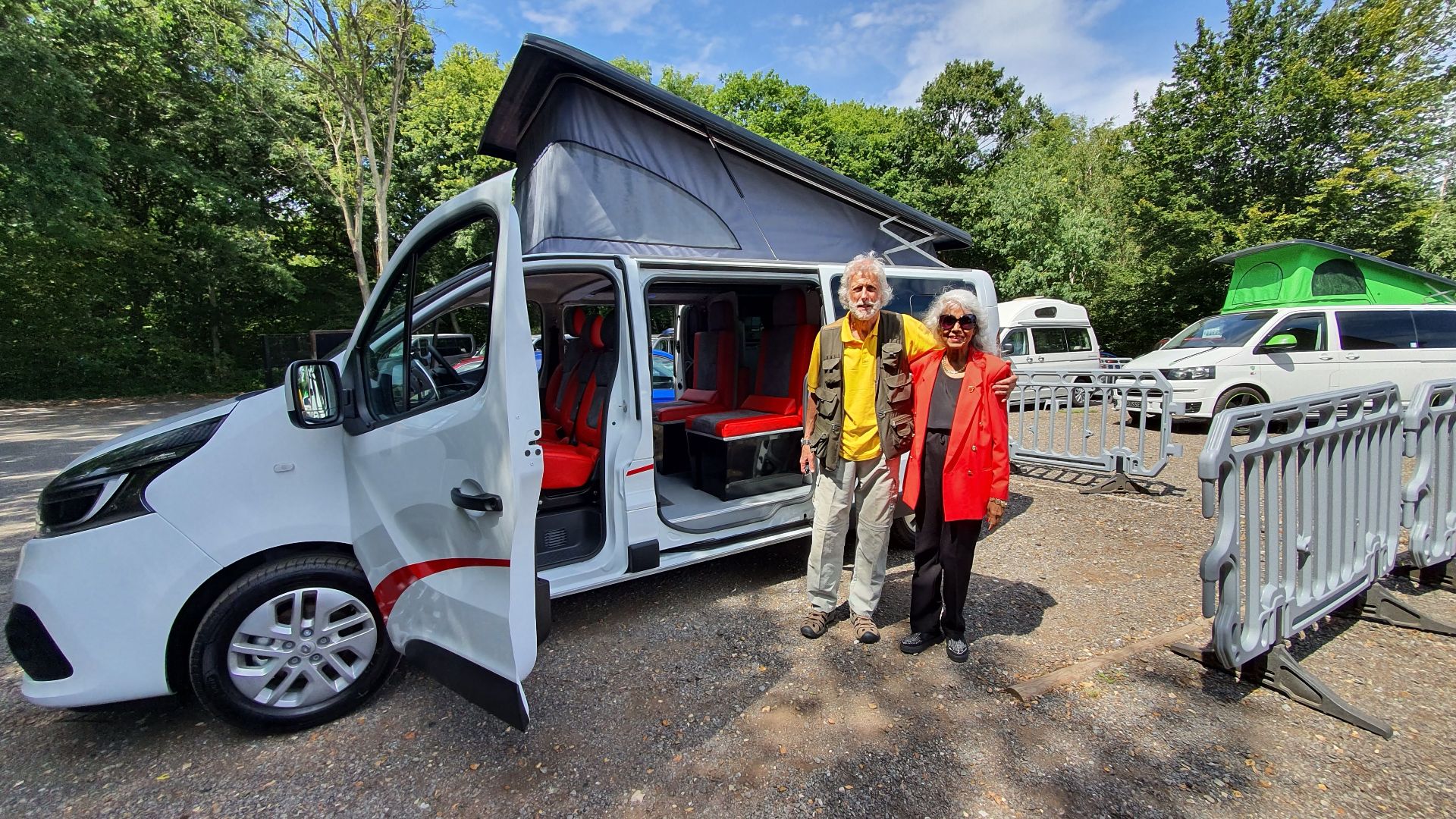 Above - Brian and Aprille collected their third Sussex Campervan on a sunny day in July 2020
MOBILE HOLIDAYS
BY APRILLE
It has to be admitted that they all look much the same
Set out like a pack of cards all ready for a game.
Oblong metal boxes with windows and sliding doors
Fitted out with furniture and carpets on the floors.
Silently enduring winter's snow, sleet and rain
Waiting for good weather so they can spring to life again.
Then they're packed and filled and you might even see them grin
For the time has come at last to go and the holiday can begin.
The doors are all flung open and the windows open wide
As we're going on holiday and packing and busy inside.
Everyone is excited, there's chatting and laughter about.
"Don't forget the "Portaloo we must get it out."
Our 'home' is filled with practical things ready for a week.
We're off again on our travels as adventure is what we seek.
Maps and camera, a microwave to make mealtimes more easy.
Insect repellent, electric blanket and tablets in case I'm queasy!
Bags of food, a picnic lunch to have along the way.
'Glamping' is the buzzword, we're looking forward to our stay.
Almost ready to make a start, we'll leave early if we can.
Glowing with pride we'll enjoy the ride in our small red campervan.
MASKARAID
BY APRILLE
With masks now compulsory, I asked some famous names
Who wore them time and time again, "is the mask all that it claims?"
First I asked Highwayman Dick Turpin his feelings about all this
He said "Well, in my profession, masks are a perfect bliss"
I asked my friend the Lone Ranger what he thought of that
And he said "Fine, but I make sure the colour matches my hat"
I then asked this question of Batman but he started sobbing
Saying that the Domino mask looked much better on Robin!
I headed to the theatre this same question I had to ask
But the Phantom said it's 50/50, as I only wear half a mask!
Bringing things up-to-date this masked singer said "of choice,
I'd rather keep the mask on so no-one knows it's my voice!"
Bank and train robbers wore them and kept the Law at bay
Masks are worn on building sites, you see them everyday
So wear your mask it will keep you safe, and ladies, if you do
It hides a lot of blemishes and you save on Make-up too!
August 2020
---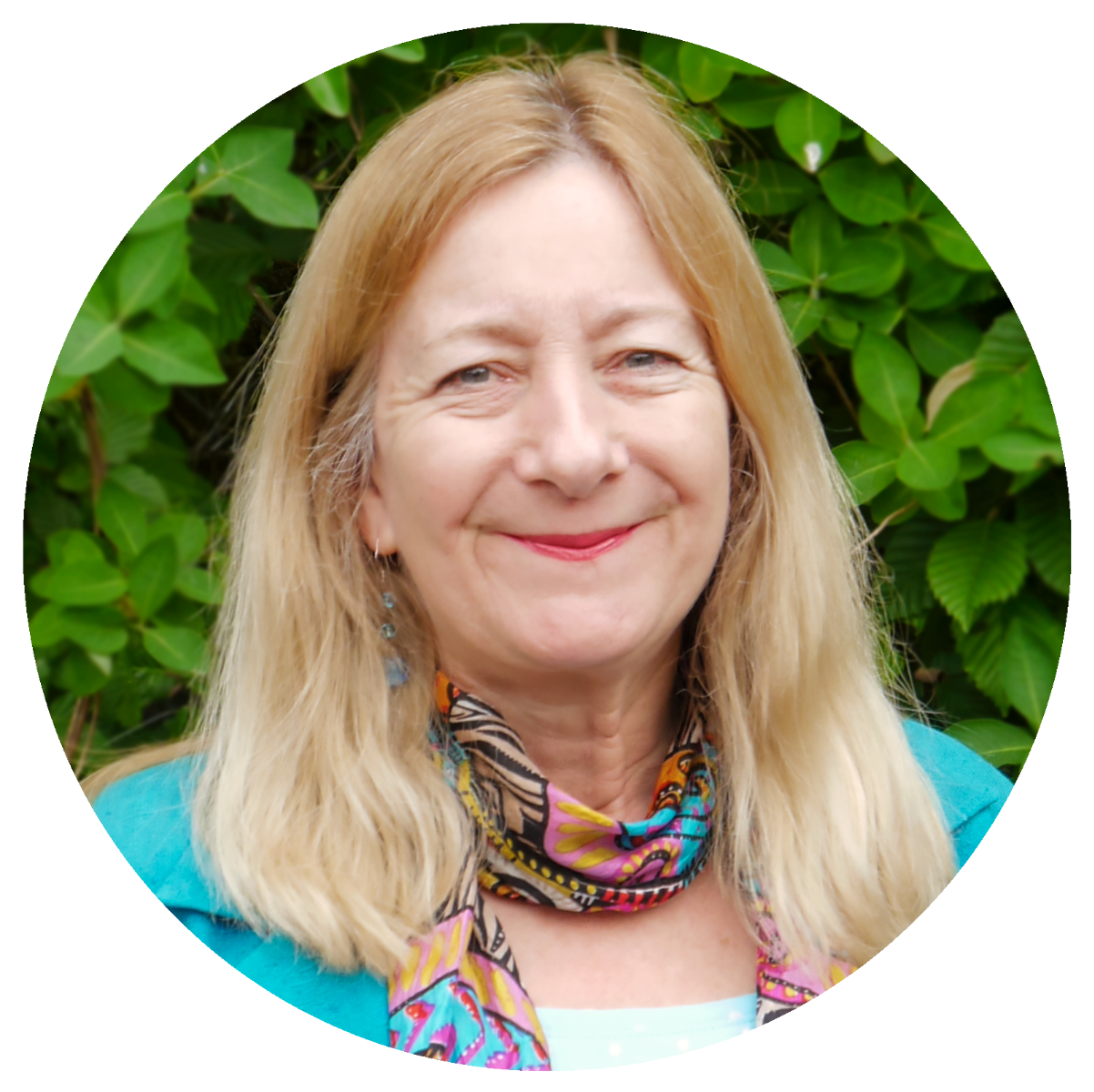 A travel expert and a passionate writer with a creative spark, Kate has specialised in writing about campervans since 2008. Kate has worked for magazines such as Motor Caravan, Caravan, Practical Caravan and Practical Motorhome.
---