'Heelwork to music' is Penny's hobby, and she's discovered that life is sweeter on the road with her Westies, now she owns her built-to-order dog-friendly campervan - a Volkswagen Caledonia from Sussex Campervans.
"I used to go to weekend 'Heelwork to Music' dog agility and obedience training events with my dogs Harry and Jasper, in a little VW Caddy van. It was not relaxing setting up camp and packing it all away. Dog events involve long days waiting around, taking part and competing, and we all ended up tired. To solve the problem first I looked at buying a big tent, but then I fell in love with dog-friendly campervans."

Penny collected her VW Caledonia from Sussex Campervans, customised with built-in dog crates, in March 2017, and she says that it's made the events far more comfortable.
"The dogs relax far more than they used to - as soon as they're inside, they just go to sleep. I've taken them all around Britain: Scotland, Yorkshire, the Midlands, Blackpool, Kent and Sussex. Next year I'm going to Gloucester and Wales."

Penny packs less into her VW campervan these days, "Having a campervan makes preparing for a trip easier; lots of items live in the camper all the time. The week before a trip, I might pack the clothes into the cupboard one night, and other things another night. Then I just call into Marks and Spencer on the way, and get ingredients for that day's meals. I have decided to remove my dried food from the campervan, because I'm just not using it. I'm seldom somewhere completely remote. There is one food that doesn't travel well, but I have the solution: my bananas now travel in the sink."


What are Penny's top tips for people new to this lifestyle, looking for dog-friendly campervans? She says, "The pop-top in the campervan is really handy, because I can store things out of reach of the dogs. I keep a small collapsible waste bin up there, and empty it frequently. The dogs mostly eat dried dog food, measured out into portions for each dog before we go. I put them into plastic bags sealed with clips."

On campsites, dog owners have various ways of securing the dogs. Penny says, "Jasper, who is three, is the escape artist, but Harry, 13, is calmer. I have Cornish mesh windbreaks, so the dogs can see through it. Jasper can wriggle under the awning skirt, so I have bought low border fencing for gardens, to stop him from escaping."

Penny's dogs needed no persuasion before trying campervan life for size. "The dogs took to the camper immediately. Jasper can jump in, while Harry uses my £20 collapsible step to get in. It has a mesh top, so water drains through, yet it's sturdy enough for my 83-year-old mother to use. To get the dogs into their crates for safer travelling, I do encourage them with food treats. They now jump in the van and then wait for the treats before they'll go to bed in the crates. I always have plenty of treats for them. Dogs are like children, they're fine if you keep to a regular rhythm. Once we're parked up, they sleep on the bed with me."

Any tips on dealing with muddy pawprints? "I always keep a dark coloured blanket on the end of the bed. After a muddy walk, if the dogs jump on the bed it won't ruin your bedding. I also bought rubber-backed washable mats to absorb wet paw prints near the side door of the camper. Then I made a fly screen for the side door, hanging it on the awning bracket. I made it by adding Velcro and hem weights to three panels of cheap black netting screens that I bought from Lidl. It came with magnets in the centre and sides, so it 'sticks' to the van. It cost me about £10."

When she's not off to dog agility weekends, Penny uses her campervan to visit her sister and her children, camping on the drive. She says, "My mother has a bad back, so when we go out in the camper she can stretch out properly for a nap, while I walk the dogs. I even use the campervan for holidays. I got together with a group of friends last year and we went up to Harrogate. It was nice to relax."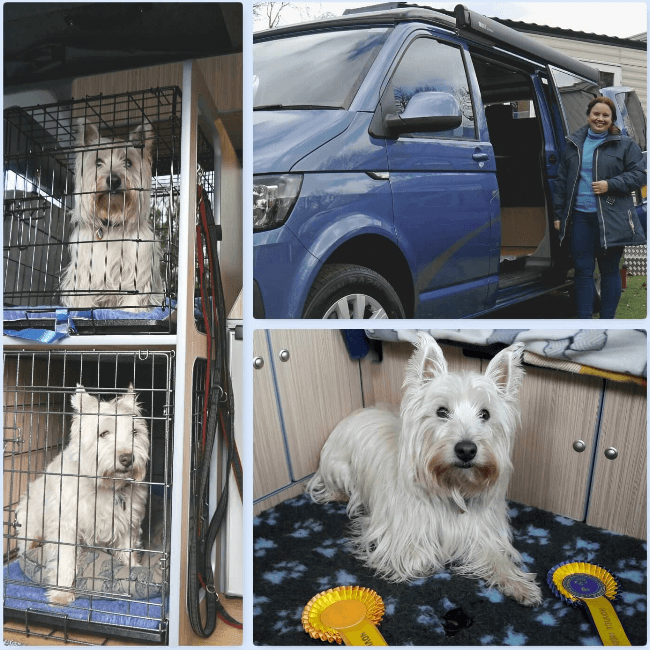 We've met up with Penny several times since she bought her campervan, and she's been kind enough to chat to new prospective campervan owners at our events, answering any questions they might have about her camper. She has even been kind enough to write us a Google review! Thank you so much Penny for your lovely words.
★★★★★
"I purchased my VW T6 LWB campervan in 2017 from Sussex Campervans after much research, both on the web and visiting different converters (and the NEC Motorhome Show a few times!) and I haven't regretted it one bit. Their customer service both before and after purchase was and is exceptional - they listen to what you require and help and advise where you are unsure of your needs/how to achieve your wishes. All without pushing you into something that suits them but is more expensive for you. I have ended up with a lovely, high quality, bespoke camper that is ideal for my dogs and my hobbies and is a joy to drive around every day as well as being quick and easy to camp out in whenever I'm away (which is much much more frequent these days!) Give Sussex Campervans a try, pop down and see them - it will be worth the visit and you will be given a warm welcome, no matter how far along you are in your plans and dreams."
★★★★★
Since the main blog was written (for Camper Van Life, by Daniel and Rebekah Lopez-Ferreiro) in 2018, sadly the older dog, Harry, has died. He lived to a ripe old age and was so agile that he carried on competing in events, without any sign of problems, right up until the very end. It's a great testament to Penny and her chosen hobby - and shows that an active campervan life suits people and dogs alike. We dedicate this blog to Harry - what a terrific little Westie.
Words: Kate Taylor
Photos and adventures: Penny
---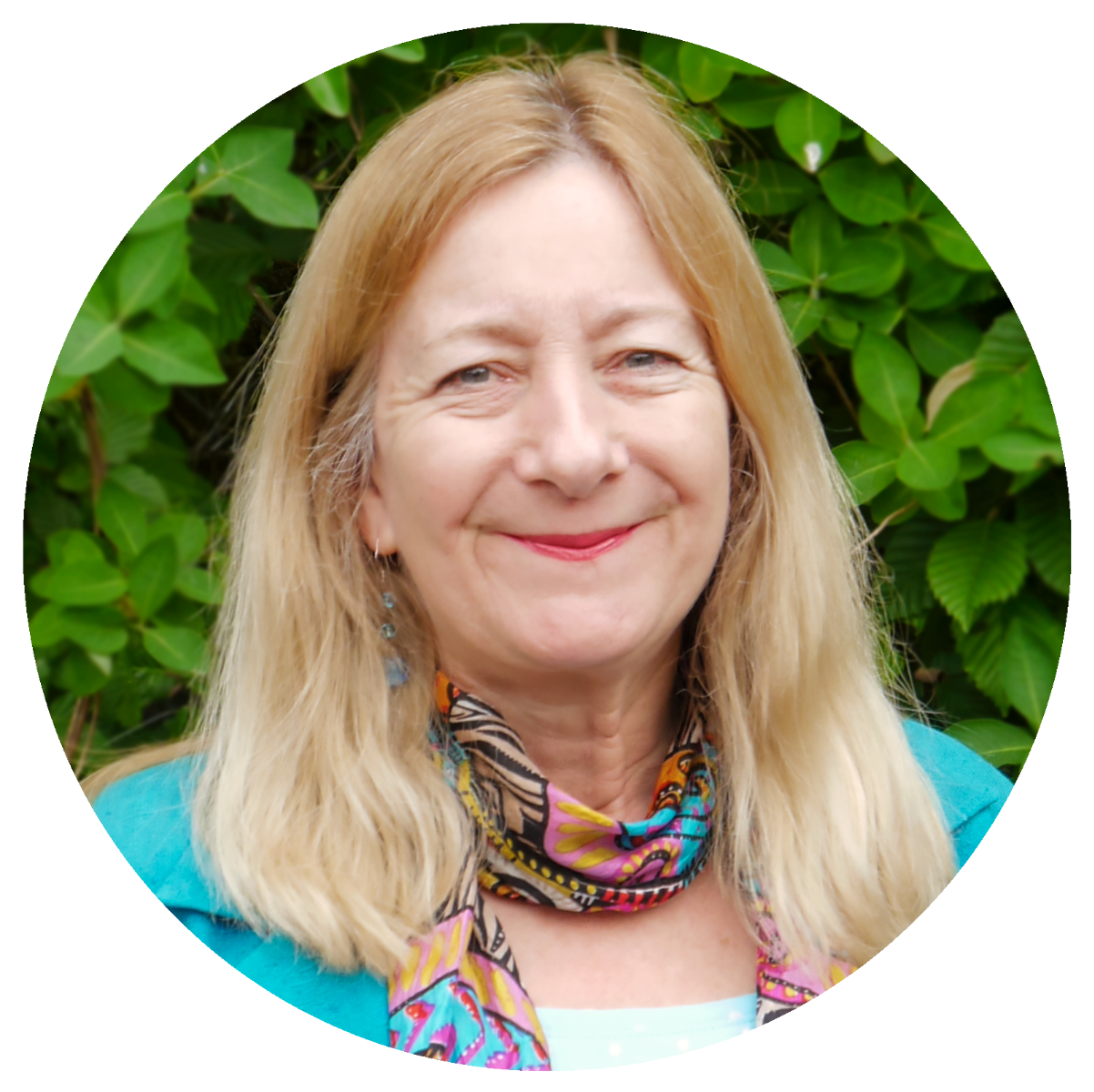 A travel expert and a passionate writer with a creative spark, Kate has specialised in writing about campervans since 2008. Kate has worked for magazines such as Motor Caravan, Caravan, Practical Caravan and Practical Motorhome.
---