Solo traveller Suzi bought her Sussex Campervan in the spring of 2019 - and here is a small taste of her exciting wild camping adventures, as she made her way from Scotland to France, Belgium, Netherlands, Denmark and Norway.
Let's look at how Suzi's adventures began, in her own words.
"Last year, encouraged by friends, I had the crazy idea to step out of life's conditioning. I handed in my notice at work and ordered a Manhattan camper from Sussex Campervans, so I could travel full-time. Now it's no longer a dream but a reality. The van is on the drive, I've let out my house and I leave for the Scottish Highlands at the end of April, a place I've always wanted to go but never quite made it. How many of us have that story?"
That's how Suzi began her exciting solo campervan adventures this year - and we've been following her Mindfulvanlife Youtube videos, social media and blogs ever since.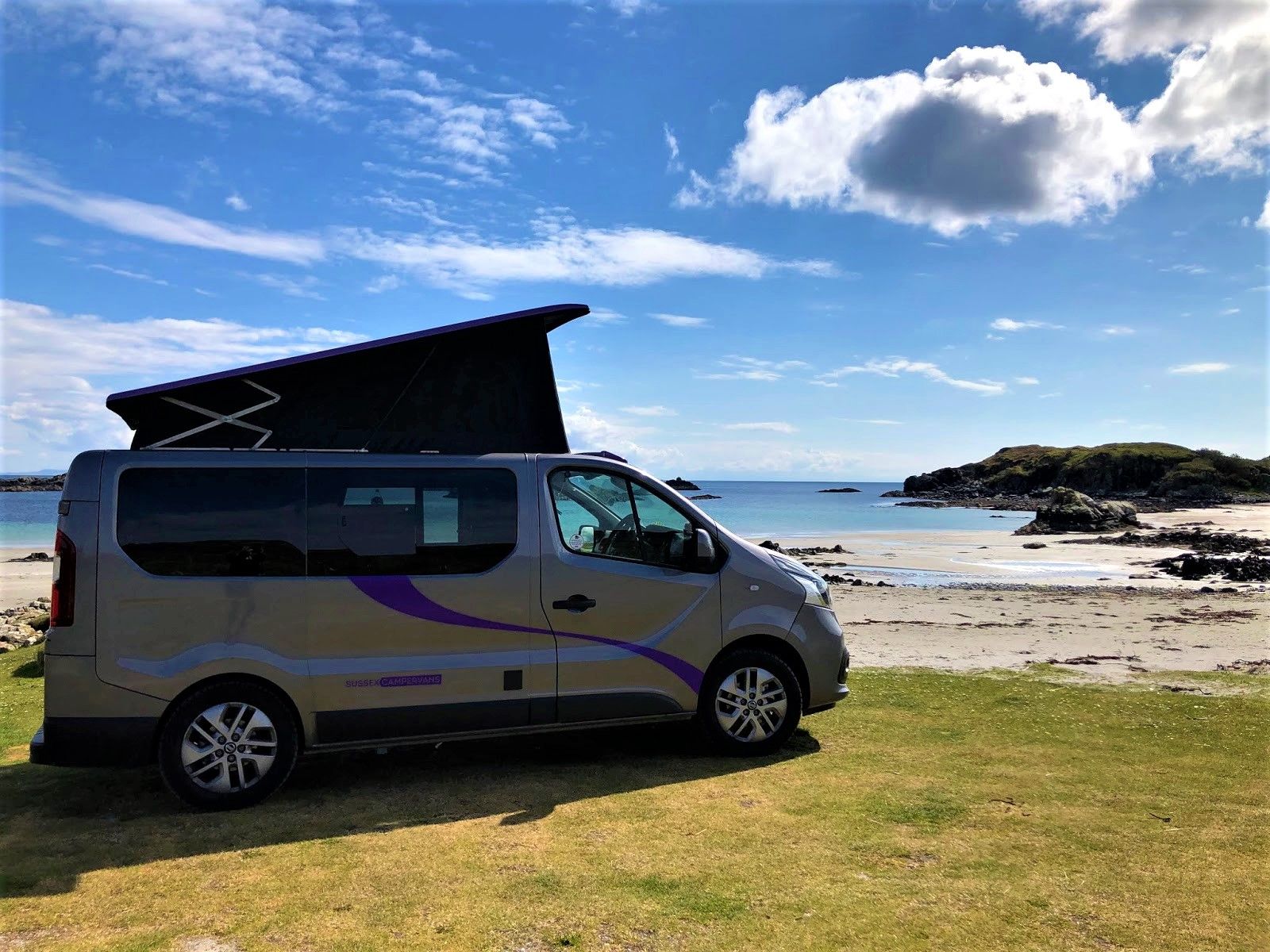 Falling in love with campervan life
First Suzi set off to Gretna Green, Scotland in her new camper. "I stopped at a service station, used the facilities, then had a homemade sandwich and a nice cup of tea in the van. I loved it! I wasn't being ripped off by service station prices."
Why Gretna Green? "I'm such a romantic…" said Suzi. "As I arrived a couple had just got married, and were outside the blacksmith's, where they strike the anvil to seal the marriage." Suzi touched the anvil for luck then found her first wild camping spot.
How was the first night? "When the bed is out, it's so cosy and for a while I read 'How to Live in a van and travel', written by a young man who did exactly as I have back in 2015 and is still travelling. What a great dream to have! When I turned out the lights, with the blackout curtains pulled, it was pitch black, as there is no light pollution on a country lane in Scotland." Suzi slept for eight hours.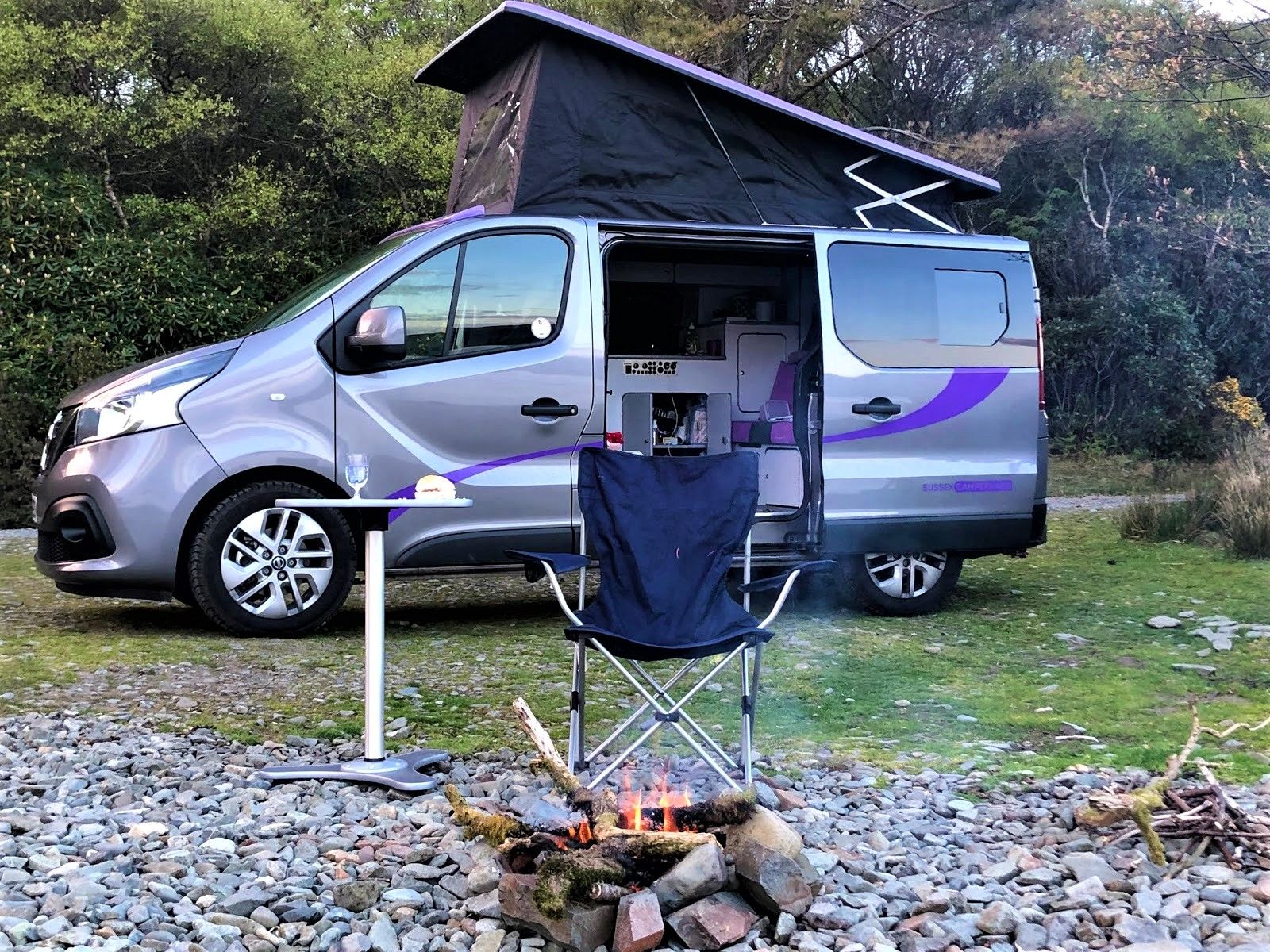 Suzi found plentiful wild camping spots beside the lochs in Scotland - often checking the route on foot before driving the van down little tracks
Touring Scotland, Suzi revelled in the natural world. She swam in lochs, made camp fires and played guitar. From St Andrews she followed the East coast road, meeting up with friends and exploring "harbours and beaches of picturesque villages with views of the Firth of Forth."
She went to see the iconic Kelpies horse sculptures - based on the Scottish legend of water spirits rising up from the lochs - and then went gin tasting in Edinburgh.
The West Coast brought glorious white sand beaches and more wild camping spots. "Every journey in Scotland has been a visual delight, even in the rain the scenery is stunning. Glenmore has some lovely parking right on the shores of Loch Morfich, with its beautiful tall pine trees and surrounded by the mountains."
Suzi drove through Europe to Denmark and Norway
In mid-June Suzi returned home to Sussex, then set off again. "I travelled through France, Belgium, Netherlands, Germany and Denmark to get to Norway…" One of the highlights in Norway was Odda, en-route to Suzi's ultimate destination - the Lofoten Islands.
"When you drive into Odda there is an incredible glacier that you can trek to. The route was flooding so I tried to scramble to a waterfall. I was parked up right next to the fjiord; the water is jade colour, from the melting glacier."
Her friend Sharon joined her for a while, and they went hiking and took a ski lift to enjoy spectacular mountain views. "Facing my fear of heights head on," says Suzi, who was captured being not-so-brave on the cable car on video!
"From here we found an incredibly beautiful spot on a river to stay the night, right at the end of the Naeorfjiord at Gudvangen - a Viking village. We had a mink visit us which was so beautiful."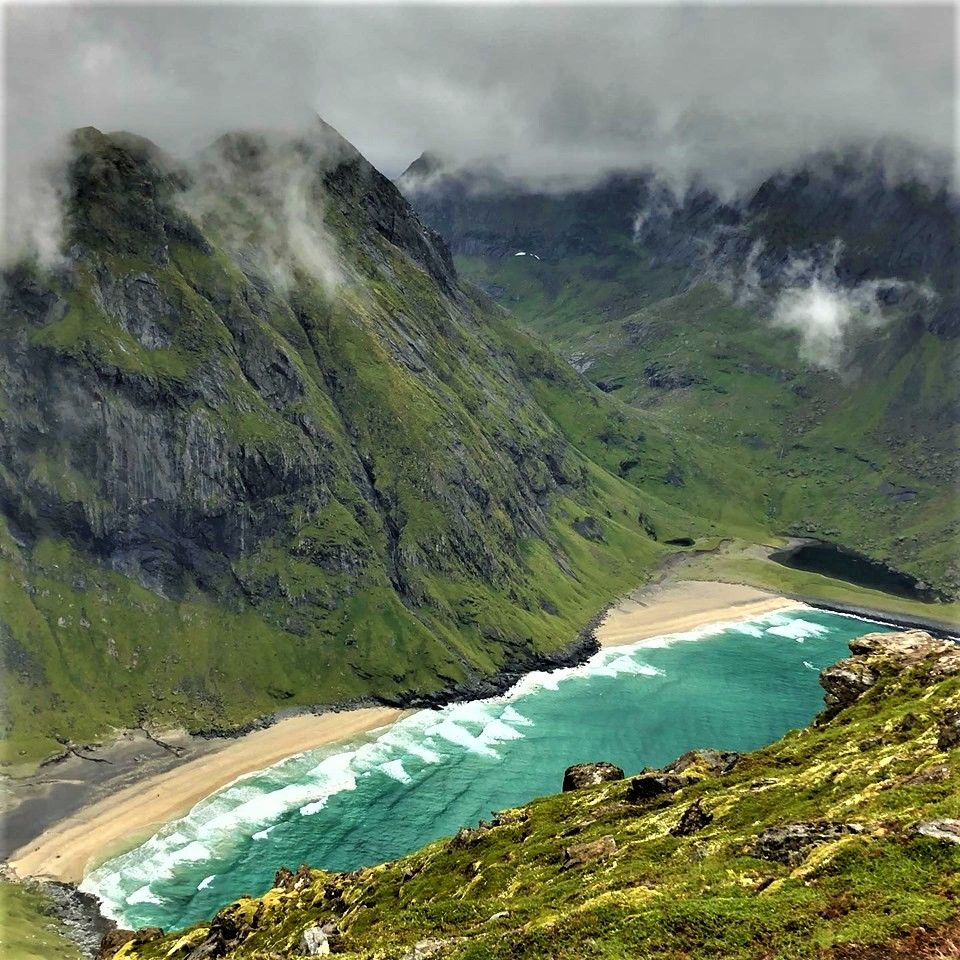 Suzi took this stunning shot of Kvalvika Beach as she attempted to conquer her fear of heights in Norway - encouraged by her friend Sharon
Sharon returned home and Suzi says, "I've driven 1300 miles in Norway and every one of them has been completely amazing. I am truly living life, in the way I had dreamed. I am facing fears every day, and every day I overcome them. Instead of thinking anything is possible I know that it is. I love myself and my life more every day."
What next for Suzi? "I'll head slowly back down through Sweden in October and on to Northern Spain and Portugal to catch some winter sun."
Read Suzi's thoughtful travel blog at mindfulvanlife.com and watch her Youtube videos and you really get a sense that you could be there with her, perhaps in another Sussex Campervan parked up close by! She has set up a Facebook page for her travel stories, too. Please 'like' and 'follow' the Sussex Campervans Facebook page and I'll post regular updates and links to Suzi's exciting adventures in our travel blog section on this website, too.
Words: Kate Taylor
Photographs and adventures: Suzi
---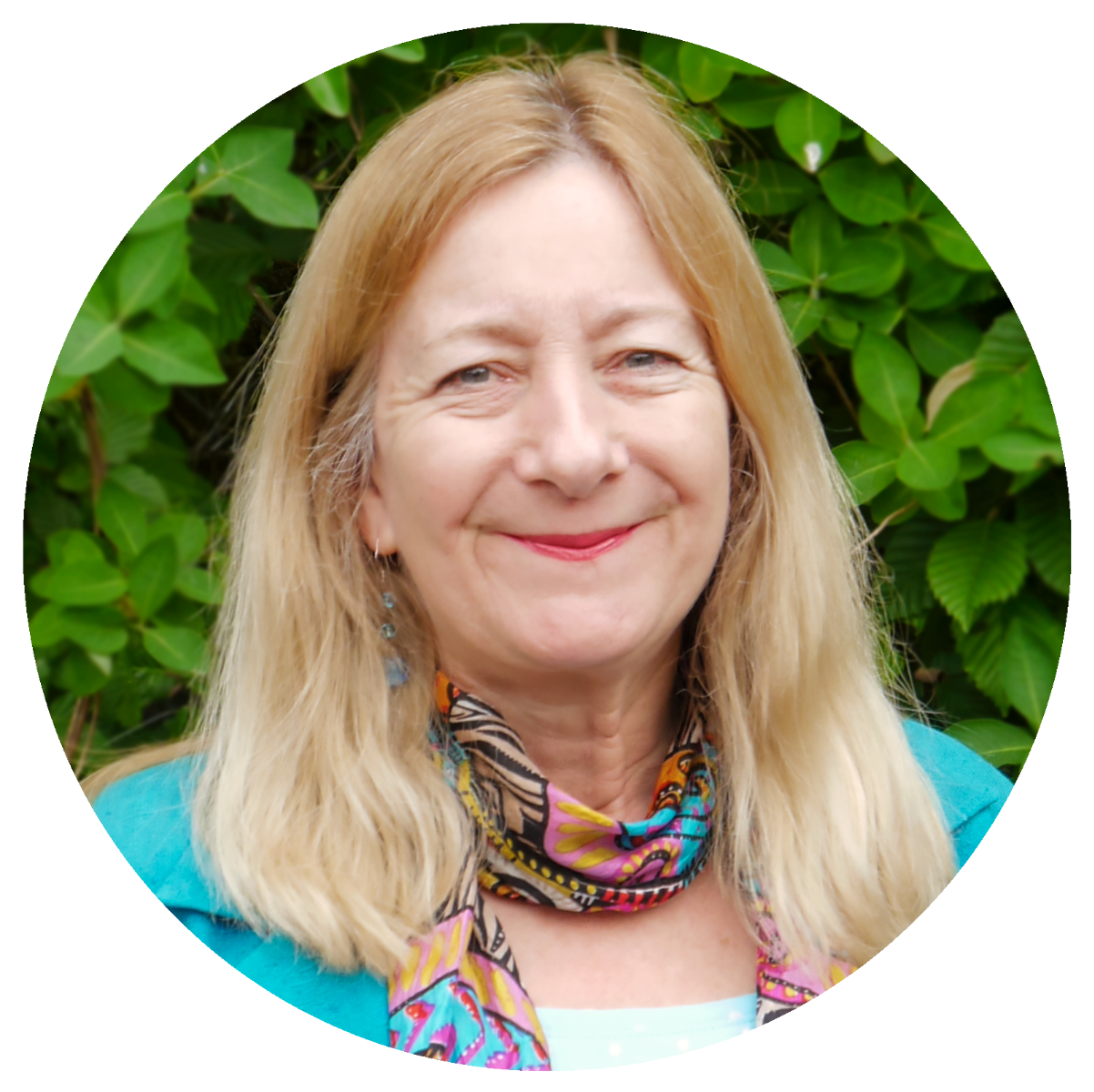 A travel expert and a passionate writer with a creative spark, Kate has specialised in writing about campervans since 2008. Kate has worked for magazines such as Motor Caravan, Caravan, Practical Caravan and Practical Motorhome.
---