Open Water Swimming with my Campervan
Retired sea captain Chris normally goes swimming in the Solent all year round, using the NV200 CamperCar as his cosy changing room - here's how life changed during the 2020 Lockdown.
With his quirky gnome mascot perched on the dash of the NV200 CamperCar, there's no mistaking Chris, as he drives to the beach in all weathers, ready to join his "Shack Shark" Open Water swimming group in the sea near Portsmouth. He has his winter routine all worked out. "I boil water and put it into flasks, ready for a hot drink, 2 ltr bottles of lukewarm water, to rinse off the seawater, lay out towels on the rear seat and and floor, and a carpet tile or mat outside the door, pop the top up, put the heater on and go for a swim. Winter swimming needs a strict routine, before the 'afterdrop' kicks in. So, coming out of the water, straight to the van, take out warm water and a towel, sluice off the sea, pad myself dry, and hop into my snug little 'Beach Hut on Wheels' and get properly dry and changed in the warm. Then it is time for a hot drink (and maybe cook up some breakfast)."
"Summer swimming is a different matter, particularly with the hot weather, there is a cold shower outside the toilet block in the car park, so, I sometimes pad down there barefoot to rinse off, otherwise, just pull out a folding chair and relax."
Lockdown 2020
Suddenly along came Covid-19 and the stern "Stay home" advice from the government. Chris certainly heeded the message, and fell back on his other passion - living history. As a keen volunteer at Gosport's Little Woodham 17th Century Village, Chris had started to learn pole lathe turning, dressed in period costume, for the benefit of the visiting tourists and school parties.
Q. Do you drive the camper in full C17th Merchant gear?
A. Yes, my mother lives in a care home not far from the 17th Century Village, so after a day there I would got round to visit, no point going home to change, so indeed I have taken 'my Carriage' and visited in C17th costume, and due to other activities other garb too, one of the managers started to call me "Mr Ben" from the children's TV programme, but so far I have refrained from going there in full diving gear and drysuit.
Chris decided to set up his own pole lathe in his back garden and carry on with turning projects during the lockdown.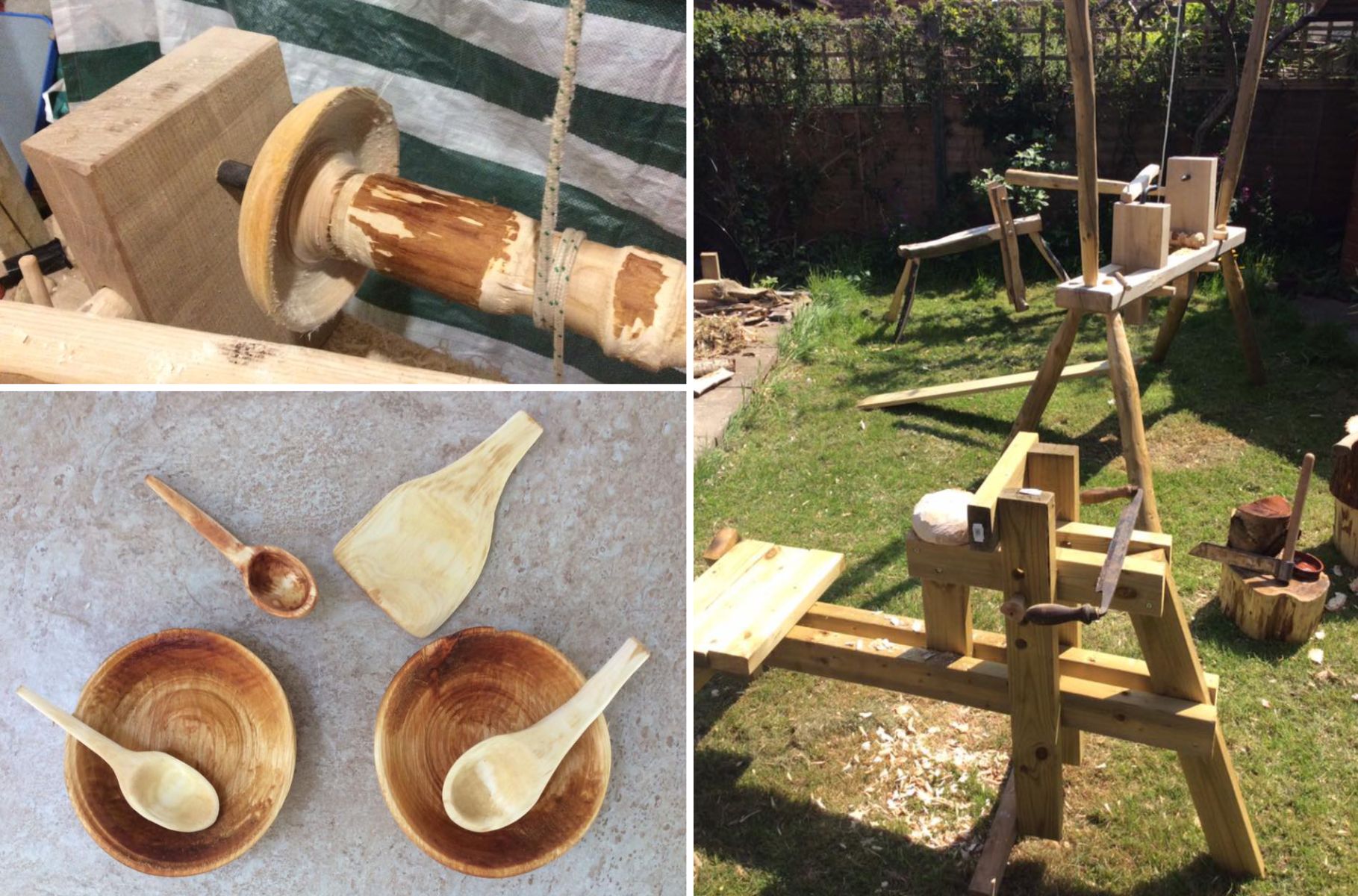 Q. Made any camping accessories?
A. Not exactly, but I realised that I had an old oak shelf which was just the right size to fit across the inside of the pop top, so with the top up, apart from the section above the cab, I have somewhere else to put stuff out of the way when getting dry and changed. Also, if sitting in the front with a coffee, or fish and chips, because of the design of modern vehicle dashboards, with rounded surfaces, it can be awkward, so I turned a block of wood to fit in the beaker/drink holder. By adding a flat plank and a small leg I now have a handy little perch in front of the passenger seat.
Entertaining neighbours
Not one to leave his campervan out of things, Chris used it on his front driveway. By 26th May, Chris noted "Last weekend should have been a 17th-Century weekend at Woodham Village. Instead, today is the third day in a row that I have only cooked on open fires on the drive - I am regressing in time. And it seems I get blamed for instigating many barbecues by the neighbours here. We have been very good during lockdown - everyone was out on their own 'patch' making their own barbecues, but it was still a social meal. We did this for Easter, VE Day, the late May Bank Holiday, and D-Day. We also often have 'Morning Smoko'."
Now that Covid-19 restrictions have eased, Chris and the Shack Sharks are fully immersed in swimming again - and even some mixed run/cycle/ swim efforts, parking at one end of a long swim, running or cycling to a start point, dipping in swimming a few miles along the coast, and then getting out, and then taking the van back to get the bike (unless he ran to the start) alternatively if the bike was dropped off first, then cycling a long loop, back to the van.
During a recent swim session Chris parked his CamperCar next to fellow Sussex Campervan owners Karl and Heather. To say that Heather is a keen swimmer would be the understatement of the century, since she has swum the Channel several times and is Senior Lecturer in the School of Sport, Health & Exercise Science at the University of Portsmouth - but that's another story.


Q. How do you feel about swapping your car for the NV200 CamperCar as your only vehicle?
A. "After I got the van I found that I was using the car less and less, when it came due for the tax, Insurance and MOT, I assessed how much it would cost to renew that and sold the car. The only issue that I have had is the inability to carry a 6ft fence panel which I could on the roof-rack of the car, but, with the bed down, 2 x 3ft panels were the solution (and they made a sturdier fence)."
Q. Is the CamperCar the right size camper for your lifestyle - or for anyone wanting to use a camper as their only vehicle, would you say?
A. "Sometimes I get 'Van Envy' and think maybe should I have got a bigger model, but realistically, who does not for some reason and one time or another get van envy? The NV200 does everything I need. I have a bike rack on the back, I can fit the SUP in there without deflating, and yet it is actually smaller than my next-door neighbour's car."
Ice Swimming Champion
Heather is an open water swimmer and lecturer in Sport, Exercise and Health at Portsmouth University, with main research interests in thermal, altitude and survival physiology including cooling rates during clothed swimming in cool water.
Heather took part in a big charity swim in aid of Amazing Alice, a charity supporting families of children with terminal illnesses. In a squad of six swimmers called the Eastney Dippers, they took turns to swim 21 miles from Northern Ireland to Scotland, rotating every hour. They have also completed charity swims from Portsmouth to the Isle of Wight and Dover to Calais.
Open Water Swimming Career Highlights
She finished 18th in the ice kilometer at the 2017 Ice Swimming Aqua Sphere World Championships in Burghausen, Bavaria, Germany. This involves swimming for a kilometer in an open body of water under 5°C (41°F) held under the auspices of the International Ice Swimming Association.
She has just swam solo across the English Channel.
She helped British open water swimmers prepare for the 2016 Rio Olympic Games.
For Heather's 40th birthday, she went back to France to the Cap Gris Nez peninsular where she landed after her solo Channel Swim. Cap Gris-Nez is a cape on the Côte d'Opale in northern France. The cliffs of the cape are the closest point of France to England – 34 km from Dover.
---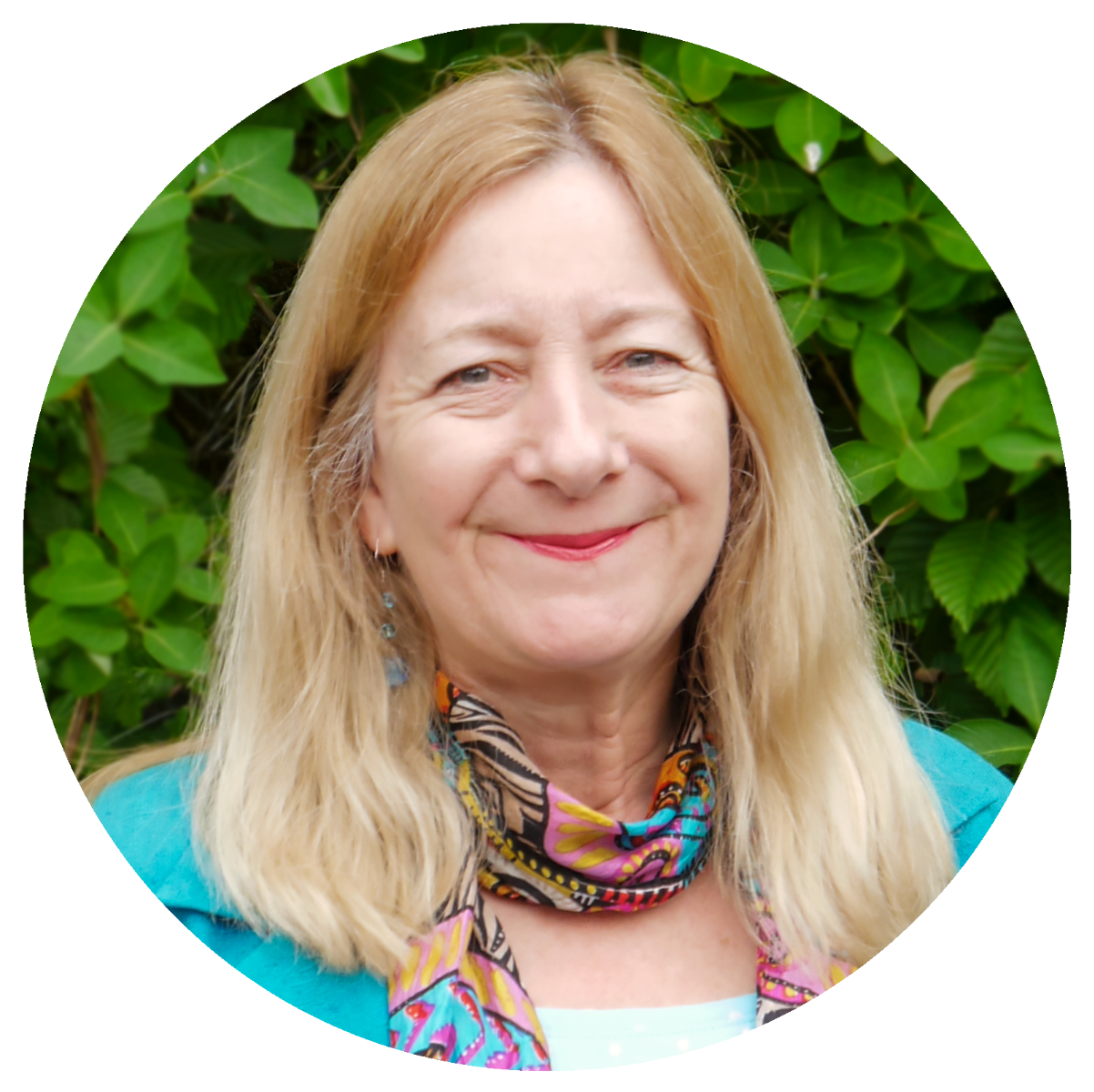 A travel expert and a passionate writer with a creative spark, Kate has specialised in writing about campervans since 2008. Kate has worked for magazines such as Motor Caravan, Caravan, Practical Caravan and Practical Motorhome.
---