Our Scottish Campervan Adventure: Part Five
Bewitched by Loch Lomond, Angela and Trevor took time to relax before continuing their 19-day Scottish Highlands holiday in their Nissan NV200 CamperCar
We were three-quarters of the way into our Scottish Highlands holiday in our new Sussex Campervans Nissan NV200 Campervan and we had already seen many Outlander film locations and gleaned a new insight into Scotland's dramatic past. This Scottish Highlands holiday in the campervan was proving to be truly memorable, and the weather was on our side.
Day 15 – Sunny Loch Lomond
Today we visited Craigevar Castle, which dates back to 1626. This is an attractive pink fairytale castle, near Alford, Aberdeenshire, and it still has the original Jacobean woodwork, ceilings and portraits. It rained quite a bit here, though, and we wanted some more sunshine, so we decided to travel west to Loch Lomond.
We had a long drive through the Cairngorm mountains, and the weather improved the further west we went. The scenery was magnificent. We passed through Ballater, Balmoral, Braemar, Loch Tay and loads of other famously picturesque places during this leg of our Scottish Highlands holiday.
At last we arrived at the beautiful Loch Lomond Camping and Caravanning Club site. Our pitch was just a few feet from the Loch, which was amazing. We highly recommend the Loch Lomond campsite to anyone doing a campervan tour of Scotland.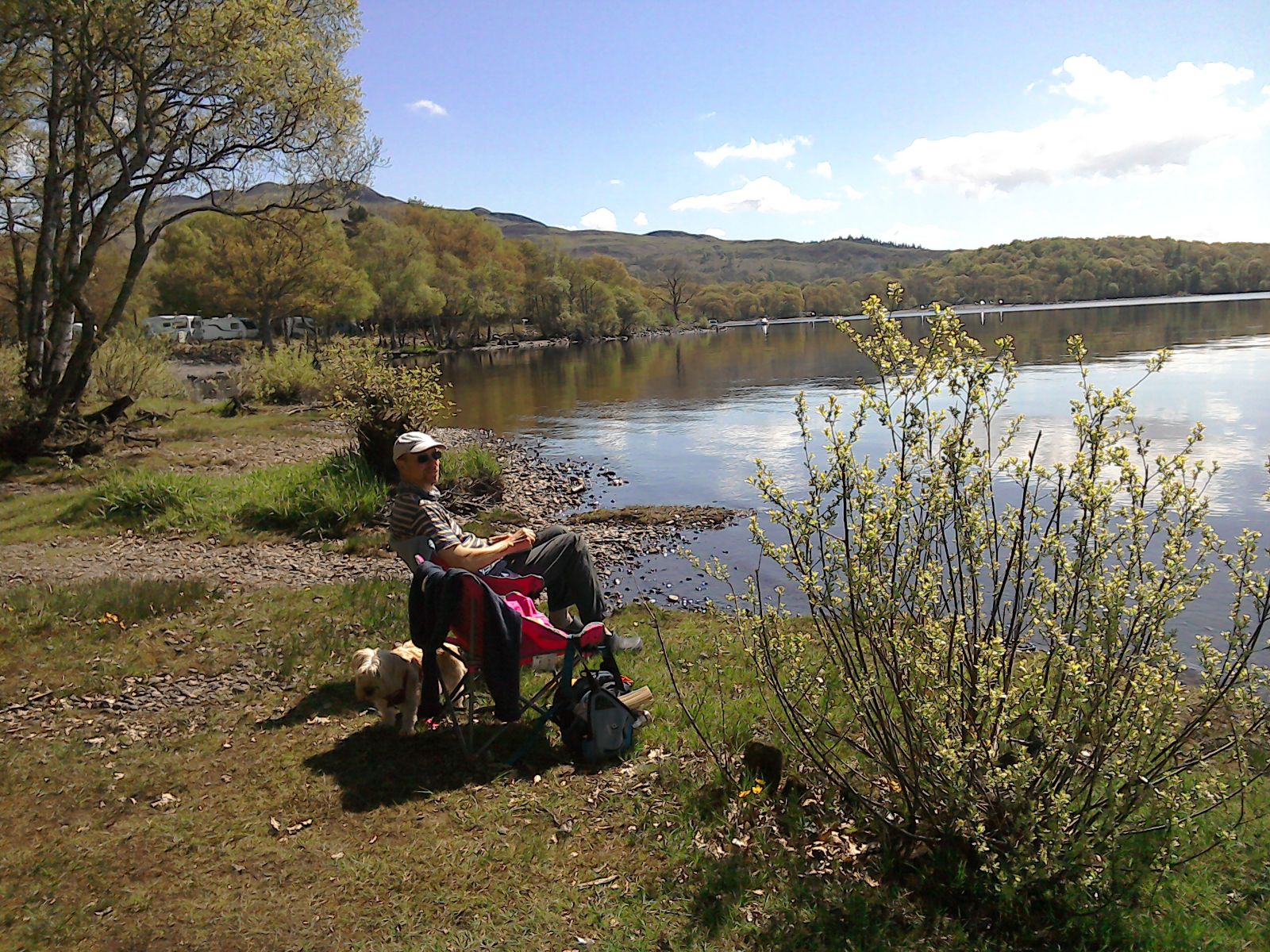 Day 16 – Bliss beside the loch
We just didn't move – we stayed sunbathing by Loch Lomond all day; it was beautiful and it was our first day of not doing anything.
Day 17 – Astonishing engineering and historic sites
We tore ourselves away from the beautiful Loch Lomond campsite today and visited the village on the eastern shore of the loch, Balmaha, which is a popular picnic spot and walkers' paradise. Then we went on to one of the key Outlander film locations, the 14th-century stronghold, Doune Castle, which was used as 'Castle Leoch' in the story.
Next we visited a 20th-century engineering triumph – the Falkirk Wheel. This vast wheel lifts boats between the Forth and Clyde Canal and the Union Canal, taking the place of a staircase of 11 locks. We highly recommend a visit to this 1930s wonder.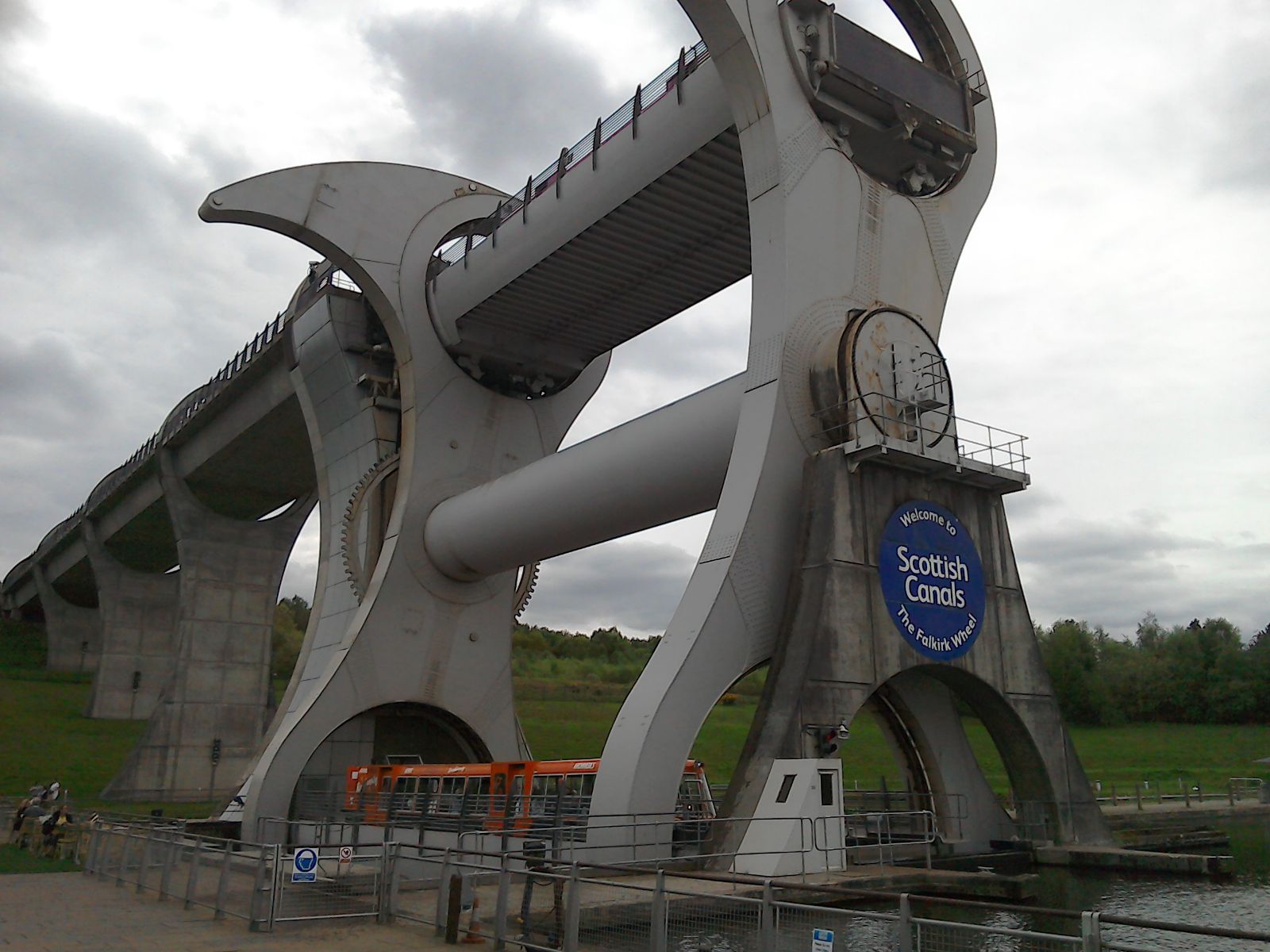 We returned to Dunbar Camping and Caravanning Club campsite on the East coast near Edinburgh for the night. This marked the beginning of our journey home.
We did manage to return to North Berwick in East Lothian, which we love. We stayed on beach for half the day and it was very relaxing.
Day 18 – Northumberland
We crossed the border back into England and headed for Beadnell Bay Camping and Caravanning Club site in Northumberland. This large site was very windy and it was right on beach.
Day 19 – Heading home
We enjoyed a few hours on Alnmouth Beach, then started our long journey home to East Anglia.
Highlights of our campervan holiday in Scotland
We had a wonderful tour of Scotland and were pleased to find that we were able to survive for 19 days in our little camper. It's the little Nissan NV200 CamperCar from Sussex Campervans, and it had everything we needed. We took all our food with us and just topped up now and again. We didn't eat out once! The camper truly was our home.
The absolute highlights of our Scottish Highlands holiday were: Culloden Battlefield, Findhorn, seeing dolphins, North Berwick, watching the sunset from inside our camper, seeing the Fife Coast, Cromarty and the Black Isle, Loch Lomond and sitting by the loch, discovering all of Outlander's film locations, Culross and finally just having brilliant spring weather in Scotland and no midges!
We enjoyed everything about our holiday and we love the campervan. Lots of people stopped to speak to us and admired the camper's size and what we had in there. We didn't see any other NV200-based campervans during all our travels, only those great big ugly motorhomes, which look like coaches and are not at all easy to tour around in like the Nissan. We did recommend Sussex Campervans Campervan Conversions to a few couples we met.
For our next trip…
We are going to plan some more trips but the next trip to Scotland will be to do the North Coast 500 – the route exploring the little coast roads up to John o' Groats and down to Oban, via Ullapool.
For this Outlander-inspired campervan tour of Scotland we drove more than 1800 miles and loved every minute. It took a couple of days to get into our housekeeping routine but we soon decided on who had what job and just got on with it. The bed was comfy and washing up and showering at campsites became second nature. We miss the travelling now we're back home in Saffron Walden.
It was amazing the amount of stuff we could fit in the camper. You should have seen our hallway when we emptied it! I took too many clothes, though, so I have learnt what not to take for next time.
Angela & Trevor
previous adventures:
Our Scottish Campervan Adventure: Part One
Edinburgh, our first Outlander film locations and the best campsites near Edinburgh.
Our Scottish Campervan Adventure: Part Two
The best campsites in Fife, dramatic Outlander film locations and a sandy beach.
Our Scottish Campervan Adventure: Part Three
Kinross, Crieff, Castle Campbell, Pitlochry, a 1700s Highland village and the best place to see Dolphins.
Our Scottish Campervan Adventure: Part Four
Culloden Battlefield, stone circles, formidable fortresses and Aberdeenshire.
---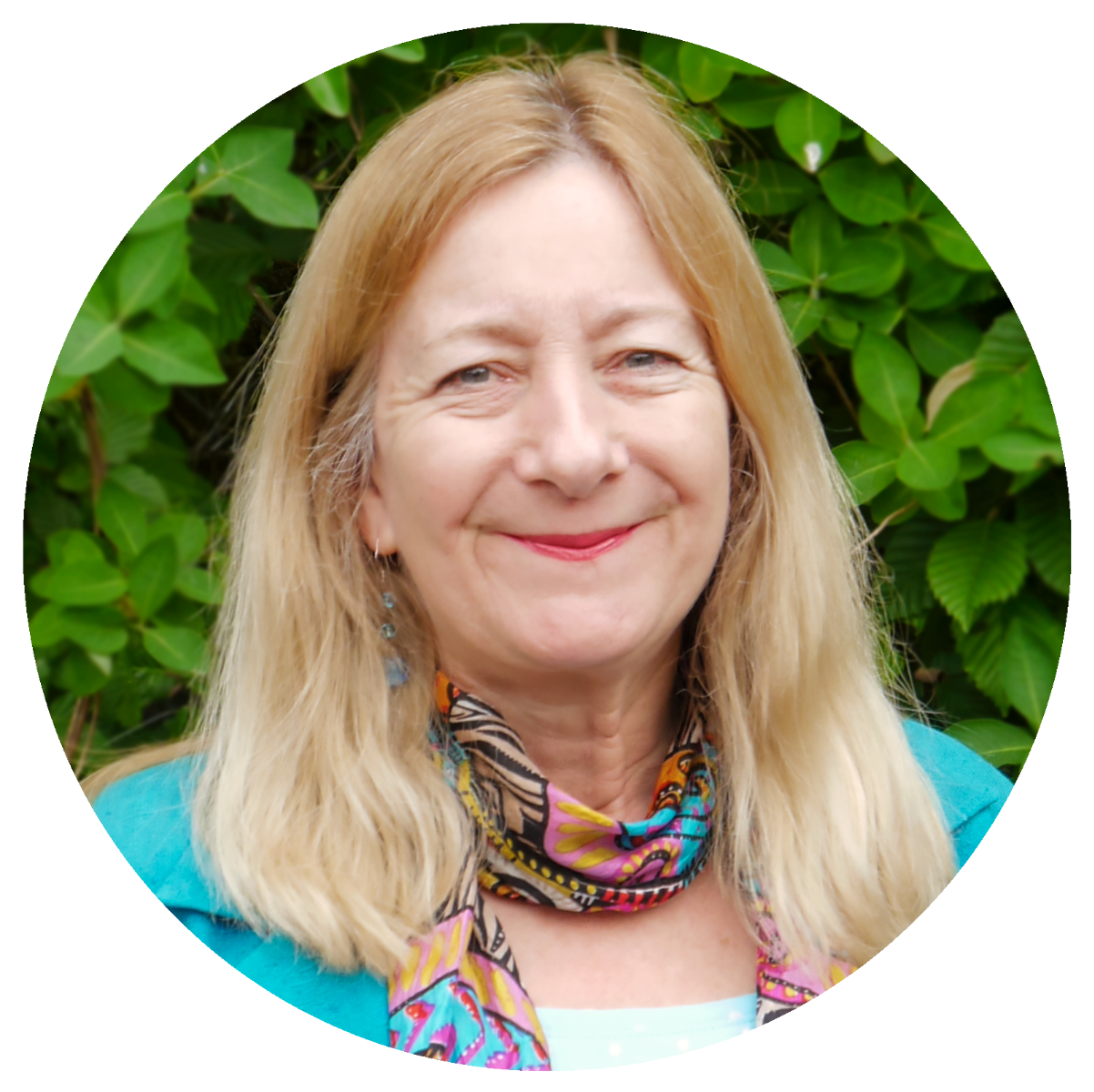 A travel expert and a passionate writer with a creative spark, Kate has specialised in writing about campervans since 2008. Kate has worked for magazines such as Motor Caravan, Caravan, Practical Caravan and Practical Motorhome.
---