Exploring Europe Part 1: Belgium, Germany & Czech Republic
In two years, Richard and his wife Hong have explored 18 countries in their petrol-automatic Nissan NV200 CamperCar from Sussex Campervans - starting with Belgium, Germany and the Czech Republic - and here she shares notes from her travel journal.
Take a look at all of the different camper conversions from our friends stories.
Globetrotting Richard and his wife Hong love to travel, so they bought a petrol-automatic Nissan NV200 CamperCar from Sussex Campervans in February, 2017. With their bikes on the back of the camper, within two years they have visited 18 countries in Europe.
The Nissan NV200 from Sussex Campervans comes either with a diesel engine and a manual gearbox, or with a petrol engine and an automatic gearbox. One of the things people love most about it is that it's so easy to drive and manoeuvre, and easily fits under most car park barriers.
sussex to Dover, calais to Belgium
For their first mega trip in their new camper Richard and Hong went to the Czech Republic and Poland. Here's how they got on, with many thanks to Hong for sharing some of the meticulous travel notes from her journal.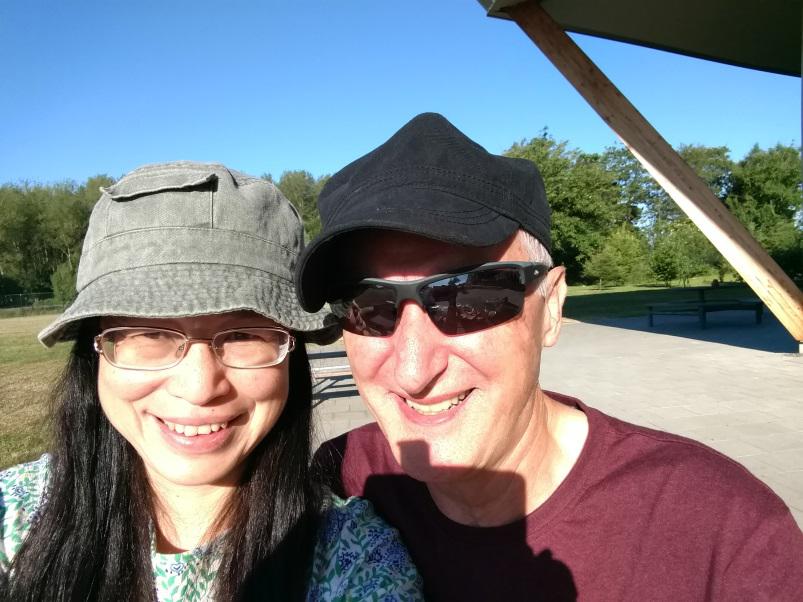 I love our new van, it's very compact and comfortable. We left Horsham in Sussex late in the afternoon and Rich drove all the way to Dover for three hours along the wiggly south coast roads. Romney Marsh was flat, like Holland, but with huge sheep farms. At the port they let us on the 11pm ferry to Calais and an official kindly put our headlight converter stickers on for us. We met another Sussex Campervan family waiting in the queue. We were excited to be going to Europe!
The ferry docked at 2am. "Rich drove another two hours at night to Ghent and along the autoroutes to the outskirts of Brussels. We parked for the remainder of the night at a service station, raised the roof on the van, folded out our bed and fell soundly asleep instantly.
27th May - Brussels to Germany
We woke up to sunshine. It is very comfortable on the van bed, long and wide enough for us. We paid €0.50 each to use the toilets, then bought coffee, at €2.50 euro each, which is expensive. I will make coffee in the van from now on. We ate our breakfast in the sun near our campervan, which was homely and nice.
We drove from Belgium on to Wertheim, Germany. German autobahns are scary as people go so fast. Even if you watch your rear view mirrors (which are very large and very good on the Nissan) cars come up behind you in a second! They are traveling at up to 200 kmph (124 mph). Too fast!
We arrived at a campsite by the River Tauber at Wertheim. The city is on the confluence of Tauber and Main rivers. It is quiet, with a beautiful church and castle. We cycled around the streets, climbed up to the castle, and found college kids were partying at the castle. We had a very cool beer at the gatehouse of the old town (only €2.50).
It only took 10 minutes to cycle back to the campervan and we cooked our first meal in it - just bread, eggs with mushrooms, and oxtail soup. We watched river cruises passing by, then went to sleep.
28th May - from Würzburg Palace to Bamburg
After breakfast we drove for an hour and visited Würzburg Palace and Gardens, the market, and St Mary's church. We cycled to Marienburg Castle, and had beer for €3.50. The castle is just beautiful. Then we went back to the market and had pork and sausage sandwiches.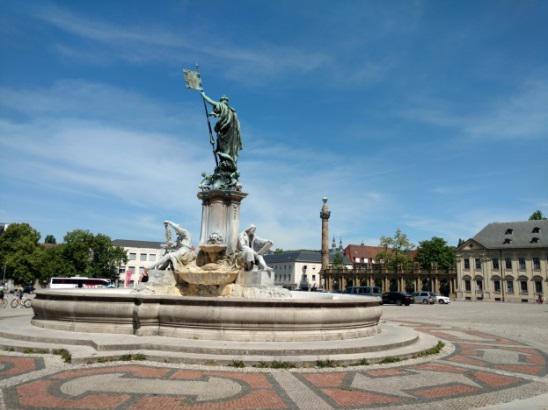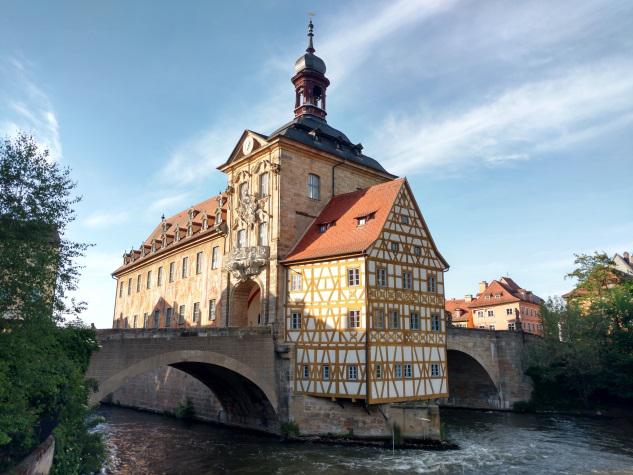 We drove 80km to Bamberg, on a beautiful quiet country road, and reached the campsite at 6pm - just in time for a beer (€2.70). We left the camper and cycled alongside beautiful streams and rivers to Bamberg's old town. We saw the lovely old town hall and had ice cream.
Further along the canal, we saw an old house covered in roses. All the houses and cottages are so ancient!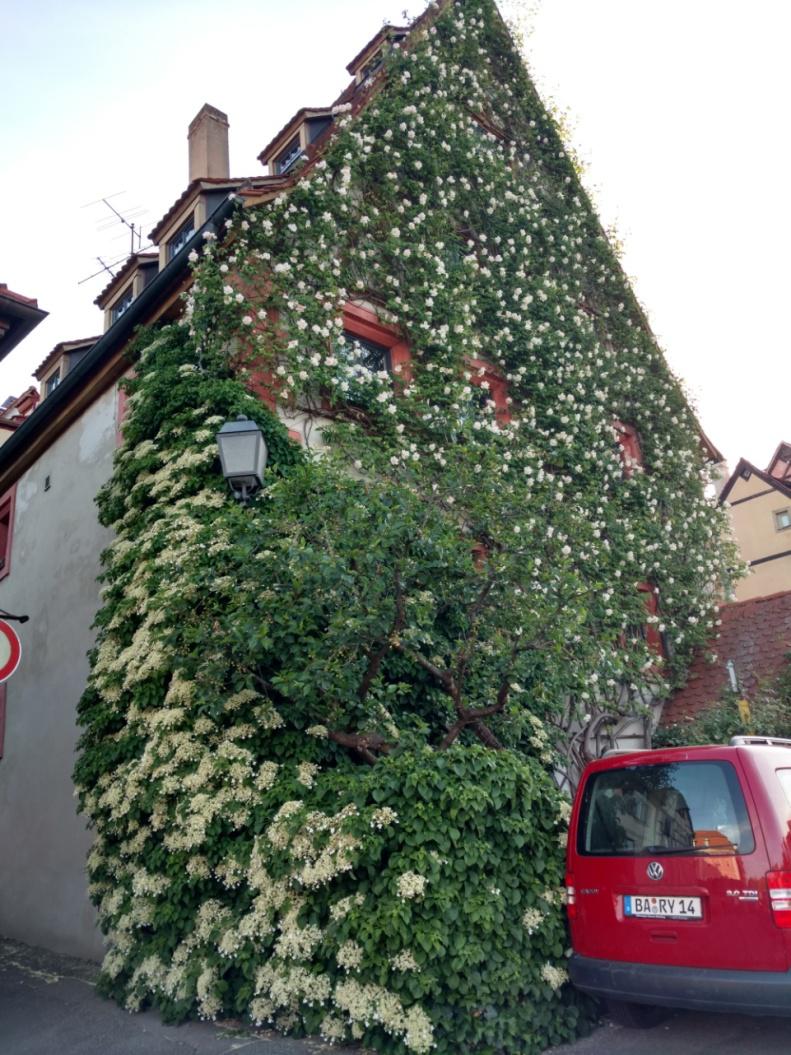 It was a beautiful bike ride. We then had dinner at a local beer garden - sausage, pan pork with fries and another beer. Oh, we had a lot today!
We got back to the camper at 9:30pm and quickly set it up for the night. We're finding this campervan so easy to convert from a car to a kitchen, to a dining room, to a bed! The NV200 CamperCar is impressively planned, well done, Sussex Campervans!
29th May - The Czech Republic
Today we drove into the Czech Republic, crossing the old Iron Curtain border, with the guard and inspection buildings still there. Rich said it reminded him of his trips to the old Soviet countries when he was young. We went to Cheb's city centre, which was such a surprise; it's very pretty with colorful townhouses. We saw no tourists, so it was quiet and peaceful.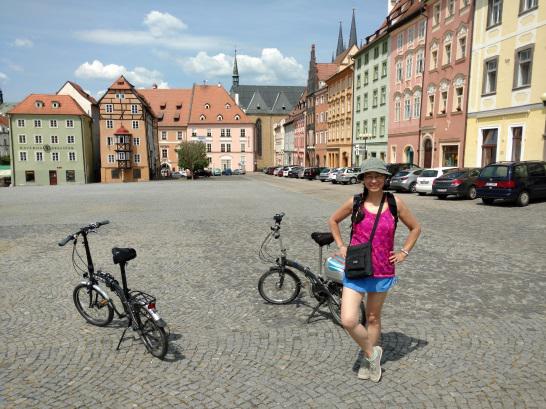 We went to Loket Castle, Roman Emperor and Czech King Charles IV's hunting castle, which overlooks the elbow of the River Ohře. There was a loud thunderstorm, but no rain fell.
30th May - Karlovy Vary
We toured the spa town of Karlovy Vary, with its Empire Hotel and mountain views. We were the only campervan on-site. This campsite had an Eastern European electrical socket that is incompatible with Western European fittings, so we managed without electric hook-up for a night. No problem - the lights still worked in the van, we could charge our devices, and cook with gas. This campsite only had cold showers, but we were okay for a night, as the campervan is versatile and independent.
We then parked in a multi-storey car park. One very nice thing with our NV200 CamperCar is that we can get into tight-fitting city parking garages, hidden away in narrow streets with tight turns, and the van will fit into parking bays, even with bikes on the back. Awesome, it makes touring so easy!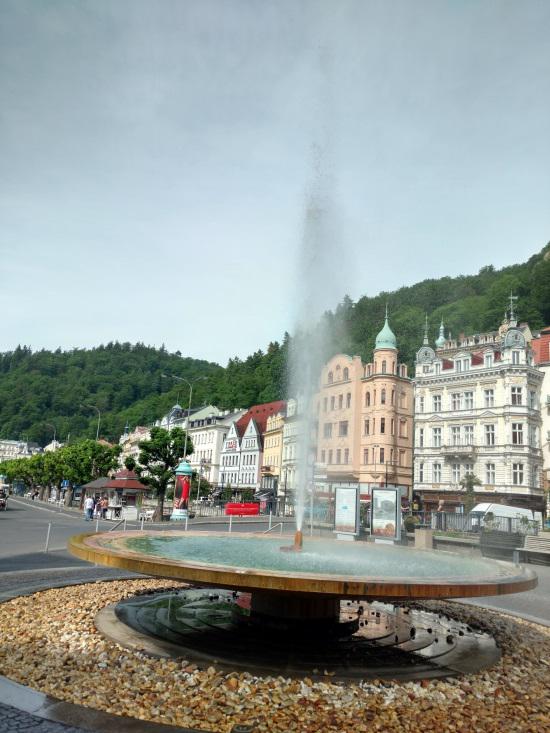 At the first spring in this spa town, the water shot up 34 feet, like a fountain - amazing! We then bought a Karlovy Vary spring water cup to drink mineral water at different temperatures - 30C, 50C and 75C. We keep this mug on our mantelpiece at home to remind us of Karlovy Vary.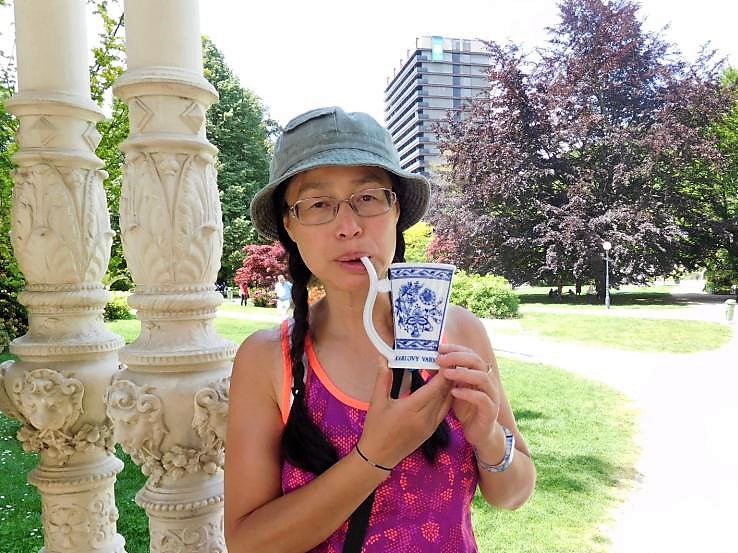 We then cycled over a bridge to the city centre, and bought a beautiful bike pump that fits easily into the campervan. A very nice man pumped up our tyres for us. Rich had coffee while I bought groceries, and found that a beer can is only 15ck.
We biked back, to the Russian Orthodox Church of St Paul and St Peter's. There is a Karl Marx statue and the area is full of Russian Victorian mansions and hotels. We might almost have been in Russia, as signs were only in Russian. Police were checking all cars, but did not stop us on bikes. We like our bikes!
We cycled back to the camper, loaded up and drove towards the National Park in Bastei, Germany (2.5 hrs.). On the way we stopped at Horni Hrad castle ruins. We hit a heavy storm, and the road was steep and winding, but van handled it all, without a problem.
Fortunately rain eased off as we got to the campsite. The site is great, and the manager was so nice to open the office just for us, as we were very late, due to the storm. The site was on the German side of the border and was very organised. We even had to give the office a precise record of how many units of electricity we used. We enjoyed seeing the stereotypical German super-efficiency, accuracy, cleanliness and organisation in action.
31st May - mighty Königstein Fortress
In the morning we left the campsite at 11am. We are finding the van easier and easier to convert. The roof raises and lowers so easily, the bed slides open and closed with ease. We decided to come back to this site again tonight.

We went to Königstein village near Dresden, in Saxon Switzerland, Germany. Local people can hardly speak English, and it was very confusing finding our way there. We parked easily in Königstein and took a bus to the foot of Königstein Fortress and took the train up, which was fun. The castle entrance is a huge thick wall with a portico, up high. It was built on a volcanic plug. The view of the horseshoe-shaped Elbe River is astonishing. The high castle walls are built at every angle and would reveal the location of any enemy. Later we drove to Bastei, a mighty natural rock formation and tourist attraction . The views are so great and Neurathen Castle is built between the rocks. I cannot imagine how people lived in these high places.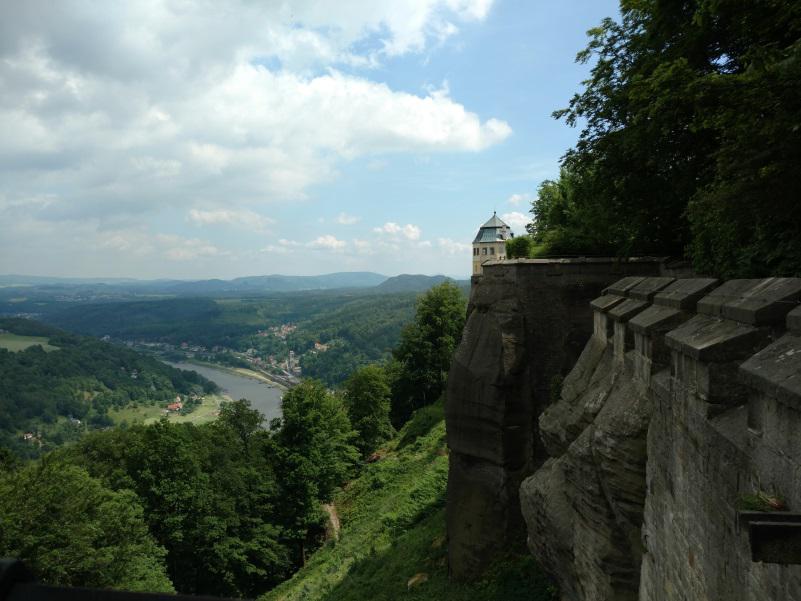 We parked the camper in a car park outside the National Park and took a shuttle bus. When we came back, everything was closed, barrier shut, nobody there. We thought our campervan was locked in for the night, but the shuttle bus driver kindly helped us to validate our parking ticket and leave.

It was 7pm. We drove toward Pirna, stopping at a shop on the way, hoping to buy a plug adaptor for Eastern Europe, but no luck. We then drove into Pirna, and walked around the centre. We did eventually find an adapter, back in Germany. We drove back to the campsite at 9:40pm, ate dinner at 10, and I wrote this at 12:30am. Rich couldn't stay awake to help.
1st June - from Germany to the Czech Republic
We learned a new word - Diky - thank you in Czech, and we learnt that there is no z in Czech! We drove from the German side to Hrensko on the Czech side and parked our van before walking to Nature Bridge. It is 1.6km on the road, or 2.6km on the hiking trail, which is very nice in the forest, but the first half is on a rocky, uneven and slippery ancient road, with tree roots. The second part is a long uphill trek on sandy ground, wandering around huge rocks.As a reward we had a fantastic view of the Nature Bridge, with a Swiss-style restaurant next to it. We paid 100kc to get into the rock area and had beer and hotdogs, sitting just under the bridge. It was a very impressive view and we felt good, sitting in the warm sun, with a cool breeze and not too many tourists.
It was a long and exhausting walk back to the camper and we left the National Park at 4pm. We drove towards Cesky Raj, which is called the Bohemian Paradise, and bought food in Lidl, which was really cheap and very fresh. We camped at Cesky Raj at a little town called Lodice. After setting up the van (which only takes us a few minutes now), we took the bikes off the bike rack and cycled around the village corn fields and parsley fields. Some villagers look rich, with big houses, nicely kept yards and huge guard dogs that barked at us. We rode on bumpy tracks through the fields, then watched the sun set behind a fairytale castle on top of a faraway mountain. We had a good dinner and were in bed at 11:30 pm.
2ND June - Bohemian harmonies
We're in the Czech National Park Raj, the Bohemian Paradise, and we saw the 600-year-old Hrad Trosky Castle, built on two separate basalt stones or volcano plugs.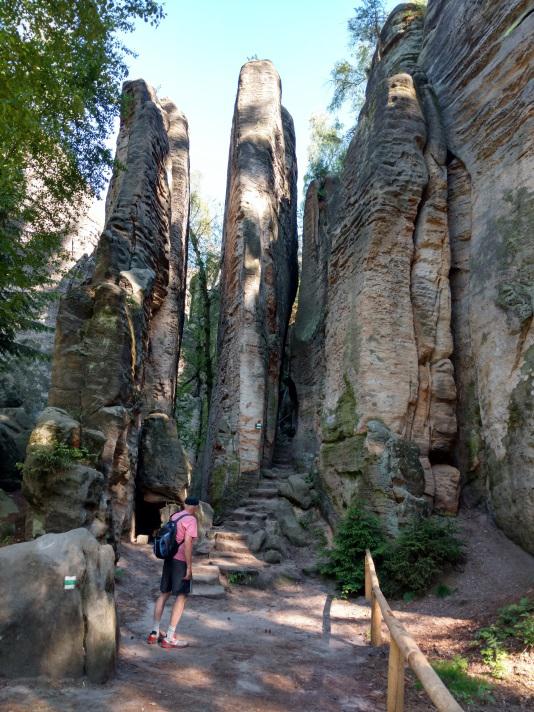 We tried to find the famous hoodoos (tall rock formations) in the park, but could not. There were no map boards or visitor centres and nobody spoke English. We tried cycling through the woods, then circled the park. We decided to drive south to Raj.

We drove along twisting, narrow roads and eventually found the hoodoo area, which is really good. It is located in an isolated part of the forest, with no signs at all. Our compact campervan was great for exploring the narrow lanes. We hiked along the green route - a wonderful and amazing experience. We climbed up to the top to view the rock formations and walked through cracks, crevices and up and down thousands of steep narrow steps. Every turn gives you a surprise. I never expected that we could stand on the very top of these formations. It took about two hours to finish the loop.

Rich then drove another hour to Kutna Hora. This campsite was not so good. The first one had been full (right in the town and street, full of campers driving vintage Land Rovers). I had to use the men's showers to get hot water. In the evening there was a family gathering on our campsite. They circled the fire and sang beautiful Czech songs. They sang well and in beautiful harmony throughout the evening and we fell asleep with their songs in our ears.
3RD June - The bone church of sedlec
We woke up at 8am. I slept well, but it was hard to wake up. We left the campsite at 9:30am. Now there were a lot more cars, bikers and excited dogs gathering at the campsite. It seems there will be a big party today. The fire from last night was still smoking in the firepits. People cooked their sausages on the fires, talking to each other, while the dogs chased each other, tails wagging. We enjoyed seeing these peaceful calm people, having a good time.
We drove to Sedlec near Kutná Hora by 10am and squeezed the van into a little parking spot on the street, outside the 'Bone church'. The camper is so great for parking; even with bikes on the back.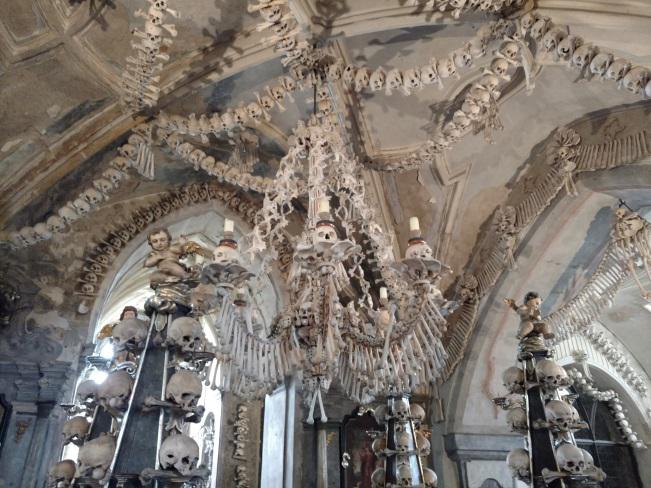 The bones in the church were 800 years old, and there's even a bone chandelier and bone coat of arms. Unfortunately the church is subsiding, so these bones may go to museum in future. It was an amazing place, and later it was crowded with visitors.
We visited another UNESCO-listed church and climbed up a pretty spiral staircase to the roof. Then we cycled along the small stream and railway track into the old town of Kutna Hora. It was a beautiful peaceful ride.

We visited St Barbara's Cathedral, and went up to the top to see the organ on the back. There are hundreds, maybe thousands, of pipes, some as big as chimneys, some as small as chopsticks, fascinating to see up close, as we could look down on them. We found the ancient well and the town centre then cycled back to the campervan, along the stream and under the shady trees. We enjoyed our ride so much.
Part two: Poland - Richard and his wife Hong share their experiences of Poland's Kraków and many spectacular castles and campsites.
---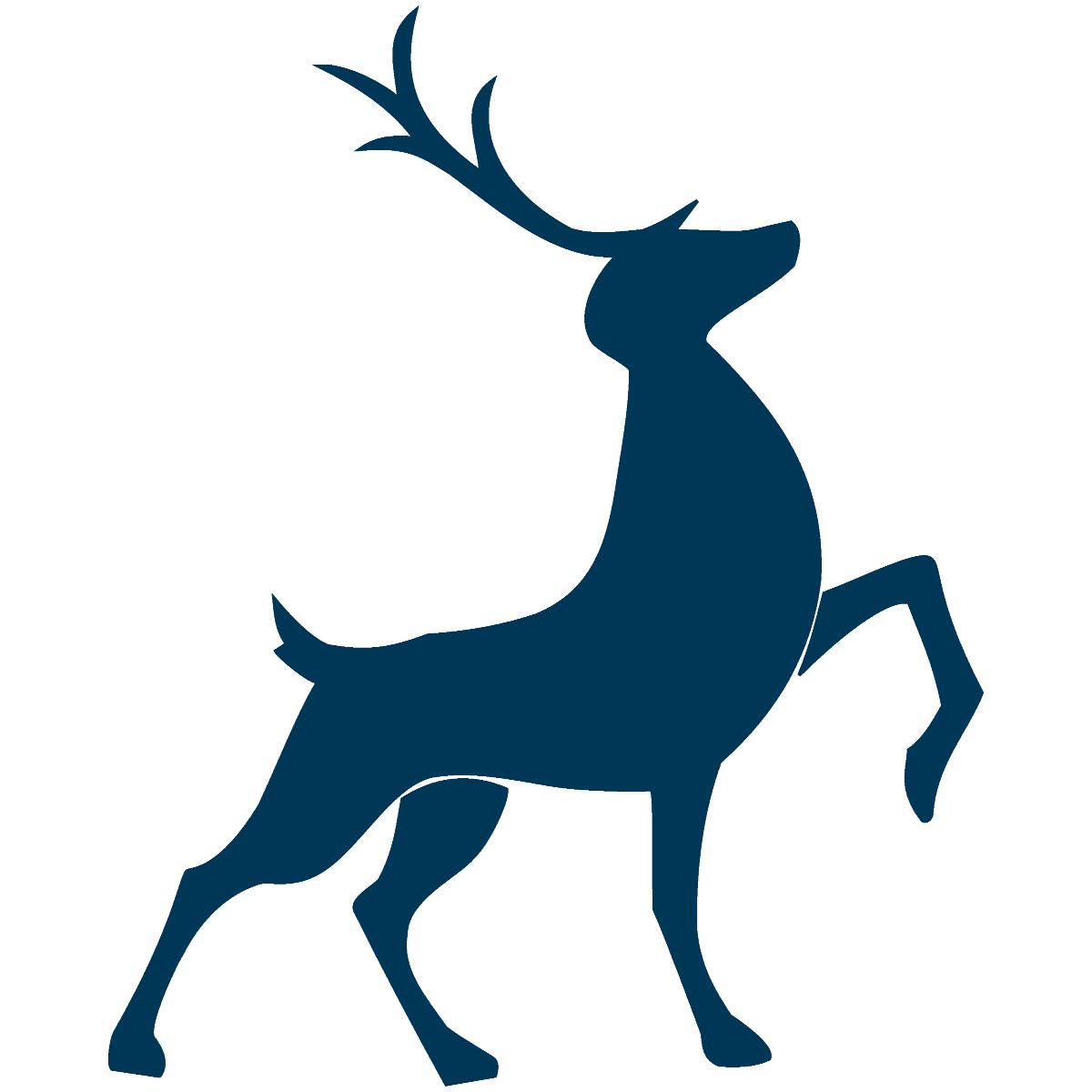 Do you have a story you'd like to share? We love to hear all about your experiences in a Sussex Campervan, whether it's a trip across Europe or how owning a camper has improved your day-to-day life. Please send an email along with some high-res photos to stories@sussexcampervans.com - we look forward to hearing from you!
---