Choose Sussex Campervans' Nissan e-NV200 CamperCar if you're looking for a compact campervan that drives like a car and a fully electric engine.
What Is the e-NV200?
You asked for eco-friendly campervan conversions that could compete with diesel and petrol models. We listened. Using the e-NV200 van base model, we set to work building the All Electric campervan and the results completely blew us away.
The generous amount of space provided by Nissan in the e-NV200 camper means that we've been able to produce an electric camper conversion with unrivalled levels of power and storage.
No more faffing around with heavy gas tanks in the back of your camper. Just plug in, charge up and Go!
Is the e-NV200 Camper Completely Electric?
Yes. Named in the top 5 electric campervans and 10 ten motorhomes of 2022 by Discover Touring, the e-NV200 is a long-term project that we at Sussex Campervans have been working hard to perfect. The e-NV200 does not require fuel tanks of any kind, it runs completely on electricity generated from various sources of clean and renewable energy.
Okay, so we aren't the first campervan company to announce the launch of an electric campervan. However, many other 'electric campers' still require you to carry around gas cannisters and are essentially hybrids. These campervans are simply electric vans converted into campers but without any of the extra work to make it completely electric and eco-friendly.
The goal at Sussex Campervans was to provide you with an electric campervan that really was eco-friendly. We wanted to create something that cut through all the noise and delivered on what it was supposed to. No internal combustion engine. No fossil fuels. No more carrying cannisters of LPG, diesel or petrol. No trying to sell a campervan that wasn't completely green. Just a camper that ran solely on solar power and other sources of green energy.
How is the e-NV200 different to petrol/diesel campers?
Aside from the fact that it doesn't use any gas or fossil fuels, the first and most noteable difference is that the range of the e-NV200 is better when driving round town than it is on a straight run. This is the opposite of a fossil fuel veichle.
With this in mind the van has an impressive turning circle of just 11.1m. This makes light work of tight corners and side streets that you might find on campsites and off-grid locations.
You will also save money as you could be entitled to the UK plug-in car grant, zero congestion charge and zero road tax.
Pricing
The Nissan e-NV200 Camper is based on both the Acenta and the Tekna base veichle models. These are the two versions of the e-NV200 that are on the higher end of the market due to their improved and modern features.
Brand new Nissan e-NV200 Tekna vans are currently in limited supply in the UK, so our brand new Nissan electric campers start from £64,995, while stocks last.
If the Nissan e-NV200 isn't for you, don't worry, we have a range of different custom built vans available to choose from. We also have more information on electric campervans and why you should choose them over a petrol or diesel engine.
Not quite ready to go fully electric?
Take a look at our newest campervan - the Nissan NV200 VX-e. A combustion enginge van with all-electric interior.
Book a visit with us today
If you've dreamed of owning a campervan, and now it makes more sense than ever, get in touch and let's welcome you here to visit us and see everything that's possible.


Pop top with elevating roof
Classic side kitchen layout
x4 Lithium Powercells
Two to four berth
Induction hob and sink
Two or four belted seats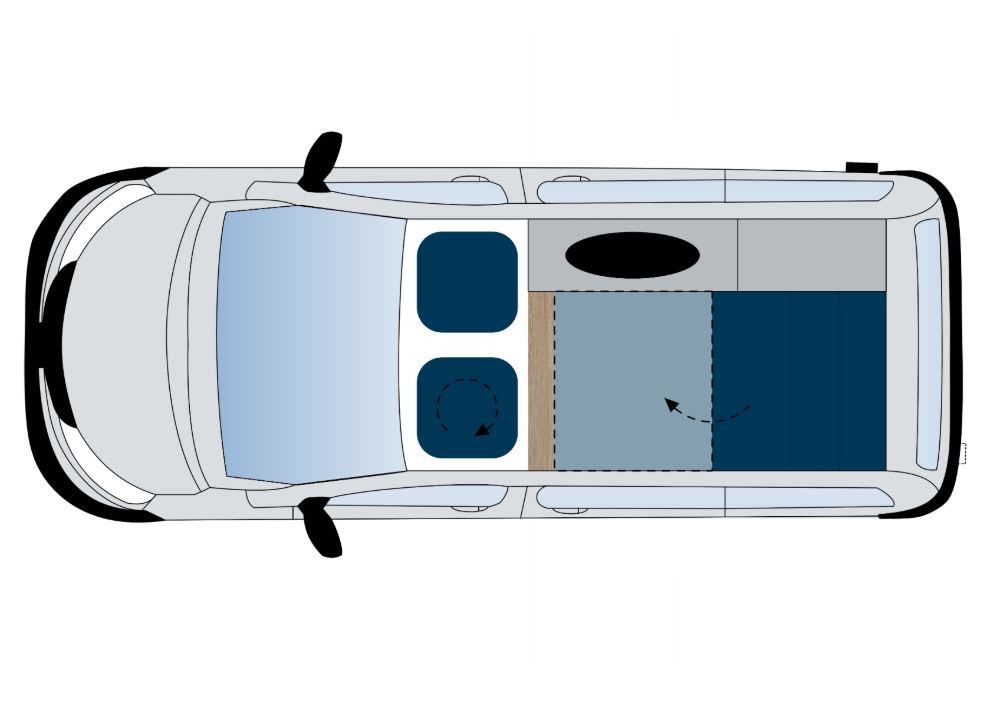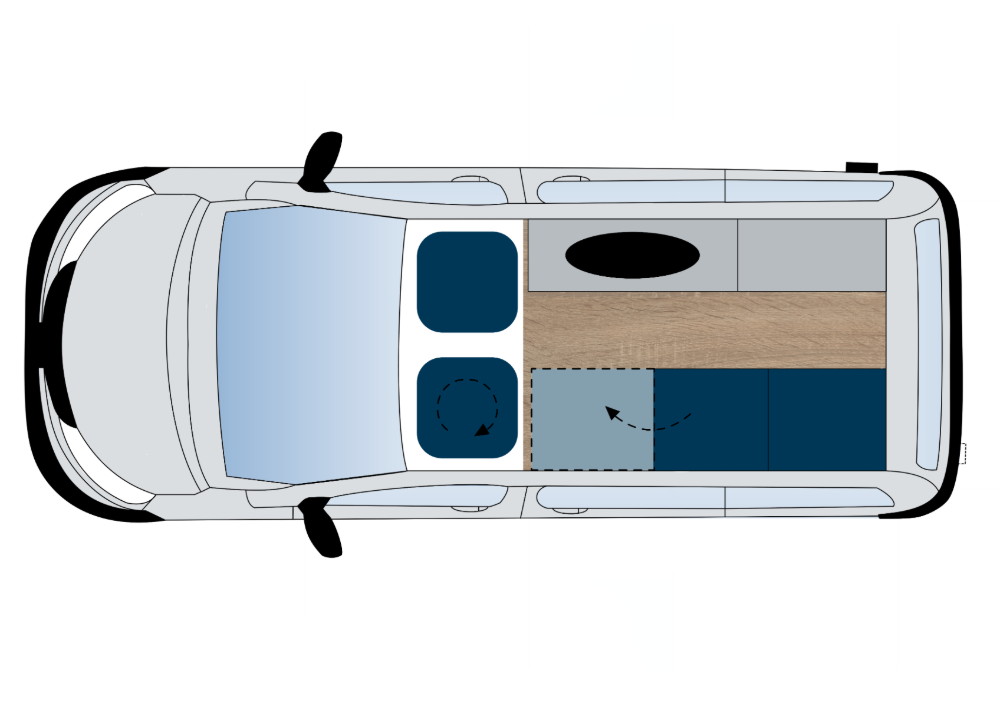 KEY FEATURES
Your choice of upholstery, worktops and flooring
Pop-top elevating roof with unique panoramic window
2 or 4 belted seats
Single front swivel passenger seat
Sleeps 2-4
Rock n Roll bed (or single ottoman bed option)
Classic side kitchen layout with additional under-bed storage and flyover cupboards
LED lighting
USB and 12V battery sockets
Induction hob
50L compressor fridge with freezer compartment
User-friendly stainless steel control panel
240V electric hook-up and lithium leisure battery
OPTIONAL EXTRAS
Upholstered cushioned bed panels on elevating roof bed
Microwave
Solar panel
Inverter system for 240V power off-grid
Slide-out Porta Potti under bed
The essential campervan buyer's guide