NV200 CamperCar
The compact campervan which drives like a car
Building a fully-featured campervan with seating for four and sleeping for two in a compact van like the Nissan NV200 took quite a lot of thinking and all our combined resourcefulness. After trialling several designs, finally we had something which we felt was just right. The Sussex Campervans NV200 CamperCar was born – a practical camper, with thoughtful design features, such as our own rock and roll bed, that's really nimble and easy to manoeuvre. Another plus is that we can source a petrol version with an automatic gearbox, if required.
The NV200 CamperCar quickly became our best-selling campervan, and several people asked if we'd make a single person's version, so we designed the CamperCar Solo with a single bed and more floor space. It's the perfect camper for one person, with or without a dog.
All our new NV200 CamperCars come with an underslung LPG tank and heater, with an external BBQ point. The LPG tank powers the heating and twin-burner hob. It's all operated by our unique user-friendly control panel. From here you can switch the LED lights on and off individually, turn the gas supply, fridge and heater on and off. There are dials to tell you how much LPG is left in the tank, and also the condition of both the vehicle and leisure batteries. There are even twin USB ports and a 12V 'cigarette lighter style socket, and circuit-breakers on the panel – it's all so easy to use. Solar panels are now an option, too. We call all this our Sussex Campervans "SX Upgrade" and it's proved extremely popular.
PRICING:
We can obtain a good continued supply of low mileage petrol automatic vehicles to convert into our petrol auto CamperCar, starting from £44,995 ("brand new secondhand").
If the Nissan NV200 isn't for you, don't worry, we have a range of different custom-built vans available to choose from.
Looking for our All-Electric CamperCar?
James & Michaela
"So pleased with our Nissan NV200 camper, the quality and finish is excellent. Thorough and detailed vehicle handover and the van drives like a dream. The dog has made it a second home!"
Book a visit with us today
If you've dreamed of owning a campervan, and now it makes more sense than ever, get in touch and let's welcome you here to visit us and see everything that's possible.

Open Monday-Friday 9am-5pm and Saturdays 10am-4pm.


Pop top with elevating roof
Classic side kitchen layout
Thermostatic gas heating system
Two to four berth
Two burner hob and sink
Two or four belted seats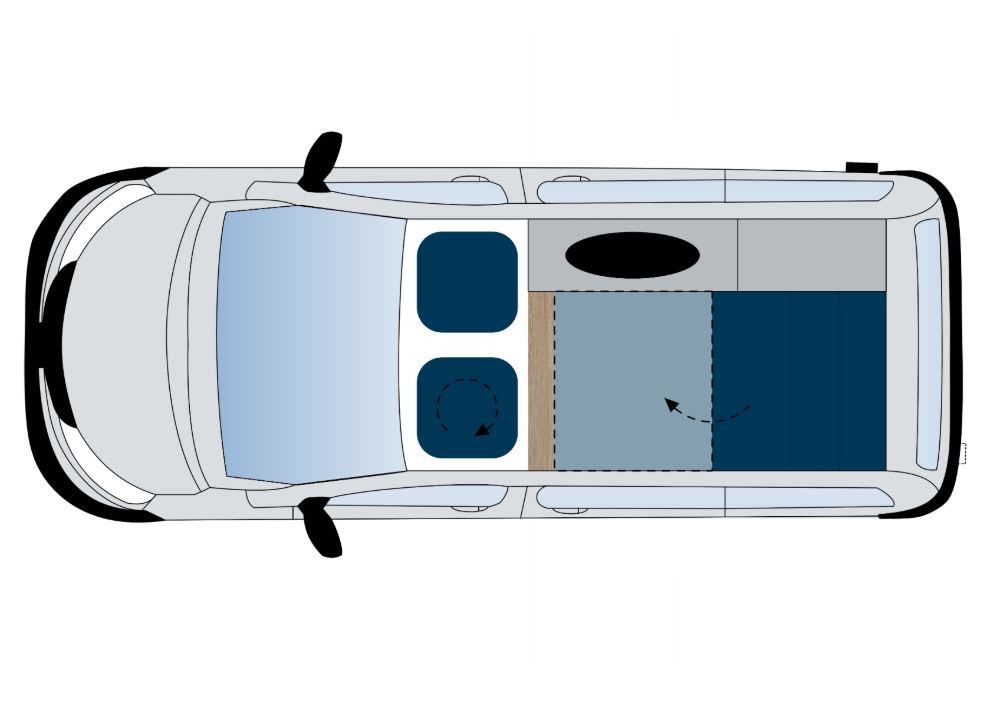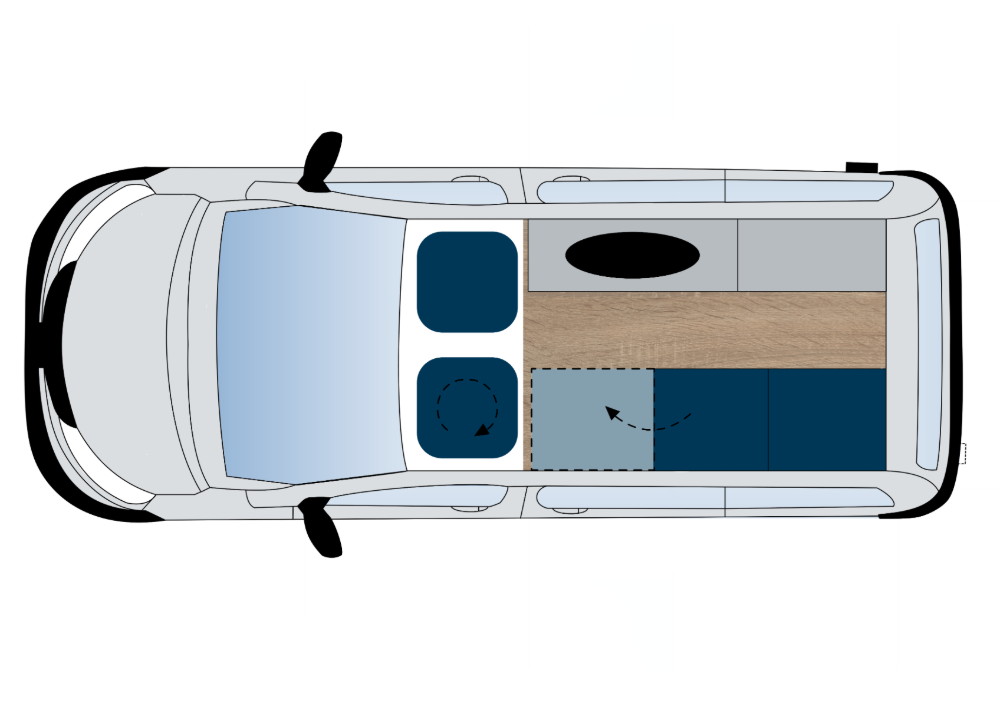 KEY FEATURES
Your choice of upholstery, wood and flooring
Pop-top elevating roof with unique panoramic window
2 or 4 belted seats
Single front swivel passenger seat
Sleeps 2-4
Rock n Roll bed (or single ottoman bed option)
Classic side kitchen layout with additional under-bed storage and flyover cupboards
LED lighting
USB and 12V battery sockets
SMEV 2-burner gas hob and sink unit
50L compressor fridge with freezer compartment
External LPG gas BBQ point
Thermostatic gas heating system with built-in underslung LPG tank
User-friendly stainless steel control panel
240V electric hook-up and 12V leisure battery
Optional Extras
Upholstered cushioned bed panels on elevating roof bed
Microwave
Solar panel
Inverter system for 240V power off-grid
Slide-out Porta Potti under bed
The Essential Campervan Buyer's Guide