The Paradise Deluxe VX-e
Renault van for sale
The Paradise Deluxe VX-e is built on the award-winning Renault Trafic van, and it's perfect if you're looking for spacious travel.
Introducing the latest addition to the Paradise Deluxe range of Campervans: the new VXE model. This campervan has been designed with the latest technology to make camping even more convenient and accessible. The electric automatic roof makes it easy to set up, while the front panoramic window provides plenty of light and mesh air vents keep you cool on hot summer evenings.
The Paradise Deluxe VXe offers a comfortable and easy driving experience. The front seats swivel to form part of the lounge, making a convivial space for up to six people. The rear seats are cleverly designed and provide ample storage, with two levels of recline or can be removed to create a two-seater sofa or single beds.
We personally love the additional inclusions of the flushing toilet, a separate kitchen area and a king-sized bed in its own area with sofa arrangement.
The kitchen in the back of the Paradise Deluxe VX-e is spacious and features induction cooking, a round stainless steel sink, a pull-out tap, and a range of cupboards and compartments. There is a microwave and a 50-litre fridge with an ice-making compartment, as well as a vanity unit.
The electrical power is controlled by a custom panel, and the inverter charger unit provides full-time Mains power. There are four different lighting circuits and circuit breakers, as well as switches for the fridge, water pump, and auxiliary power. USB-c and traditional USB-A ports and 12v Sockets are also available.
In a traditional campervan you can only use the three pin sockets when hooked up to a power source. But the beauty of the Paradise Deluxe VX-e is that also doesn't have any gas. None. Thanks to the introduction of an electric induction hob and 300 Ah Power Lithium Iron Phosphate Battery, there is no need for an LPG tank or an underslung LPG. Making it safer and more reliable.
This is one of the most efficient forms of electric power currently available. The amount of power you can get off-grid with this battery is significantly more than the standard leisure batteries fitted in many UK camper vans.
This gives a new level of freedom to the paradise VX-e and unlocks a whole new level of wild camping and exploration. Experience the ultimate in campervan luxury with the Paradise Deluxe VX-e.
Book a visit with us today
If you've dreamed of owning a campervan, and now it makes more sense than ever, get in touch and let's welcome you here to visit us and see everything that's possible.

Open Monday-Friday 9am-5pm and Saturdays 10am-4pm.


Pop top with elevating roof
Classic Side Kitchen Layout
Li-FeTo4 battery with a top end inverter
Two to four berth
Electric Induction Hob
Four or Five belted seats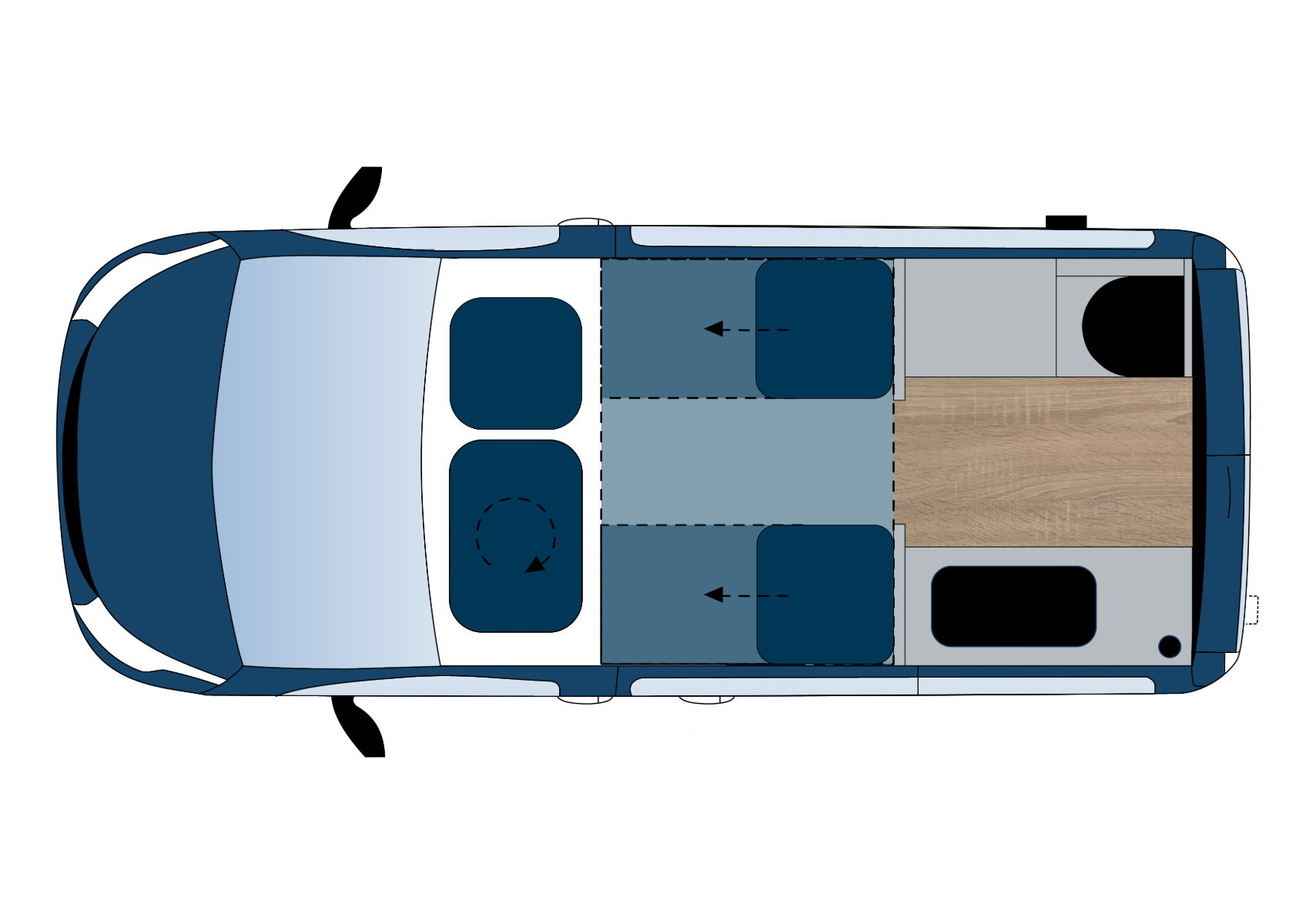 KEY FEATURES
Your choice of upholstery, wood and flooring
Pop-top elevating roof with unique panoramic window
4 or 5 belted seats
Single or double front swivel passenger seat.
Sleeps 2-4
LED lighting
USB and 12V battery sockets
Electric Induction Hob
50L compressor fridge with freezer compartment
User-friendly stainless steel control panel
240V electric hook-up and 12V leisure battery
Optional Extras
Upholstered cushioned bed panels on elevating roof bed
Microwave
Solar panel
Inverter system for 240V power off-grid
The Essential Campervan Buyer's Guide