The Best Electric Vans on the Market Right Now
The Best Electric Vans on the market
Vauxhall vivaro-e Vs Nissan e-nv200 Vs Maxus E Deliver 3
Our experts compare the best electric vans on the uk market
As we moved into 2021, we noticed automobile manufacturers taking electric vans and cars more and more seriously. Every major company appears to be taking steps to establish themselves in the ever-growing industry of electric vehicles.

With so much fierce competition, the rapidly growing technological advances and the large amount of confusing information out there, it can be difficult to find out which of electric van is going to be best suited to your needs.
At Sussex Campervans we have researched and tested continuously to find what we believe are the best electric vans available in the UK, and which ones we know would make the best eco-friendly campervans.
Electric Van Comparison – Small and Medium Sized Vans
While there are a number of electric vans out there, the following three are the best and most viable small to medium sized electric vehicles on the road. There are others available, but the range is shorter, the cost is higher, and they are all-in-all simply less efficient.
When buying an electric van, especially if you're buying it with the purpose of using it for work or as a camper, these are going to be some of the things you'll want to know.
Electric Van Range
Which van has the best professional electric range? Whether you are using your electric van to deliver products or cruise the countryside looking for campsites, the range of the van is going to be a big deciding factor.

Both electric vans designed for commercial use and electric campervan conversions rely heavily on range due to the additional weight properties that have to be added. While this would have a very low impact on a traditional fossil fuel vehicle, it can put slightly more pressure on an electric vans performance. That is why it is so important to consider factors such as range and battery life before making a purchase.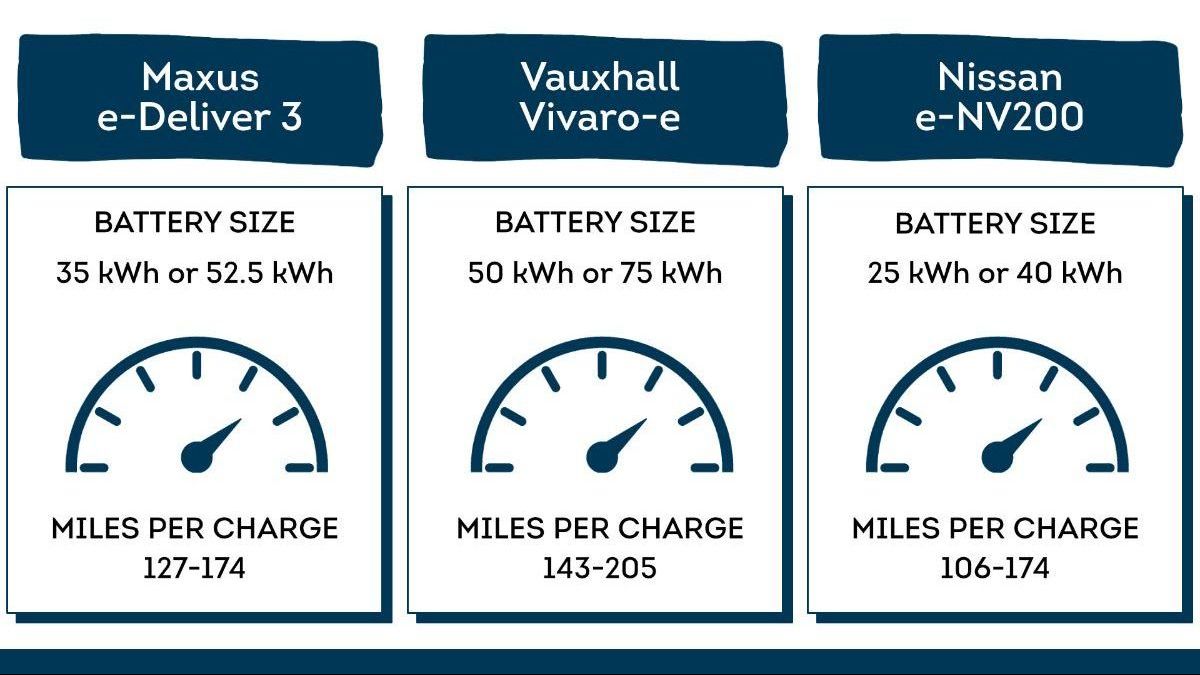 Electric Van Battery Life and rapid charging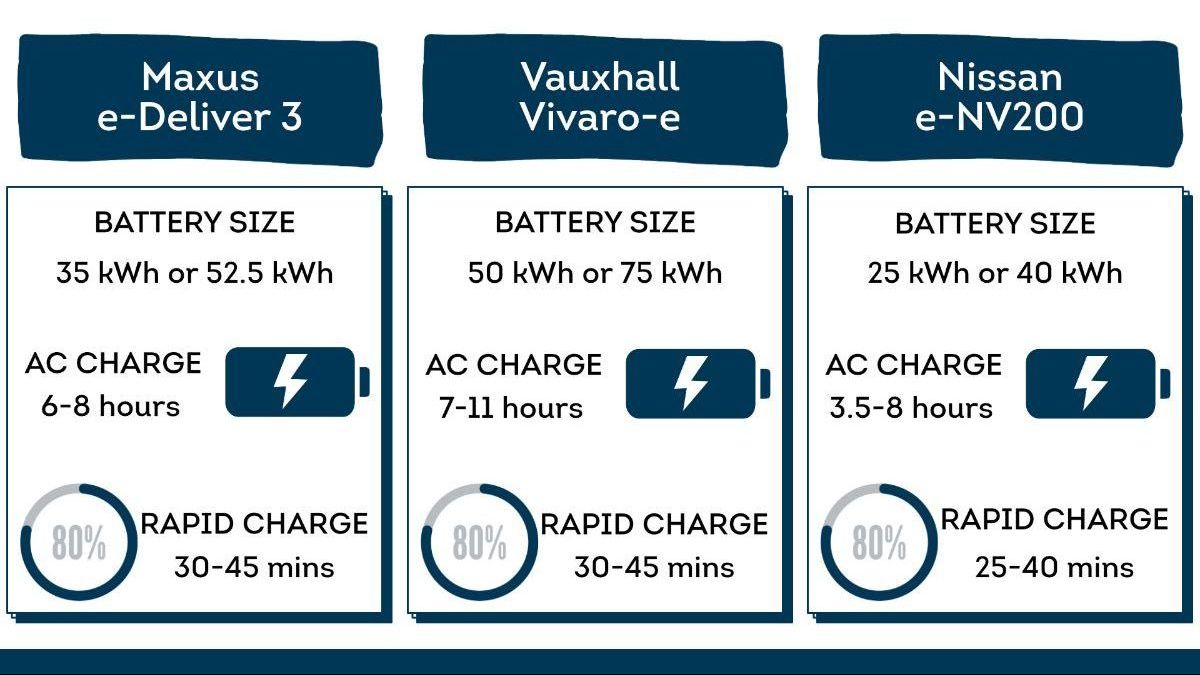 Putting them to the test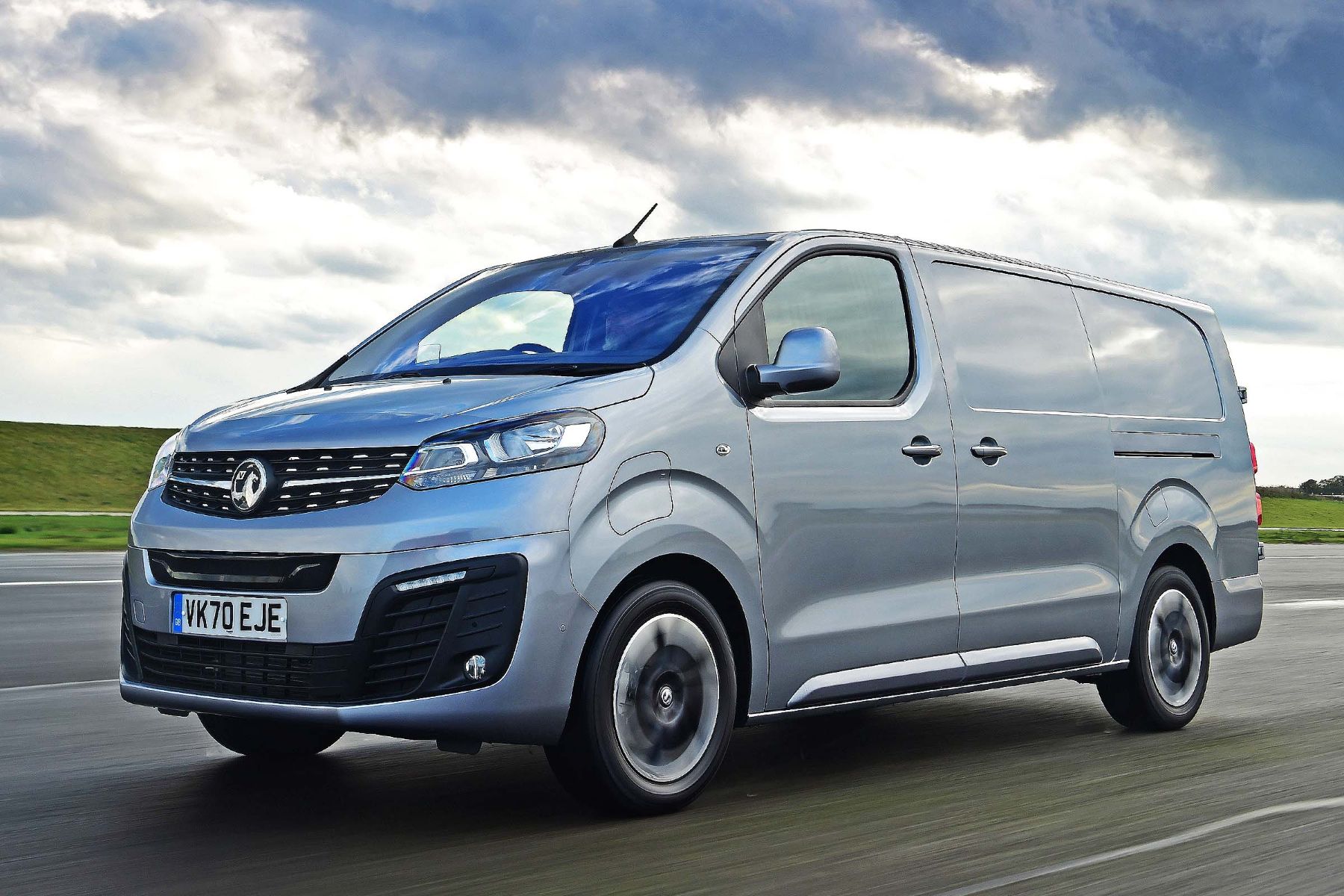 Vauxhall Electric Van - Vivaro-e
The new all-electric Vivaro-e is the latest Vauxhall van to take the market by storm. With an impressive setup, this Vauxhall van is superior to many of its competitors across several fields. The strong appeal for this electric Vauxhall is certainly influenced by how it has been optimised for comfort, style and size without losing the features of the fossil fuel Vivaro that is already highly praised.
The Vauxhall Vivaro-e makes use of some of the same technology as the Corsa-e and has the same loadspace as its combustion engine counterpart. The drive is quiet and relaxing due to the electric powertrain, but packs a punch when accelerating. Even at 134bhp, the Vivaro-e is quicker than it looks on paper as there are no clunky gears to move through to reach top speed. With 3 driving modes, regenerative braking and a comfortable cab space, this is a satisfying drive for the driver and passengers. The standard features are generous on the base model and the top spec Elite van is on par with the top-range diesel equivalent - going electric does not mean you'll have to compromise.
Key points: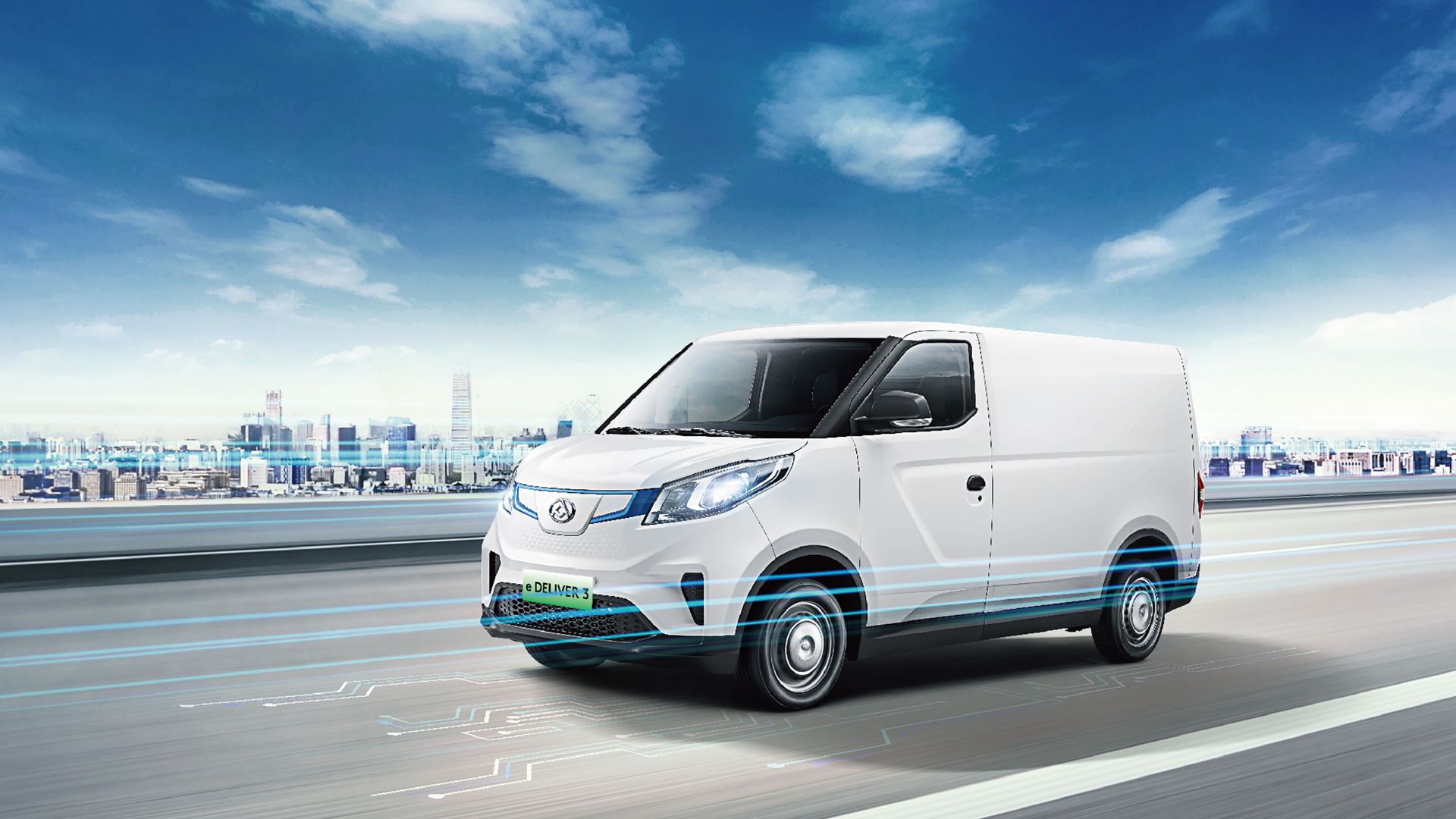 Maxus Electric van - e deliver 3
The Maxus E Deliver 3, owned by Chinese automotive giant SAIC, is a strong contender against the Nissan e-NV200. With a similar size but more 'van-like' appearance, the E Deliver 3 is is the world's first 'ground-up' electric van. There is no petrol, diesel or hybrid version which has allowed Maxus to optimise the space inside to create a large, roomy interior whilst maintaining a smaller footprint.
Lookswise, it has a futuristic style front and boxy van-like rear. Inside the cabin is mainly plastic but it doesn't feel horribly cheap and has all the mod-cons you'd expect in a modern van. There are no separate trim levels, each van is equipped the same with sporty seats and arm rests, cab storage, air-con, USB & Bluetooth connectivity, a reversing parking camera with rear parking sensors, cruise control, electric windows, electrically adjustable door mirrors, a multifunction steering wheel and an eight-inch touchscreen infotainment system with sat nav, Apple CarPlay and Android Auto support.
The rear has dual barn doors, perfect for getting things in and out. If you aren't sure of the advantages that dual barn doors offer, make sure you check out our page on whether you should buy a van with rear barn doors or a tailgate.
Maxus have declared that one of the strongest selling points for the E Deliver 3 is the comfort and safety provided for drivers, and they do deliver on that. As the van was only ever designed to be electric, they have been able to optimise the internal design purely for electric users. They haven't had to accomodate the need for an engine or a gearbox as some other vans have been. The Nissan e-nv200 for example, was orginally built on the NV200 fossil fuel model.
Key points:
Range of 98 – 150 miles
Battery size of 35 or 52.2 KWh
Full charge can be reached in 6 hours (for the 35kWh battery) using a single phase 7.4kW charger or under 45 minutes with a DC fast-charger.
0-62mph in 11 seconds
Vauxhall estimates the Vivaro-e is almost five times cheaper to run than the diesel equivalent.
Max payload 1020kg
121bhp
3 levels of regenerative breaking

Nissan Electric Van - Nissan e-nv200
Based on the well-known and loved Nissan NV200, the e-NV200 is the smallest of the three vans mentioned here but by no means is it cramped. It is one of the most popular vans to have converted into a camper with good reason. The van has a strong layout with a good dashboard and a nicely positioned steering wheel. It's just a few of the reasons why we at Sussex Campervans chose the Nissan e-NV200 as the model for our first all electric campervan conversion.
Electric Commercial Vehicle
Even if you aren't looking to use your van for camping purposes and need something for commercial or profesional use, the Nissan e-NV200 is a good fit for most professions. It's small size means that is capable of manouvering tight city streets and country roads, something bigger vans might struggle to do.
If you want to take a full tour of the e-NV200 then take a peek at the video below:
The future for Electric vans in the uk
Going electric means low running and maintenance costs, and no road tax. With the electronic vehicle industry expanding rapidly, making the move to electric is now making more sense than ever. While companies such as Tesla pioneer the way in renewable energy, we can expect to see a lot more electric vehicles taking to the road in the not so distant future. Competition to produce the most eco-friendly cars, vans and ultimately batteries is most likely going to dominate a large part of the world automobile market.
These changes mean that buying early could make you one of the pioneers for change, helping to make the planet cleaner and greener.
Use Zap Map to find your nearest electric charging point including many electric charging forecourts which are being built all across the UK and many already existing within Europe.
---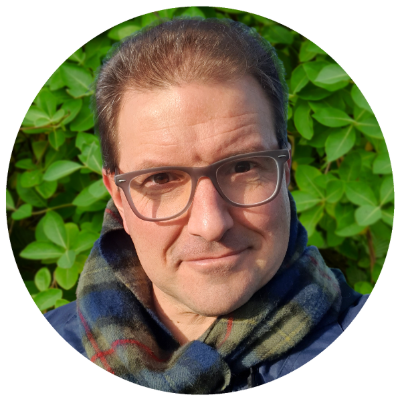 Daniel is the founder of Sussex Campervans - you may recognise him from some of the videos around the website. As a campervan enthusiast, he loves providing our customers with all the latest design trends and finding new and innovative ways to enhance the design and engineering process.
---