How does the Sussex Campervans Nissan NV200 CamperCar cope with snow and extreme weather in all seasons, we wondered - and who better to ask than Sussex Campervan owner and mountain rescuer Steve?
As mountaineer Steve and his wife Birgit tour around Britain, they need a van for all seasons, so we asked, how does their Sussex Campervans Nissan NV200 Camper drive on the snow?
Steve says, "It's based on the Nissan NV200 Tekna DCi with a manual gearbox and 1500 diesel engine. I haven't had to use any special tyres or snow chains, even when visiting the Cairngorms ski resort. The snow is often many feet thick in the mountains each winter, but I've driven the NV200 CamperCar there fine, because the roads leading up to the ski resort have usually been ploughed out fairly well. The only time I've ever had to be towed out of a campsite was once when heavy rain turned my pitch into liquified mud. Everyone had to be towed out."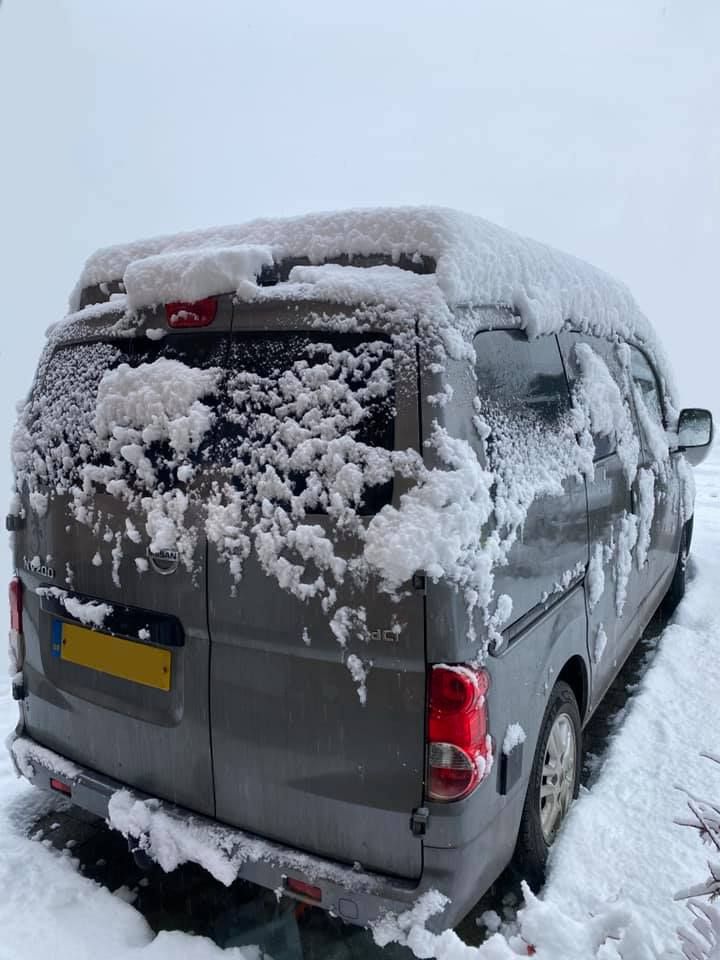 Steve even went on a ski trip to the Cairngorms in the NV200 CamperCar from Sussex Campervans
Steve is an excellent photographer - as you can see from his recent photos from tours of the West Coast of Scotland and Northern Ireland's beautiful Lough MacNean, where he stayed at the award-winning Rushin House campsite in Belcoo, County Fermanagh.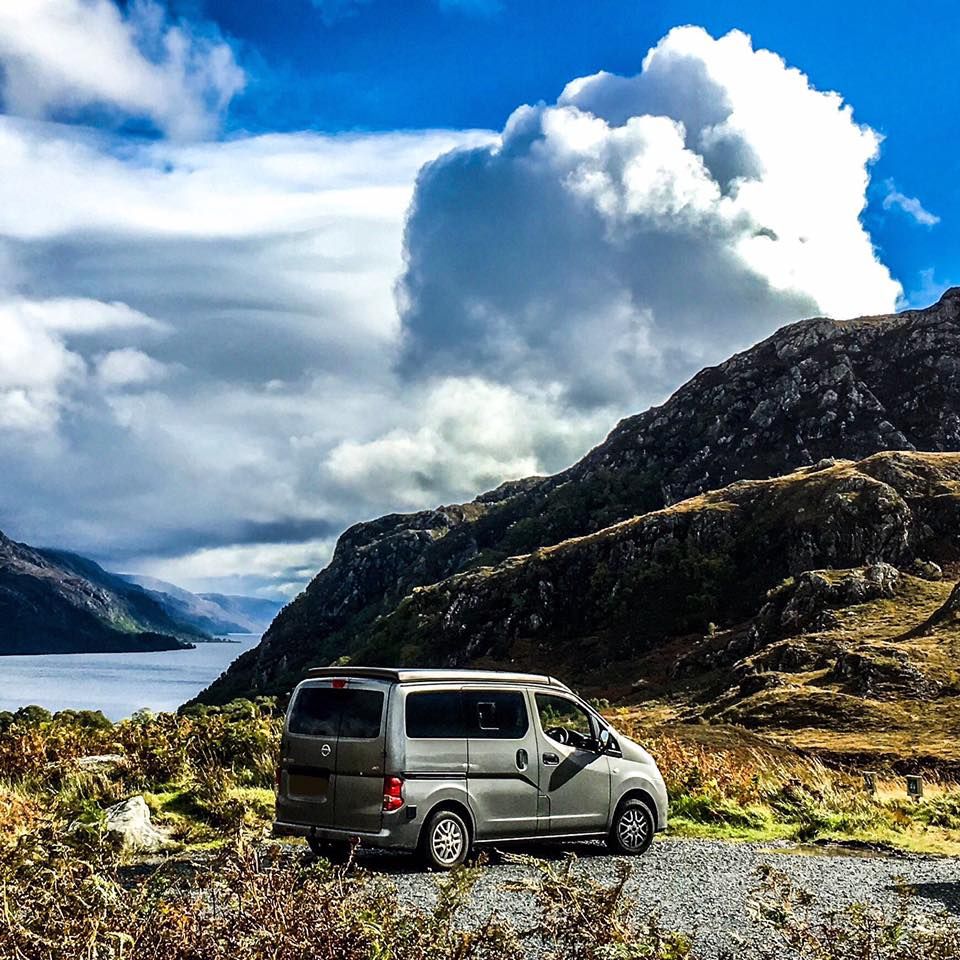 The Nissan NV200 CamperCar basks in sunshine after rain on the West Coast of Scotland

When he stayed at Rushin House campsite, Steve couldn't resist capturing this shot of the camper by Lough MacNean in Northern Ireland
My coastal retreat is the CamperCar
"For the last 30 years I've been circumnavigating the whole of Great Britain - and it's certainly become more comfortable since buying the campervan. This year we went to Norfolk and Suffolk and I really loved it. I've spent so much of my life in the hills and mountains, that I was surprised that I enjoyed the flatness of East Anglia as much as I did. It's been so hot this summer that the adders of RSPB Minsmere Nature Reserve were really active."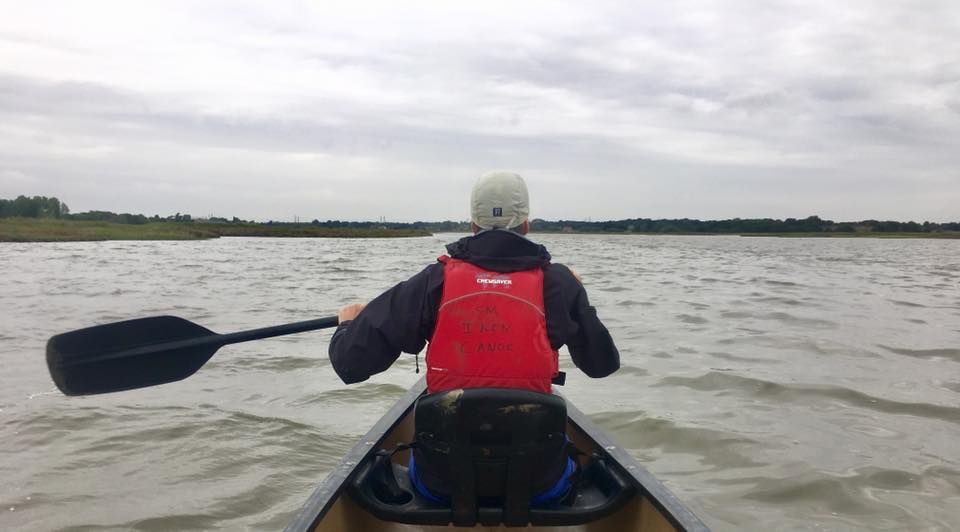 Birgit leads the way, canoeing on the Norfolk Broads
The East coast had more surprises in store for Steve and Birgit. He says, "I had always wanted to go to the end of Southend Pier - and when we finally went it happened to be the day of the Thames Barge Race. From the pier we watched the regatta of barges with their brown sails up, sailing past us. That's the beauty of having the campervan - it's all about the things you see on the route."
You must see the Hyena Cave
Earlier this year, Steve says they went to the Hyena Cave in Kirkdale, in the Vale of Pickering, North Yorkshire. "It's amazing, they've found fossilised hyena bones in the cave, also elephant, hippopotamus, mammoth, rhinoceros, giant deer and bison bones that the hyenas scavenged and brought home to their den. It's another place that you must see, if you can."
Steve and Birgit are pretty pleased with the capabilities of their compact camper (see a full nissan nv200 camper review here) and we really enjoy hearing about their adventures when Steve brings the van back to Sussex Campervans to have its annual habitation check. This just ensures that all is working as well as it should, and gives us a chance to make any minor running repairs in our workshops. This well maintained compact camper really does work for them as a van for all seasons.
Words: Kate Taylor
Photos and adventures: Steve and Birgit
---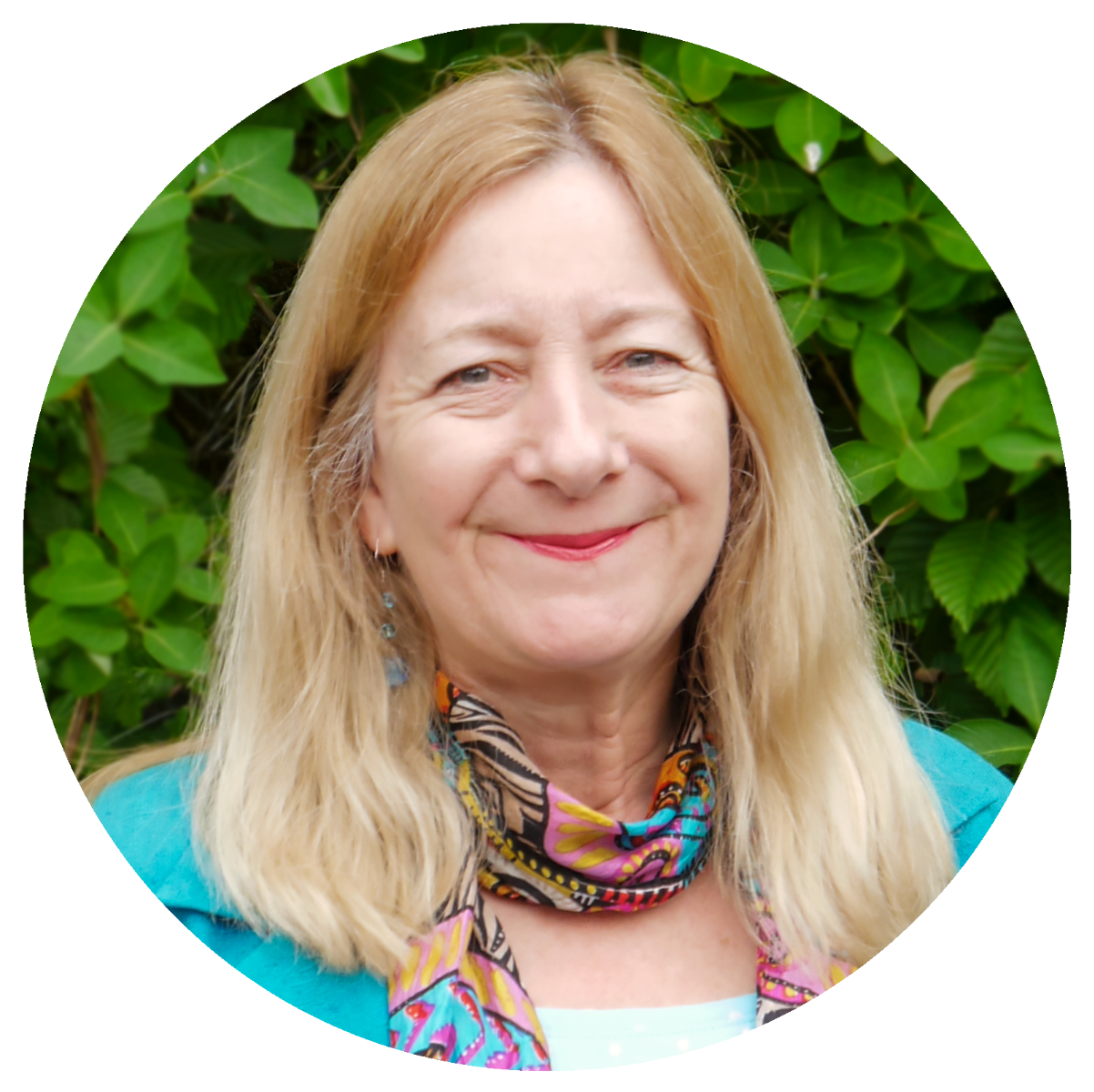 A travel expert and a passionate writer with a creative spark, Kate has specialised in writing about campervans since 2008. Kate has worked for magazines such as Motor Caravan, Caravan, Practical Caravan and Practical Motorhome.
---