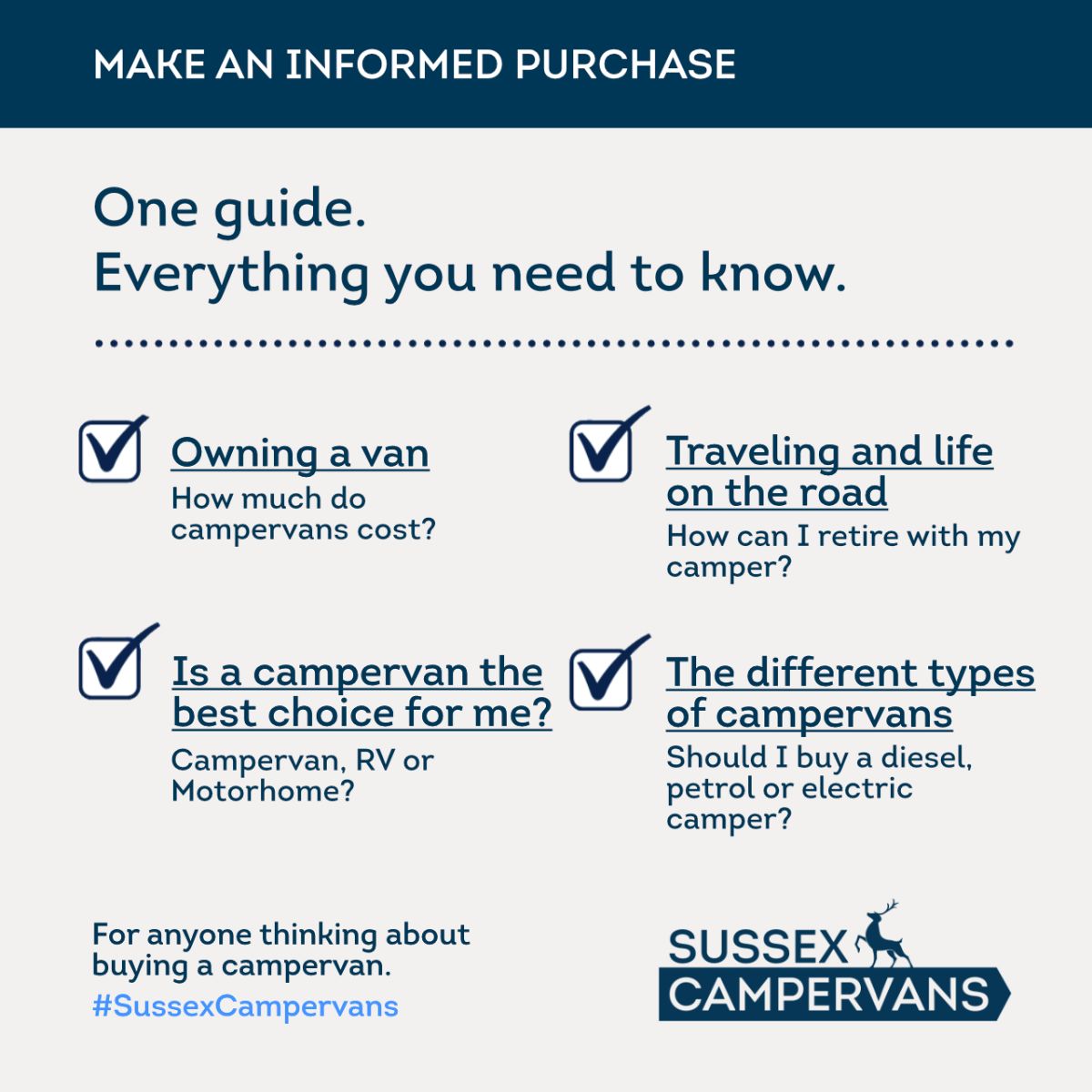 The NEW Essential Campervan Buyer's Guide 2022
A must read for First Time Buyers
Select one of the categories below or click the button for a complete list of all our FAQ's
Everything You Need to Know About Campervans
Sussex Campervans was built on the dream of being able to provide high quality camper conversions without an enormous price tag.
Since that dream became a reality we've been in constant pursuit of making campervan travel easier and more accessible.
Join us on our journey as we bust myths, answer questions and solve problems that every day campers might encounter.
What comes next?
At Sussex Campervans we offer bespoke conversions. That means you can effectively purchase a camper that is completely built to order. You can decide the campervans features and appearance all the way down to the smallest details - from the worktop colour to the seat top-stitching!
We all have different preferences and needs, and so we have worked hard to provide opportunities for our campervans to come with all the equipment and adjustments you may require. With this in mind, it is incredibly important that you know about the different options available.
Before you come down to visit us at our workshops, we would definitely recommend getting acquainted with the various camper adaptations we offer.
Make an informed choice
Need a starting point? Check out some of the following useful links:
Not what you're looking for? On this page we have links to our Youtube channel, social media platforms, blog posts and FAQ's. We've prepared all these resources to help you make an informed decision when buying your campervan.
The Electric Campervan Guide
There are so many different factors to consider when you first start the journey to buying a campervan. Whether this is your first time, or you're an experienced camper, there is always more to learn.
The number of vehicles stolen in Britain has almost doubled in the last five years, new Home Office figures show, so here's how to stop thieves from stealing your campervan
Ready to create your dream campervan?
PHONE US:
01403 336369
OPENING HOURS:
9-5 Mon-Fri
10-4 Sat
and Public Holidays.

Visits by appointment only please.
MAIL:
hello@
sussexcampervans.com