Welcome to Sussex Campervans
Sussex Campervans designs and builds a unique range of premium campervans, customised to suit your needs - whether you are buying your campervan from our stock vehicles or having one built to order in our Horsham workshops.
Have you watched some of my videos, and downloaded The Essential Campervan Buyer's Guide for free? If so, you've taken the first steps towards buying your campervan.
Picture yourself owning a sleek and versatile vehicle that you can use daily, as well as for day trips and holidays. I'd love to make that vision come true.
When you visit us, we'll be happy to show you round the stock campervans for sale and the campervan workshops. While chatting with you about how the right campervan could enhance your lifestyle, we'll make you hot and cold drinks in our spacious hospitality suite. It's a comfy place to relax as you browse through the fabric samples, flooring, paint colours and furniture finishes we can offer. There's so much to see that we want to be able to allocate the proper amount of time to you to show you round. Just ring us on 01403 336 369 or email hello@sussexcampervans.com for a chat or to book an appointment.
Quality is built in
Why do I offer you so much choice? Years ago, having owned various off-the-peg van conversions on the market, I realised I could make numerous improvements to them. One design alteration led to another – and soon Sussex Campervans was born. I now have a team of craftsmen and women building campervans packed full of the latest technology. I'm passionate about campervan design, and proud to offer you the unique, high-specification products for which Sussex Campervans is famous.
The Perfect Match
I constantly work to improve and enhance what we do, so that we can provide a tailor-made campervan that's ideal for you. We will take the time to find out about you, the adventures you are planning and how you will use your campervan, so we can create a perfect match.

You may find a stock vehicle that suits you, or you might choose one of our layouts and ask us to customise the upholstery, furniture and accessories to build your bespoke campervan. Either way, my team and I will work with you to get everything right, down to the last detail. When you're happy, let's do the paperwork. To secure your order we'll ask for half the final price as a booking fee. This enables us to buy the base van for you and reserve the workshop time needed for the conversion. From that moment on, we can swing into action and manage the whole process in-house.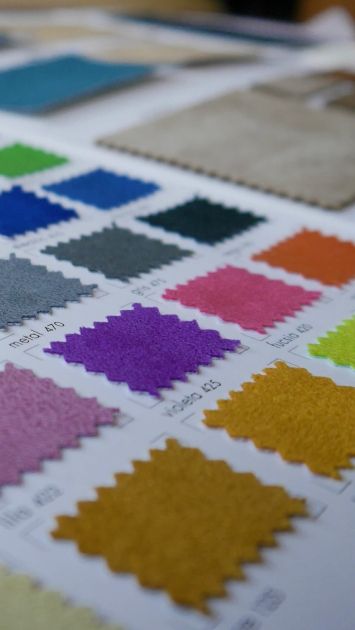 Experts in our field
Take a tour of our workshops and meet our expert upholsterers who make beautiful seating in wonderful colours and finishes to suit your taste. Say hello to our talented cabinetmakers who hand-craft our furniture in strong, sleek finishes. Meet our bodyshop manager and integration workshop manager, who will convert the panel van into your beautiful well insulated pop-top campervan. Take a look at our unique bed systems, which are fully approved and guaranteed to give you a great night's sleep.
after-care service
When we've built your campervan, we'll ask for the balance a couple of days before you collect it. On the day you come to collect your van, we'll be as excited as you are! Our thorough handover will ensure you know exactly how everything works, from putting up the pop-top roof, to converting the seats to a bed and putting the kettle on. You will leave our workshops full of confidence.

When you join the family of owners of Sussex Campervans we will be just a phone call away and happy to give you advice.

We offer:

A helpline
12-month warranty on the vehicle (if not covered by the manufacturer's warranty)
36-month conversion warranty on everything we have built
Annual habitation servicing
MoT and vehicle servicing
Repairs
Courtesy car loan during servicing
We would be delighted to show you more about the wonderful world of campervans at our workshop. Please ring 01403 336 369 or email hello@sussexcampervans.com for a chat or to book an appointment - and start planning your very own adventures!
Daniel Lopez, MD of Sussex Campervans